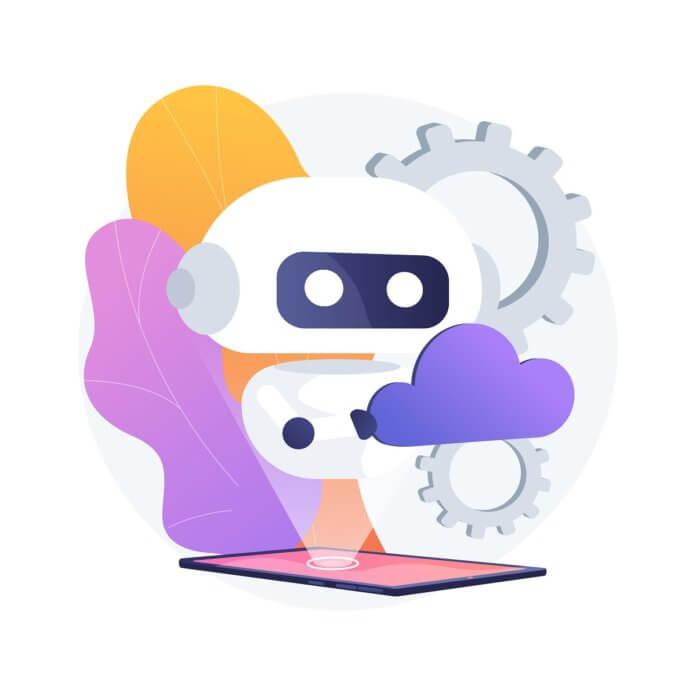 Robotic Process Automation is nothing but software robotics that uses automation technologies to accelerate repetitive back-office tasks. It leverages UI and APIs interactions to integrate and carry out manual tasks within your applications and IT stack. With the help of scripts that emulate human processes, RPA software executes various transactions and activities across various digital systems.
Such type of automation makes use of rule-based software to carry out high-volume manual processes, thus increasing employee productivity so they can focus on other complex processes. RPA helps IT leaders and CIOs speed up their efforts of digital transformation and boost ROI. These intelligent bots can execute tasks such as identify and extract data, copy paste data, understand what is on the screen, navigate systems and so on.
In today's digital era, robotization may often be interpreted as programming improvement. However, there's a difference. In reality, RPA utilizes programming to mimic human activities along with interacting with the applications in a PC and executing rule-based tasks. For this, it needs to tap or write or peruse from existing applications used to carry out the automated tasks. 
Moreover, these robots are also efficiently able to perform leadership tasks and complex counts based upon the data and predetermined rules. 
What type of human activities can RPA mimic?
There is a wide scope for processes that MUST be automated. Here are a few examples:
High risk tasks

Repetitive tasks

Time-consuming tasks

Complex tasks involving multiple processes and people

Tasks that yield less
Moreover, here are a few significant characteristics of tasks that can be automated:
It is logical

It involves rule-based and well defined processes

It yields numerous benefits that overpower the costs

Input to the tasks seamlessly diverts to the software system

Software systems are easily able to decipher the input using existing technologies

Accessible to output system
Computerization has completely transformed the face of the digital world. There's no segment left uncovered where computerization isn't involved somehow. In today's world, there are plenty of examples that incorporate computerization such as dishwashers, cloth washers, auto modes in airplanes and automobiles, microwaves and lastly Nestlé using robots to sell coffee machines at retail stores in Japan.
Future of Robotic Automation
Innovation is rapidly paving its way into the business industries across the globe, and even in our day-to-day lives. Robotics, nanotechnology, self-control vehicles, IoT, 3D printing, ML and AI are already apparent today and transforming the way we live, communicate and work. 
Such rapid evolvement of newer technologies is critically affecting various digital controls. Machines are now inserted into the social orders where only humans were dominant once. 
Business Benefits of Robotic Process Automation (RPA):
As discussed above, RPA phenomenally streamlines business workflows, helping enterprises be more agile, flexible and advanced. It also boosts employee productivity, engagement and satisfaction as they do not have to engage in repetitive or time-consuming tasks. 
RPA is quite non-interruptive and easily adapts into your digital systems to accelerate business processes. It is a perfect solution to automate workflows, especially those that involve legacy systems lacking access to database, APIs or VDIs.
Following are the core benefits of RPA for business processes:
Accelerate digital transformation
As per Pegasystems survey, 63% of global executives agree that Robotic Process Automation (RPA) plays a major role in digital transformation. 
2. Cost-effective
RPA significantly enhances business metrics across the global organizations.
3. Precision
Forrester report states, 57% global executives say that RPA reduces human errors.
4. Higher Resilience
RPA robots can accelerate workflows and reach peaks faster as compared to humans. These bots are capable of keeping up with the huge demand spikes.
What makes RPA transformative?
RPA has completely transformed the way we interact and work.
Software robots can capably carry out low-value, repetitive and complex work such as moving folders/files, copy and paste, extracting/inserting data, logging into applications, filling forms and creating routine reports and analysis. Advanced intelligent robots are even able to perform complex cognitive processes such as chatting, understanding unstructured data on the screen, interpreting text, or applying ML models to make well-informed decisions.
Automation of all these complex, repetitive tasks frees the employees from time-consuming, mundane tasks, so they can focus on more productive tasks such interacting with customers or innovating, creating or collaborating new workflows. By the same token, organizations also get a boost in their efficiency, productivity and responsiveness. 
Where can you incorporate RPA?
Robotic Process Automation is driving new intuitiveness and efficiencies in enterprises, thereby also freeing its people from repetitive human tasks. Be it healthcare facilities, financial services, manufacturing industries, retail stores or public sector, every single industry and their processes have leveraged RPA to be more efficient and productive. Not just that, RPA has also paved its way into the broad spectrum of customer service, IT, compliance, legal and finance sectors. 
Because of its non-invasive and broadly applicable nature, it can be virtually incorporated into any process that is rule-based, high-volume and repetitive. Even the complex cognitive processes that demand intuitive AI skills can employ RPA with ease. 
Why is RPA the fastest-evolving software tool across the globe?
RPA (Robotic Process Automation) features computable value, while it is easy to implement as compared to other enterprise technologies. This is the reason why RPA is the fastest-growing technology across the global enterprises. 
RPA caters to the needs of various industries with different niche by addressing their specific business needs.

Business leaders from versatile industries, be it marketing, customer service, finance or human resources, have agreed that RPA has significantly improved their processes whilst reducing errors, yielding greater capacity and faster throughputs.

Global executives say that RPA can be seamlessly employed without interrupting your existing IT stack and processes. The software robots can easily access digital or legacy systems and automate processes to aid your digital transformation journey. Today, modern RPA technology is offering enterprise-ready, flexible and highly scalable platforms curated for organizations. 

Employees within enterprises have found it easier to incorporate robots into their daily workflows, as RPA takes a non-invasive, low-code approach. Thus, even amateur developers can build their own basic automations for processes.

As per CFO's, the RPA software tool is far more yielding, efficient, cost-effective and faster as compared to other enterprise technologies. It requires low upfront costs comparatively, which makes it ideal for implementation widely.
Wrap Up
With this, we wrap up our brief introduction to Robotic Process Automation. It is modern, flexible technology that is easy for anyone to implement so as to automate their digital processes and tasks, regardless of their business size or niche. With RPA, software leaders can easily build, deploy and manage software robots or bots that intelligently learn, mirror and automate rule-based business processes. 
RPA automation allows organizations or users to create robots by observing human activities. As they observe and learn human actions, they can intelligently carry out automation tasks with greater efficiencies. 
The robots can communicate with any digital system or application, just like humans. Only difference is that RPA robots are much faster, efficient, 100% reliable, accurate and can work round-the-clock without any breaks!
Now, managing an RPA program across an enterprise does not simply require technology to automate basic tasks. Rather, you need a powerful, all-inclusive platform that can help you build, deploy and manage new capabilities enterprise-wide and drive full automation. The RPA technology must offer end-to-end support and help you discover various automation opportunities, manage hundreds and thousands of processes and build high-performing bots faster.
Also Read: Introduction to Robot Security Framework