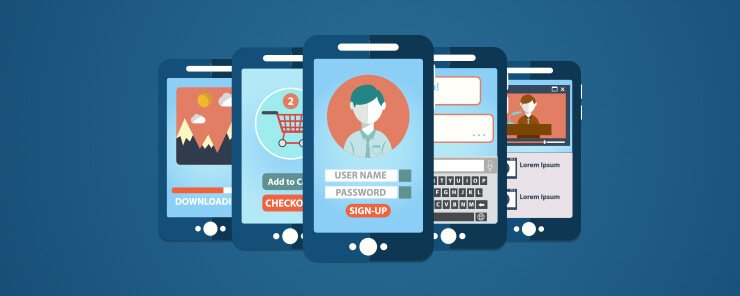 The smartphone revolution has rapidly paved the way for the popularity of mobile apps. Permitting users to solve their problems through user-friendly interfaces and designs, these mobile apps came with attractive looks. All the mobile apps adhering to the principle of minimum interactions stand in sharp contrast with others which are incoherently designed. All these characteristics come under the subjects of efficient User Interface (UI) and User Experience (UX); the two determinants to the success of a mobile app.
Before talking at length on the significance of these two attributes in making your mobile app successful, let us, in brief, discuss these concepts.
User Interface (UI)
User Interface is all about the look and feel of the mobile app. How an app looks and interacts with its users makes up the presentation of the app. Hence, if you are an UI designer, you will be focusing on the graphic design of the app by keeping in mind the appearances desired by end-users.
User Experience (UX)
Moving on to the next concept of an effective mobile app, User Experience is about being mindful of the ways in which users interact with the app. All in an attempt to improve the customer satisfaction, it is through UX that you can simplify the navigation of your app, with limited interaction. Thus, if you are playing the role of a UX designer, you will be conducting extensive research on the needs of end users and ensure that your mobile app satisfies them in all respects.
If you are keen on understanding the significance of efficient UI and UX features that help a mobile app gain patronage, here are the numerous ways a mobile app can be tagged as the well-designed and effective app.
1. Use of Common Elements for Respective Functions
An exceptional UI is bestowed to your app when it employs common symbols, buttons, colors and icons that help in familiarizing the users with your app. The success of your mobile app is guaranteed when you work with a common set of graphics for particular functions.
2. Simplicity is the Key
Your mobile app will rank high against others if you try to use simple elements. This is a concept of UI permitting users to play with your app without having to refer to a technical "how-to" manual. Employing simple text and visuals paves the way for a hassle-free mobile app that users love to use.
3. An App That Values the Time of the User
As a proficient UI designer ordained to churn out an efficient mobile app, you should value the time of your users. You need to clearly explain the process through notifications. It is the responsibility of the UI designer to handhold mobile app users at every step of the process. Avoiding a situation when users are unsure of what to do next, it is through notifications that you can help users navigate to the next step and save their time.
4. You can Deliver Easy-To-Use and Pleasurable Mobile Apps
The success of your mobile app is governed by its user-friendliness. And user-friendliness is a direct function of both UI and UX. Through an attractive application design, you can bring in a sense of ease-of-use which ultimately makes your app a pleasurable option to address the concerns of app users. Here, you as a UI designer will have to go the entire nine yards to ensure a uniform presentation of the various elements. This will help users to identify the pattern in a better way, thereby improving the usage of the app.
5. An App That is Mindful of the Touch-Size
For your mobile app to be successful, you should ensure that your touch square measures 44 pixels. This is a segment of UX that allows designers to come up with a finger-sized touch square that initiates a specific function.
6. Minimize The Efforts Of Users – A Promising Feature that Gives a High Rank to Your Mobile App
The success of your mobile app is governed by minimum efforts that your users put in to initiate and complete a task. Mobile apps which are de-cluttered excite the interests of users, allowing them to spend more time on the app. If you wish to make your mobile app successful, you as a UX designer should avoid navigational confusions. By doing this, your mobile app will not only simplify the efforts of users but also help them get their things done; without any hassles.
7. Size Does Matter
Now is the age of large-screen smartphones. All for the sake of enjoying comfortable interactions, users who own large screen phones can work their way easily and swiftly, initiating mobile functions with their thumbs. A proficient UX designer will be mindful of this necessity and will churn out an app that matches the user's comfort level.
8. Promises A High Level of User Engagement
An efficient UX ensures the presence of consistent elements to your mobile app. It is through such an interface that users interact, paving the way for a profitable business proposition. Uniformity in UI is a promising feature that supports the role of brand loyalty in business. It is only when your mobile app engages your users that you can enjoy the fruits of repeat business.
Mobile apps which attract the attention of users gain from goodwill which manifests in the form of positive gossip. All in an attempt to improve user engagement, it is important to measure the level of user interactivity so as to come up with a highly interactive app design. Once all these parameters are taken care of, a mobile app which is backed by a strong UX emerges and becomes the driving force behind creating a popular brand image.
9. You Are Just A Step Away from Realizing Your Business Goals
A pleasurable user experience in tandem with an engaging user interface is what makes your mobile app the top choice. Essentially meant to create engaging experiences for users, you through a well-designed mobile app can accomplish all your business goals like enhancing your brand reputation and generating natural online traffic. And to make your vision statement come true, you need to come up with a UX design that can be tweaked to match the qualitative feedback of users.
10. The Right Balance of UI and UX Spells the Success of Your Mobile App
Mobile app developers are constantly implementing the best practices in UI and UX so that they can boost the natural traffic on the app. They strive to offer their clients the best engaging experiences so they can become a long-term partner to a healthy and mutually beneficial business relationship. In this manner, balanced UI and UX practices become the instruments that can promote your mobile app.
Closing Thoughts: –
After enlisting all the ways in which UI and UX designs influence the popularity of your mobile app, you as a mobile app developer can meet the needs of your target audience by delving deep into their business goals. This way, you can churn out high-end mobile apps which have the power to boost your sales by bringing in repeat business.