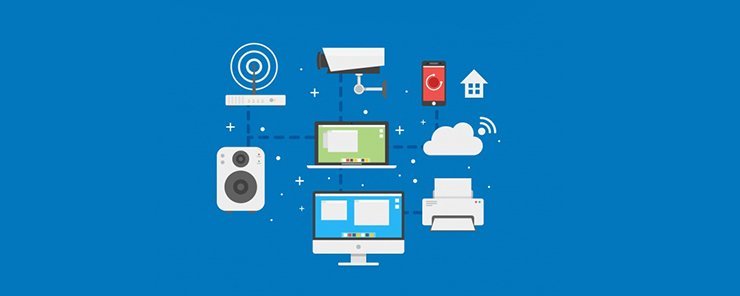 IoT or "Internet of Things" is a big close knit web of devices and gadgets who interact with each other through internet.
These are embedded with complex sensors and are linked to a common IoT platform which combines data from these devices and uses analytics to give relevant information for applications developed to meet precise needs.
From self-driven cars, whose intricate sensors identify objects in their way to smart lights, which automatically turn on when you come back home, IoT is gradually seeping into our lives through multiple ways and devices.
The credit goes to intrusive human nature and endless attempts made by scientists and experts. Together they are building a foundation of an era where automated machines and humans will probably be best of friends.
And as an IoT enthusiast, here are 8 things you must know.
1. IoT should be seen as a vision, not as technology
IoT is all about efficiency in terms of cost, resources, etc. You should have the ability to maintain an ecosystem which pushes you in a different context rather than facing strong competition.
You have to find out, how you can integrate the technology with various elements present in your environment.
2. Significance of the IoT Platform
An integrated combination of hardware and software helps developers set up apps. The classical platform can blend with any device and secure connectivity, ideal management of the devices and smooth data collection.
During designing IoT, be careful about its authentication, monitoring, device management, software updates and its maintenance. Your IoT design should be notably ingenious and verified.
Apple is also trying to embed its iOS platform for various IoT solutions. Operating system plays a vital role in IoT development. IoT devices need thin operating systems to drive its market.
3. Insurance and assurance
Seek safety, yield safety. Safety and security must be the priorities while designing IoT.
Safety of IoT must be ensured to users. For the sake of data and analytics, users privacy and security should not be compromised.
When it comes to the assurance part of IoT, information shared with the users should be accurate.
For instance, sensors in the car can let you know whether the pipes are leaking or your car tires are about to burst. Such type of information needs to be errorless and timely.
Your IoT's insurance and assurance depends on the users. How much tight security or privacy do they want?
4. IoT is for everyone and everywhere
IoT must be designed and deployed both for businesses and customers. Make sure that your product needs little to no promotion and can sell itself.
It's not about ideas. It's about making ideas happen. Make a product that can be used by everyone and everywhere.
5. Just-in-time services
IoT has made life easier and has reduced a lot of the work load. Though many political parties opposed the introduction of computers in banking systems because of fear of unemployment. Now, we can't imagine our banking systems without computers and the internet.
From managing accounts for deposits and withdrawals to transferring money to other accounts have been managed by computers.
So, your focus must be to make it easier for people to afford technology and use it automatically whenever they need the services.
6. Aging need
While designing and deploying IoT, experts have focused on the point that your solution to the product by integrating with technology, can be used by maximum people, irrespective of gender, age, geographical location and environment. It means your device should be cost effective, time effective, easy to operate and easily available.
7. Scope of IoT
Potentially, there is no specified border for IoT. From farms to homes, from factories to industries, IoT is far beyond the expectations of humans.
There's always a time to move on. You should be continuously growing and getting smarter. Double the size of IoT over the next few years.
8. Actionable insights
Your IoT should be capable of providing actionable data as measuring the performance isn't enough. After providing any service, what action could be taken must be diagnosed and monitored. It makes you unique and creative. If you walk in the footprints of others, you will not be able to make your own.
Conclusion: –
IoT will have a positive impact on production and efficiency. But, you can't ignore the biggest possible hiccup which originates with IoT, which is cyber security. If you're enveloped by numerous interconnected machines, the hackers can easily disrupt the entire network by cracking access through loopholes in the network.
Undoubtedly, things will change for better. At present, IoT appears to be a hopeful way to minimize human efforts and errors, helping us in achieving our goals.