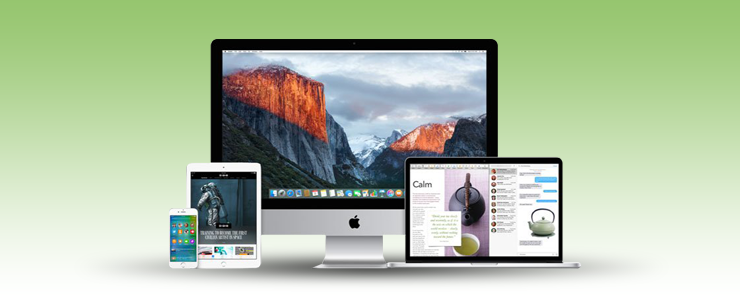 Recently, Apple has pulled back the curtain, so to speak, on their newest OSX version. After months of waiting, they've finally announced the latest version, which is called El Capitan. The new version takes its name from a national monument called El Capitan, a dome of granite rock found in Yosemite National Park. This is an understandable marketing move given that El Capitan's predecessor was named Yosemite.
Following the success of Yosemite is a difficult challenge – the operating system boasted a 55% adoption rate among Apple personal computer users. To put that statistic into perspective, the adoption rate for Windows 8.1 was only 7%. However, Yosemite had some network issues that were widely regarded as sub-optimal at best, and so the new update has been widely anticipated by many Mac users and tech enthusiasts alike. This article is an overview of the El Capitan update to OSX, going into some detail about upcoming features, changes to the systems, and improvements made on the framework of Yosemite.
El Capitan Overview
As stated previously, El Capitan builds from the basic foundation of Yosemite, much like their respective namesakes. Apple released their tagline quote for the year earlier which is, "the epicenter of change." However, it's not clear just how much El Capitan fits – most of the changes that it introduces seem to be focused on various improvements to performance, user interface, and control enhancements rather than sweeping changes to the overall system. This is not to say that its updates are unwanted or trivial – many of them target legitimate issues with the system. And, in a way, it makes sense that El Capitan is more about minor improvements. Yosemite, after all, was the biggest change that OSX had seen since its introduction in 2001 and included graphical updates as well as a brand-new interface with a flat, modernist design.
Features
One of the biggest updates coming is for OSX's native internet browser, Safari. Users will be able to mute tabs individually from the address bar. Additionally, El Capitan will support pinning sites, similar to the very popular tab features of other web browsers like Google Chrome or Mozilla Firefox.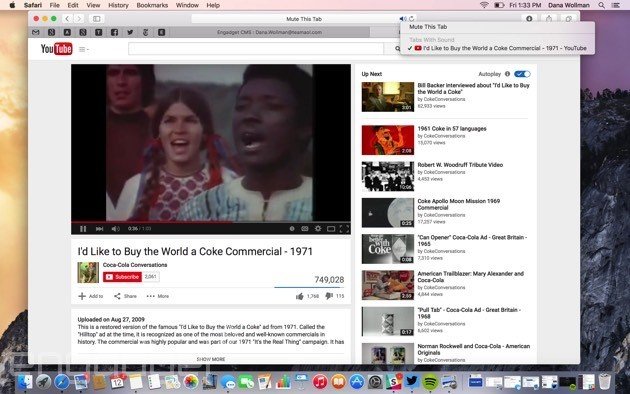 OSX's search tool, Spotlight, has also been significantly improved. It now has access to all-new data stores, meaning that it will be able to access live weather and traffic information as well as other sources of data updated to the second. The new version of Spotlight will also allow users to re-size its window, which was a complaint from the previous version.
Taking a cue from Windows 7, El Capitan also features a brand-new split-screen function. This lets users view two or more apps simultaneously side-by-side, rather than swapping back and forth between them. Windows has had the edge in terms of serving as a workstation for a long time, so it's good to see Apple making a few strides toward catching up with this kind of update.
They've also improved gesture control. In particular, the Mission Control has been updated so that a three-finger swipe now reveals ever open window in a clean list for added user-friendliness.
Finally, OSX also added Metal, which is a software update that allows the graphics cards of mobile devices and laptops to render higher-quality graphical objects, especially particle effects like fog, mist, smoke, or fire to work with much greater efficiency.



What this means for developers
Metal is one of the biggest updates that developers have seen for OSX in a long time. Its real benefit is that graphics processes no longer have to go through outside APIs and can instead run natively, saving a whole lot of processing power freed up that was previously devoted to rendering graphics.
In addition to Metal, there are several other improvements that El Capitan made for designers. The first of these is Swift 2.0. Swift is a programming language written specifically for Apple products, and OSX in particular. Swift 2.0 is an improvement on Swift that includes advanced error handling, availability checking, staggering enhancements to syntax, and many other things. Building off the already solid foundation of Swift, Swift 2.0 will likely reach great heights of popularity, especially after it is released as open source later in the year.
Another update is something called Force Touch, which is a development kit for the touchpad on Mac laptops, which drastically increases the level of interactivity users can have with their touchpads. In addition to its software updates, El Capitan also offers extensions for existing apps, such as one for photos that gives users access to custom filters and editing tools from directly within the photos app on a Mac. As stated previously, Metal and Safari have both been updated, and these updates will also offer new and exciting tools for developers.
El Capitan will be available shortly and promises to improve on the already-stellar performance of Yosemite.