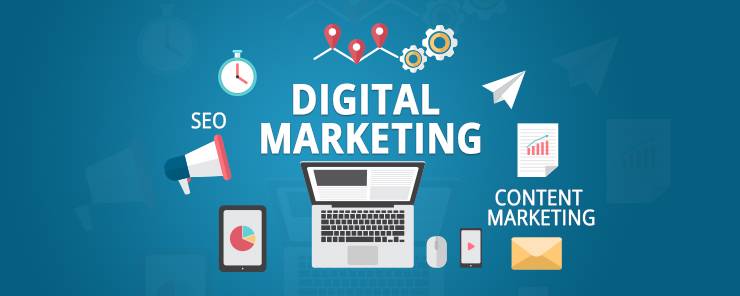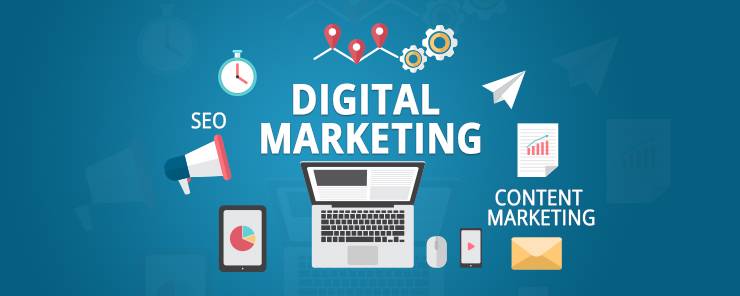 Marketing finds the most success when the strategies are implemented at the right place and right time. With Internet usage on a rise in the past few years, offline marketing will no longer give you the expected results. You will have to connect with your audience through the Internet.
Digital Marketing
Digital marketing is, in fact, another name for your online marketing efforts. Businesses use digital channels like search engines, social media, email, blogs and websites to connect with the intended audience. There are various tactics that come under digital marketing, which include:
• Search Engine Optimization (SEO)
• Content Marketing
• Inbound Marketing
• Social Media Marketing
• Pay-Per-Click (PPC)
• Affiliate Marketing
• Native Advertising
• Marketing Automation
• Email Marketing
• Online PR
SEO and content marketing are two of the most important tools of digital marketing. When these two digital marketing techniques are rightly used, there are greater chances for your business to succeed.
Search Engine Optimization (SEO)
SEO is everything you do to improve your web traffic so as to rank higher in search engine results. Everything in marketing requires planning; that includes SEO as well. The different strategies of SEO include:
• Setting goals
The aim of SEO is to make your website visible to the audience. However, all your efforts are in vain if the audience just don't care. Therefore, know your audience before you plan your SEO process. Study the analytics to learn more about your audience-their preferences, location, demographics, etc. Then plan your objectives, and you'll get the expected results and improve user experience for your viewers.
• Usage of relevant keywords
You can search for relevant key words based on the preferences of the target audience. Deciding between the keywords that are relevant and that are not, can be very critical to your strategy.
• Optimizing on-page elements
On-page SEO helps search engines understand what the website is really about. For that, the search engine has to have access to the website and its content. This can happen only when the website has unique content, good navigation, high-quality links and proper page-loading times. Also, the website pages have to be keyword oriented. However, keyword stuffing can harm the website.
• Keep track of the results
Your job is not done until you keep continued track of the results of your efforts. This helps you understand your mistakes and to rectify them in the future.
Content marketing
Content marketing involves creating, publishing and distributing valuable content to the targeted audience. When you say content, it is not just about blogs. It's also about images, videos, infographics, articles, etc.
Content marketing strategy isn't an option. It's, in fact, a necessity. A successful content marketing strategy involves:
• Research and plan
Study the targeted audience, competitors, market and the various problems of the customers to whom your products and services will be a solution. This will give you an idea about the preferences of your prospective customers. After all, content marketing works only when you create content that the readers want. Also, boasting about your products and services is the worst kind of content strategy. Instead, create content to explain to the readers how your products and services can help solve the customer's problems.
• Powerful title
Readers usually decide to read an article or a piece of content based on the title.
1. Make the title sound useful to the customers
2. Tell them why they should give priority to your services through your title
3. Convey the benefits of your product
4. Make them curious
Remember, a title with less characters makes it SEO-friendly. Therefore, make sure that it does not exceed 70 characters.
• Use different types of content
Do not stick to one type of content if you wish to draw crowd to your website. Visual content is often more invigorating than textual content. Therefore, include images, infographics and videos along with blog articles to make it interesting and attention-grabbing.
• Track the performance of the content
This gives you a better idea of what works and what doesn't in your content. You can track the performance of your content to measure the traffic, customer engagement and conversions.
• Content promotion
You may have created great content and you may have a fair share of audience responding to it. But, have the numbers reached to what you expected? You can mention influencers in your content to have them share it. Also, you can share glimpses of your content in social media. This can make the users curious. You can also utilize content sharing forums where you may find loyal customers.
SEO and content marketing are two digital marketing techniques that are dependent on each other. You need keywords for your content to build traffic and to fulfil your content marketing needs. Also, unique and powerful content can influence a website's rank in the search engine. In short, how well a content performs depends on how well your SEO is and vice versa.