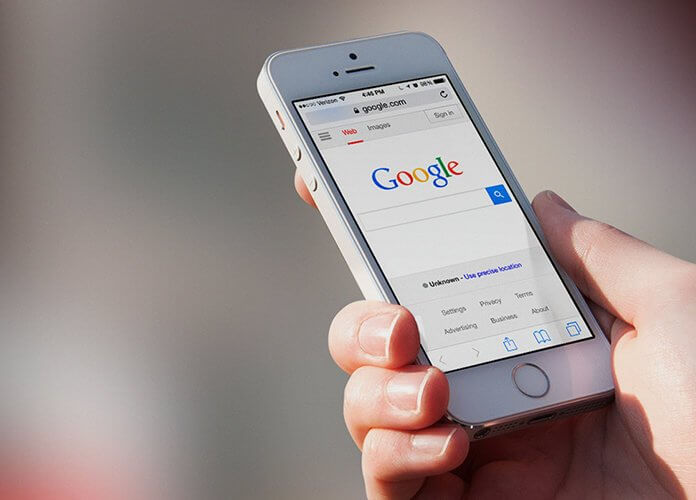 Google is working continuously to update its search engine and to match up with the user requirements. Today, users depend on mobile devices for most of their online activities, so it's just normal that Google is investing more time in serving those users.
Google has released various updates intending to make the web page user-friendly for mobile device users. However, Google has rolled out a "mobile-first" version of its index, which is capable of changing the experience for web users and search engine optimizers.
What is "mobile first indexing"?
Google gathers data on each website page in a massive record, which is known as the index, which is used at that point to develop and show search results for different inquiries. At first, Google considered more about web pages for the desktop users and then only about mobile pages.
For mobile-first indexing, Google will incorporate your website's mobile version as their primary page in their index, and based on that it will be determining your website's ranking. If you have recently monitored the traffic to your website, you must have noticed an increase in traffic by smartphone Googlebot. Usually, cached versions of your web pages will be the mobile version of your page.
'Mobile-first index' does not mean 'mobile-only index,' but also includes your desktop site in its index. For example, if you do not have a mobile-friendly version of your site, Google will consider your desktop site and it will appear in the mobile search pages. However, the lack of mobile-friendly page will definitely show the impact on the rankings as it can negatively affect it. If you want to come up in the rankings, it's crucial to have a mobile-friendly version of your website which can generate more traffic.
Impact of Mobile first index
Mobile-first indexing will definitely be impacted if your desktop version and mobile versions are very much different. For instance, if your content in the mobile version is lesser than the desktop version; as per the mobile-first indexing criteria, your mobile version will be considered as primary version, which will create an impression of your site and brand on visitor's mind.
Mobile-first index is very important as Google prefers more about what is appealing to mobile users.
How should you prepare for mobile first indexing?
There is nothing to panic about mobile-first indexing. If the mobile and desktop versions of your website are same or if your site is responsive, you don't need to scratch your head thinking about it. You are in the safe zone!
Even if you have a responsive site, you need to make sure that the speed of your mobile page and page loading time is prioritized accordingly; also pictures and other potential elements are suitably optimized for the mobile experience. Also, note that there shouldn't be any content which is broken or hidden under any tabs due to space regulations because all these can negatively impact the appearance of your mobile page.
If you own a separate mobile page, you need to check the following points:
Content
Ensure that the content on your mobile version is valuable and also of high quality like as in your desktop version. That could be anything like videos, text, pictures etc. Also, you have to ensure that the configuration used for the mobile version is scrollable and indexable.
Structured data
Both of the mobile and desktop versions of your site should have the same structured data markup. Avoid pointless structured data if it's not appropriate for the particular content of the page.
Metadata
Make sure that the mobile and desktop versions of your site have equivalent meta descriptions and titles. Even if you have equal metadata, you may still need to optimize your mobile titles for a smaller word counts, yet ensure that the relevant keywords and same data are included.
Hreflang
In the event, you use rel=hreflang for the purpose of internationalization, hreflang takes note of your mobile URLs that should be showing the mobile version of your country, and desktop URLs should be showing the desktop version.
Social metadata
Both of your mobile and desktop versions should include the social metadata like Twitter cards, OpenGraph tags etc.
Media sitemaps and XML
You should guarantee that any links to sitemaps are available from the mobile version of your site. Also, the same applies to robot directives like robots.txt, and also links to your privacy policy page.
Verification of search console
When you verify your desktop version of your site in Google's search console, make sure that you verify your site's mobile version also.
App indexation
If you have to set up application indexation for your desktop site, you have to ensure that you have also verified the mobile version of the site in connection to the application association files, and so forth.
The Capacity of the server
Ensure that your host servers can deal with the increasing crawl rate. This is applicable only if you have your mobile version of your site on a separate host like m.domain.com.
Switchboard tags
If you have implemented mobile switchboard tags, you need not have to change this implementation as they remain the same.
History of SEO and Mobile-first index's impact on SEO
Google was using URLs and URL structure alongside metadata and links to organize content in their index which is the reason SEO's have dependably worked under the idea of "one URL for each and every piece of content". Google has dependably been an internet search engine and for the most part, the internet is consumed by web browsers that rely on URLs; however, all these are changing.
In reality, the internet is significantly bigger and contains substantially more data that can't be displayed in a browser. An enormous amount of data and information that are not HTML formatted is processed in the background of the internet. This kind of data is getting to be critical for the Internet of Things (IoT) and Big Data-style calculations. It is only accessible via API's and the databases, Google need to have the capacity to use this data in their algorithm.
Above that, mobile OS and browsers are getting less particular. Both Spotlight Search and Google Now on Tap are major aspects of mobile OS that can search and that can surface content from the web applications. On account of Google Now on Tap, it gives the idea that content is provided in APIs and feeds, without essentially including a page or URL.
Once the URL need is completed, content can compete with websites, which enables a better experience that has significantly more flexibility as far as how and where data can be introduced to a user. Mobile-first indexing enables Google to remove rankings from simple links and URLs and concentrate more on critical things like speed, user engagement etc.
For quite a long time, Google has been trying to remove rankings from link economy that it made, and now they appear to be currently attempting to stop SEOs and website admins from depending on URLs as the essential organizing guideline in their index.
Final Thoughts: –
Google is trying to incorporate mobile-first indexing as a new model of development since it allows a more personalized user experience with a quick loading time. Likewise, it also makes things like Big Data based machine learning and AI responses quite easier. So it's an ongoing process and we can expect to see much in the near future.
We would love to hear what you are thinking about the article. Please write to us.