So you thought that digital marketing had nothing to do with a brick and mortar shop? Think again. Marketing online has added revenue to many offline businesses. California based JDV hotels sold more than 1000 room nights in 2010 through Facebook and Twitter offers alone.
According to minewhat.com, 81% of shoppers research online before making a purchase. The offline and online world is intertwined today. Customers are searching online for product information before, during and after an in-store purchase.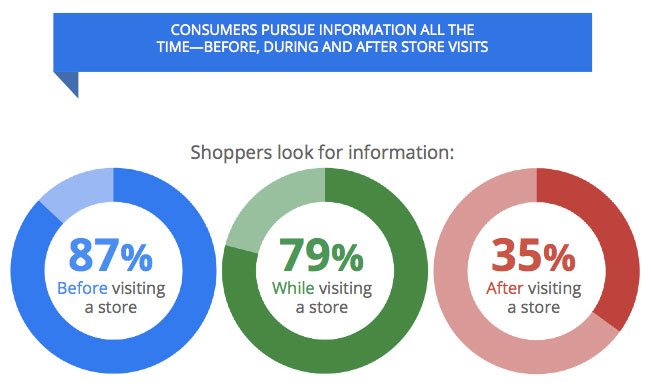 Great customer experience and successful marketing is a result of a consistent message delivered in both online and offline world. Customers are searching for information, interacting with brands and making decisions online. Businesses cannot afford to be absent on digital platforms today. This is why number of Facebook business pages has crossed 50 million.
Here are some ways you can use online marketing to attract more offline customers:
* Listing on Search Engines and Online Directories
Printed directories and yellow pages are thing of the past. Consumers now turn to their smartphones for local services and products.
Listing your business on search engines like Google and Bing can draw footfall to your store or business. Be sure to mention store timings, directions, product listings and positive customer reviews to list higher. A decent website that is optimized for search engines is also a must.
Online directories like Yellowpages.com, Yelp, Justdial are great way to get leads from your locality. Some directories even offer listing with 360 degree photos and detailed product catalogue.
* Social Media
Getting quality leads offline is a costly affair with no measurable ROI. Social media is an easier way to contact more qualified leads and reach them regularly through posts. Followers on social media form your targeted audience that can be reached for promotions, engagement or user survey for free.
Almost 75% of small businesses have a Facebook Page. Each platform offers a unique type of users who can be reached through regular content.
Instagram and Pintrest are great platforms to get people interested in lifestyle and fashion products. Facebook is very useful to build a community of users around your business and build a brand. It even allows your posts to be geo-targeted to your locality users.
53% of people on Twitter suggest products and companies in their tweets with 48% delivering in their intention to buy.
Social media can also be used to run contests and offers online. Companies like PETCO, Redbull and IdeaPaint have all successfully used Facebook contests to grow their followers and increase revenue.
* Paid Ads
Paid advertising is advertising on the web. It similar to print ad in a newspaper except that your ads appear on popular websites and search results. This is the best way to cash in on customers who are already searching for your products/ services on sites like Google. Paid Ads give the highest and immediate ROI for your offline store.
There are many reasons why advertising online is a much better option than spending on traditional advertising:
• Online ads are only shown to users searching for keywords related to your business. That means no more unnecessary spending on readers who do not even look at your ads
• Online ads can be geo-targeted. Ads are shown only to relevant local users to increase your store footfall
• You can measure your ad conversions easily. Invest more in what works and cut out unnecessary spends
• Change the ad copy anytime to increase your conversions.
* Blogging
Blogs are articles that you can publish on your website and share on social media. Blogs are a great way to build authority and show your expertise to site visitors. Regular blogs add value to your readers and make them more likely to purchase from you in the future.
Blogs allow you to build your brand in the mind of the customers. This is much like relation building done offline by sharing valuable tips and content face to face.
Blogs give you an insight into the minds of your customers and increase brand recall. Customers are more likely to turn to you for advice offline when they perceive you as authority in your industry.
* Email Lists
Online channels can be a continuous source of leads. All the points listed above can give you leads for your offline business. But how do you convert those leads into sales?
Online marketing can not only give you leads, but also convert them for you through Email Marketing. According to a report released by Direct Marketing Association, email marketing results in $43 in sales for every $1 spent on it! Even for those who do not sell online, email marketing is a profitable way to stay in touch with your customers, develop the relation and send occasional promotional mails.
Not marketing online is leaving money on the table. There are so many ways to promote your offline business digitally. The best part is that you can reach your customers for little to no cost. If you have never promoted online you can start by using one of these channels.
A Facebook page could work well for some whereas paid advertising may boost revenue for others. Experiment with what works best for your business and make sure you reach your customers where they are searching for you.