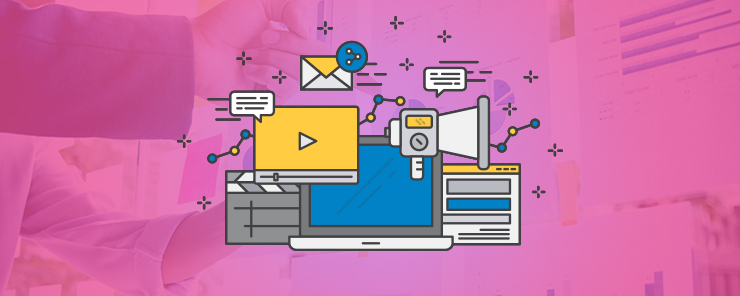 With the constantly evolving technological scene, it'ss not a surprise to note that digital marketers face a number of challenges. While aiming for high levels of customer service, they should focus their efforts towards increased visibility. Paving the way for a healthy competition, the year 2017 can become a landmark for SEO experts and digital marketers who are adaptive to multiple changes. Enabling them to embrace creative strategies, here is the list of promising digital marketing tools that will help you offer the very best to your clients.
1. Google Analytics – An Insightful Tool
Tagged as a free web analytics tool, Google Analytics comes with a promise to keep a close watch on the progress of your business. Alongside helping you generate revenues, this tool addresses concerns linked to the consumer preferences. Helping you delve deeper into the on-page behavior of customers, Google Analytics throws light on the buying preferences of users along with their demographic influences. With this tool in place, you as a digital marketer will be in a favorable position to identify the most lucrative marketing channels. You can also be watchful towards activities that will lead to better customer engagement and conversions.
This tool can also help you in tracking and measuring any activity that concerns money. You may be dealing with a shopping website where products are ordered or a service-driven site that has a price for every service offered. Making money when a new user signs up can also be another scenario. All these are the instances which will demand the use of Google Analytics. It is when you employ this tool that you can exercise better control over the website by streamlining SEO practices which will ultimately expand your customer base.
2. MailChimp – A "Simple-To-Use"Email Marketing Service
In line with its name, MailChimp is an automated marketing platform that is used as an Email marketing service. Going by the need to increase customer visibility, digital marketers tend to use email marketing as a promising tool. And this web-based tool is meant to do just this! Enabling users to be informed of the activities concerning companies they are interested in, MailChimp delivers promotional emails.
It is an interesting piece of trivia to know that 91% of Americans are in receipt of promotional emails from various companies with 86% of them receiving such emails every month. Originally, MailChimp was a paid service that began to register a growth in customer base to 450,000 users by 2010. In 2014, this tool registered a whopping 10 billion emails that were sent to various users on a monthly basis.
The Advantages of MailChimp
Speaking on the versatility of this tool, it is through various templates that you can effortlessly craft different emails. Not calling for any specialized "know-how" about its usage, this tool can help you draft beautiful emails. Not only that, this tool which can be used by amateurs comes with tracking features that will help you assess the performance of your email campaign. A simple "drag and drop" on the user interface is all that is needed to create a compelling email newsletter.
Allowing you the advantage of identifying the most effective email subject lines, it is through MailChimp that can better engage with your target audience. Once your email campaign reaches the completion stage, you will be in the possession of vital data points. Throwing light on the success of your email marketing campaign, this tool helps you work around audience preferences; the strongest indications of this tool.
3. MailTester –An Email Authentication and Configuration Tool
Digital marketing is not only about crafting beautiful emails. It is also includes avoiding "spam" mail. There will be instances when your business mail will be sent to the spam folder of users having accounts with Yahoo, Gmail or Hotmail. These can be potent customers who will be prevented from getting information about your company and your offerings. All in an attempt to avoid the creation of spam emails, you can rely on MailTester. This is a free online tool that can be applied to test the authenticity of your newsletter.
How does MailTester Work?
With an intention to avoid spam emails, you can apply this tool to check the spam score and quality of your newsletter. You just need to send an email to "[email protected]". An automatic response follows, supported by a complete analysis of your email. It is after the email is sent that you should click the "check your score" button. This action will tag your email with a score anywhere between 0 and 10. This is about the authenticity of your email.
MailTester can also be used to test the configuration of your mail, validating security standards and postmaster guidelines that should be adhered while employing large email service providers. A detailed report about the blacklist status, broken links and body text helps you to effectively craft email newsletters to increase the reach of your email.
4. Netpeak Spider – The Next Gen SEO Tool
Primarily meant to assist SEOs to perform their daily tasks in an efficient manner, Netpeak Spider is a tool that can perform a comprehensive audit of your website. Along with checking over 50 "on-page" SEO parameters of crawled URLs, this tool can identify more than 60 issues concerning the optimization of your website. It is also a tool that can locate and redirect broken links. Allowing you to save and export data to any location you want, Netpeak Spider allows you to calculate the internal PageRank of your website with prompts coming in the form of certain important pages not enjoying visibility.
5. SEMrush – The All-In-One SEM (Search Engine Marketing) Tool
If you are on the lookout for a single SEO tool that will make your keyword research a piece of cake, then SEMrush is your top bet. Tagged as an amazing SEO tool, SEMrush is a star attraction amongst millions of users on account of its versatility. It is through this "all-purpose" SEO tool that you can be successful with your keyword research while also tracking your keyword rankings and watching the performance of your backlinks closely.
A sneak peek into your competitor's keyword performance can be your tool to success. It is through SEMrush that you will be able to identify keywords which are promoting the traffic to your competitor's site. It is with this invaluable data point that you will be able to churn out quality content woven around high-ranking keywords.
The list of advantages does not end here.
SEMrush also facilitates a comprehensive SEO audit of your blog.
Identified as the most trusted tool for SEO agencies and professional bloggers, SEMrush offers the much-valued competitive data to marketers, allowing them to take the right kind of business and marketing decisions. You can effortlessly assess your performance through competitive data while trying to improve your digital presence. Witnessing your top content in relation to what is making your competitor rake in more business is a step towards progress. Helping you compare your content and backlinks with that of your competitor will hence work wonders to gain insights about various parameters including your content, search, and social standing.