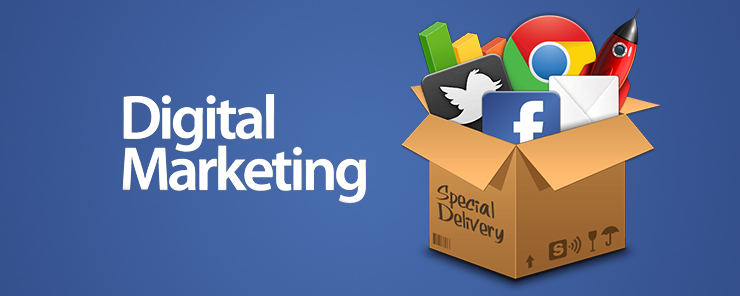 It will not be an exaggeration to quote that digital marketing is a perfect alternative to traditional marketing, promising cheaper and effective means to advertise products and services. Offering a plethora of products and services to the online community at large, digital technologies like search engines, social media, email, mobile apps and websites help businesses advertise their online merchandise. Engaging customers through online content, it is through digital marketing that a one-time visitor can be transformed into a brand loyal for your e-commerce business. Hence, marketers bank on the digital media to unleash the innumerable possibilities that guarantee conversions for their businesses.
Here are all the ways in which you can employ the tenets of digital marketing to make it work for your business.
1. SEO (Search Engine Optimization)
SEO is a practice employed by digital marketers to ensure that their website comes up naturally after giving certain search results in Google, Yahoo Bing or any other search engine. Termed as a budget-friendly marketing strategy, SEO guarantees you organic traffic to your business.
So, how does this happen?
This is made possible through Google which constantly updates its algorithms to ensure that only relevant results show up all the time. It is an interesting piece of trivia to note that Google strives hard to prevent the manipulation of algorithms. It also sieves out and eliminates sites that don't deserve the top place of SERPs (Search Engine Result Pages).
Hence it comes as a wise move to invest your time and effort into SEO work. This will ensure that your website stands in line with the technicalities linked to online content, matching of online queries, spidering, and interpretation of non-textual content and indexing.
2. SEM (Search Engine Marketing)
SEM is also called as Paid Search Marketing. As the name suggests, it is through SEM that you can incorporate a rounded strategy to improve and drive traffic to your businesses; through paid campaigns.
You also need to understand that the world of SEM is rather too complicated and unique.
Depending on your business model, SEM provides you with a couple of alternatives; all coming with a price tag. The most popular SEM models are CPC (Cost-Per-Click), CPM (Cost-Per-Thousand-Impressions) and PPC (Pay-Per-Click). Additionally, there are various platforms on which you can conduct these SEM campaigns. The most patronized ones include: Google Adwords which is linked to the Google search engine and Bing Ads which can be featured on Yahoo Bing Network, for a sum of money.
Other concepts that come under the umbrella of SEM include: –
I) Digital Display Advertising
Google Adwords permit you to reach out to your online customers either via the web or through mobile apps. You have the luxury of choosing more than one display format. You can include a couple of lines of text with a headline that talks about your product or service in the form of a Google Text advertisement.
You can run custom ads in Gmail so that Gmail users can save and share your ads after it lands in their inboxes.
You can create banners with rich media, interactive elements and animations to catch the eyes of the online fraternity. Alternatively, you can make the most of the smartphone revolution to churn out specific mobile app categories. All these will help you reach the right customers who they will begin to take notice of your online offerings and prompt them with a "call to action".
II) Search Retargeting
A potent market emerges when advertisers scout for a visitor's search history. A search history is a database of his interests and purchasing behavior. Looking at his search history, you can employ Google Adwords or Yahoo Bing to come up with ads that are in line with his search strings.
III) Website Remarketing
Advertisers have a powerful tool called Website Remarketing which permits them to target customers who have visited their website earlier. Google Adwords Remarketing helps you display ads that are shown on other websites which belong to the Google Display Network. This is done by tagging visitors who have visited a website with a cookie and linking that to a page on your website. All such users can be added to your customer base in the form of a customer list.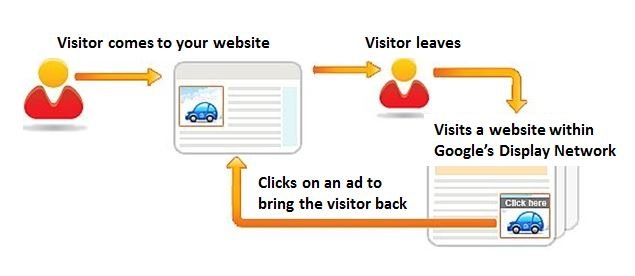 Image Source: https://www.hallaminternet.com/how-to-set-up-remarketing/
IV) Mobile Marketing
We are undoubtedly living in a digital world backed by a host of communication devices that can play the role of digital advertisers. Be it your smartphone, your tablet or your laptop, you can use these devices to connect with your target audience; by the mere click of a button. By churning out multi-channel campaigns, you can ensure your business reaches out to your esteemed customer base through websites, emails, apps, SMSs, MMSs and social media platforms that are stored on these smart devices.
V) Paid Social Media Advertising
Regarded as a cornerstone of social media marketing, paid social ads are the significant sources to register a better return on your investment. Unlike free tools like Facebook and YouTube, advertisers can make digital marketing work in their favor by employing a sponsored content. You as a marketer will have to pay for this content which can be used to boost your website traffic in third party pages and feeds. It is after you have chosen your target audience, that you will be able to reach out to your customers, informing them about your offerings.
3. SMM (Social Media Marketing)
Recognized as a branch of SEM, SMM is a marketing strategy that helps you increase traffic to your sites through social networking sites like Instagram, Facebook, Twitter, LinkedIn, Pinterest and Google+. Based on the innate tendency of customers who will like and share compelling content, your SMM can do wonders for you provided you customize content in accordance with the numerous social media sites.
Originality is what drives your content on such networking platforms. You should also focus on engaging with your users on a regular basis. This way, you can chalk out an SMM campaign that will drive your sales by creating a positive brand image of your business.
4. The Power of Crisp and Compelling Content
The digital community is abuzz with a plethora of promotional articles, blogs, case studies, "how-to" guides, podcasts, videos and webinars. Added to this, you have e-books accompanied by content that is making its impactful presence felt on social media and microblogging sites. Calling for certain amount of creativity, you can churn out compelling content that can be indirectly linked to your business. This way, you will be able to attract the attention of readers while you should also strive towards customizing your content that will appeal to users of various devices.
To sum it all, good content is a strong pillar that will support your business by showing your brand in good light to the entire online fraternity.
5. Interactive Marketing
For you to extract the best out of your digital marketing strategies, it is very important to engage with your customer base; day in and day out. Bringing in a human element to the concept of advertising, you can engage in a personalized conversation with your potential customers so that you can understand them better.
Engaging in conversations with them will help you delve deep into their purchasing behavior and their inclination towards a particular product or service. This can become invaluable feedback for you and your business. Using widgets and opt-in features, you can bring in the interactive characteristic to your website. Looking closely at their browsing activities, your interactive disposition will unveil umpteen possibilities to customize your product line to suit the requirements of your brand loyalists.
6. Viral Marketing
You can also make the most of the widely appreciated content that is the talk of the town across multiple platforms. Content which is universally appreciated will be shared and liked without any bounds and thus becomes viral. Again calling for creativity, the power of appealing content will drive your business to growth through enhanced web traffic.
7. Email Marketing
This is another branch of digital marketing that holds a great deal of promise to improve your brand visibility and that is to do with sending business emails to target audience. Email Marketing, as the name suggests involves sending a commercial message to a group of potential customers.
Companies subscribe to email lists which have the personal and official contact information of various other players in the market. They make use of these email lists to send personalized messages to the decision makers in other companies who are in the similar field of business. It is when your personalized email reaches the mail boxes of customers that a goodwill about your brand is created and trust is built.
8. Affiliate Marketing
Next in the list of digital marketing possibilities is to take the support of Affiliate Marketing. This is a marketing strategy that involves paying online publishers who introduce you to new customers. Payment is based on the number of conversions which are recorded in the form of leads, improved sale figures or simply through product promotions.
Different publishers come up with a multitude of affiliate programs.
You can tag on to a particular publisher who will provide you with a designated space on their pages. You can use this space to advertise your products so that you can register conversions. A compensation model dictates the amount you need to shell out to your publisher for the space he provided to market your business.
Best suited for startups, this form of marketing ensures more traffic to businesses. This way, affiliate marketing bestows a win-win situation to both the parties; the marketers and publishers.
9. Web Analytics
Web Analytics is all about attaching numbers to your web activities. Through a perfect web analytics tool, you will be able to better influence your digital marketing programs to fall in sync with your business objectives. This is an exhaustive study of web activities which allows you to collate, quantify, understand, analyze, strategize and report while also forecasting the future of your business.
Tagged as a significant aspect of digital marketing, it is through this feature that you can go into an introspective mode. Looking at figures which are right in front of you, you will be able to chalk out your progress with your digital marketing journey.
To name a few web analytic tools, Google Analytics, Chartbeat, Woopra, Clicky, Mint and Spring Metrics can work wonders in helping you better understand your business. A detailed web analytical assessment will open up multiple possibilities to improve your conversions with a better return on investment.
10. Avenues to Plan and Buy Digital Media
Last but not the least, you can tie up with a media agency which is proficient in launching a new brand or strengthening the brand presence of an existing and well-established brand. Allowing your digital marketing campaign to fall into the able hands of a media agency will help you drive sales and conversions. This is a part of the digital media planning. Ordained to study the reachability and frequency of multiple web-based and mobile apps, a media agency works with various partners and purchases online space and ideas. This is called Media Buying.
In a nutshell, all the above strategies entail upon the buying and planning activities of digital media; the indispensable actions for a successful digital marketing campaign.
Wrapping It Up
With all this information in place, you must have understood the dynamism of a digital medium in promoting your products and services. Start off by zeroing in on a befitting web analytics tool to track your performance. Then, with the insights gained from various quarters you can chalk out a marketing strategy or a combination of strategies that will unlock the potential of the digital arena in advertising your offerings to the world at large.