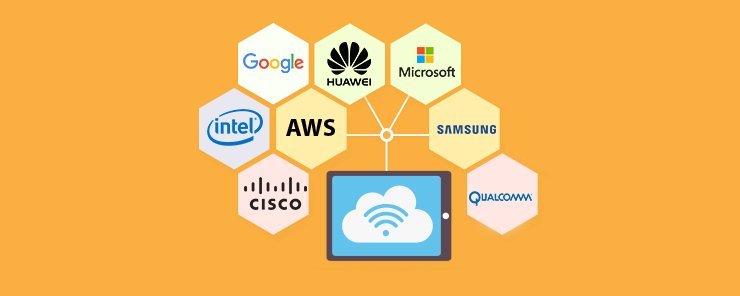 Way back in the early 90s, we only imagined of having technology that was smart enough to automatically detect sight, sound and perform tasks such as opening doors, ordering groceries, adjusting the temperature within a room. However, skipping ahead to 2017 and these things are no longer just our imaginations, rather we now have technologies that are capable of doing just this.
Internet of Things (IoT) has become a huge sustainable market, where your smartphone or smart device can now control multiple devices, including your computer, your fridge, your TV and even the car/home locks. As technology progresses, we are expected to see a surge in IoT sector. Research company, Gartner, predicts that the IoT sector is expected to generate around $300 billion in revenue by 2020, while IDC forecasts that spending on IoT will reach $1.29 trillion till 2020.
With this much money being put into this sector, the importance of IoT has become significant and a lot of companies are now stepping up and taking charge, offering more innovations and advancements within this sector.
Here are 10 powerful Internet of Things Companies that are currently a big name:
1. AWS
It's no surprise that cloud computing is definitely the next step in storage solutions and product development. And the biggest innovator in cloud computing is Amazon Web Services. Amazon has dedicated an entire sector to advancing cloud computing and offers multiple platforms for storage and development of IoT applications. These include amazing technologies such as Amazon Kinesis, AmazonS3, Lambda, Amazon Machine Learning, etc.
2. AT&T
AT&T has been making extreme strides to enter the IoT market and position itself as the main network for IoT devices. The company has formed some crucial and interesting partnerships with other tech companies including GE, IBM, Intel and is currently attempting to become the de facto network for IoT devices to connect to the internet.
3. Cisco
Cisco has played a crucial part when it comes to IoT connections, with its range of routers and wireless products. The company provides pretty much every solution for IoT devices offering products such as embedded switches, wireless access, routers, and other application network software. Cisco also provides products and services for numerous sectors including manufacturing, energy and even transportation.
4. IBM
IBM is also one of the major companies that are part of this rat race. IBM has a number of offerings in the IoT sector and it plays a major role when it comes to offering connectivity. It's main products include MessageSight (a messaging platform for machine to machine), MobileFirst (a product that gives objects mobile capability), and BlueMix (a development app to manage IoT data collection and analysis. It has also partnered with Libelium to offer 6LPWA (Low-Power, Wide-Area) network starter kits.
5. Google
Google doesn't need any introduction in this or any other sector. Google has been making significant acquisitions to bolster their IoT sector. Google's recent acquisition Nest, allowed them to enter the smart thermostats and fire detectors market. The company also designed a brand new operating system, Project Brillo, specifically for their IoT products and has also launched a new Internet of Things management service called Google Cloud IoT Core that makes it easier for companies to manage IoT devices and process data being generated by those devices.
6. Huawei
Huawei might seem like it does not belong on this list, but it has been making strides in the IoT market in Asia with its products and services. It is a part of the Cloud Foundry open source community, who are on the path to create an IoT application development platform. Huawei has also introduced a brand new LiteOS, an operating system that has been specifically designed for IoT systems.
7. Intel
Most commonly Intel has been running your PC or your laptop, through its processor chip. Intel has been gearing towards becoming the main company for providing processor systems for IoT devices, including introducing products such as Quark (a low-power computing for small-form factor appliances) and Atom (processors for rich graphic rendering).
8. Microsoft
Microsoft has been in the IoT sector from its initial stages, helping IoT gain a better footing. It's Azure Cloud Platform already simplifies the process of developing IoT products, as well as conducting data analysis directly in the cloud. The company also has its reach in numbers sectors, where its IoT products are used in manufacturing, transportation, energy, retail, and healthcare.
9. Samsung
Samsung has become a household name with its range of smart products, including smartphones, TVs, and even smart fridges. It also has a range of IoT offerings such as IoT Gateways, Low power wide area technologies and SmartThings Starter Kit, which includes connected plugs and motion sensors.
10. Qualcomm
Qualcomm is most popular for its Snapdragon series of ROM chips that are now found in a majority of smartphones across numerous brands. The company has been actively designing and developing wireless communication devices and telecommunication products for a while now for numerous sectors including automobiles, wearables, healthcare and education. Recently, Qualcomm has also helped create AllJoyn, which is an open source IoT frameworks that makes it easy for devices to discover and communicate with each other.
The IoT sector is not only not going anywhere, but it is our future. As our technology gets smarter and better, more and more of our lives are going to be plugged in to the internet. You will have more control over all your gadgets and you should be able to manipulate them by simply using your smartphones. The day when you can cook a meal using just your smartphone or smartwatch is not that far away.
Please share your thoughts, ideas and suggestions with us by leaving us a comment below.