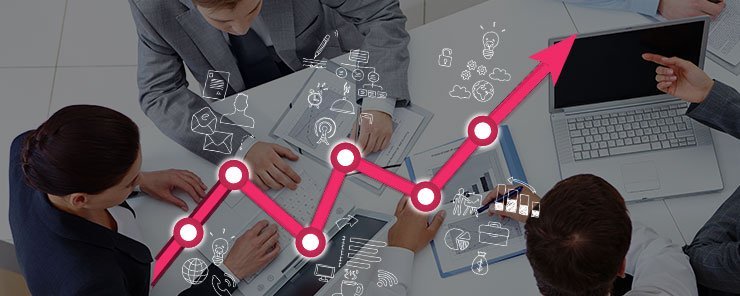 It's been a great decade to be an entrepreneur, with many opportunities and technology at business' fingertips. Small and medium business have been seeing tremendous growth, and technology definitely has a hand in it. Internet of Things, or nicknamed IoT, have been a cause of caution as well as a life-line to hold on to for individuals as well as small businesses. It has significantly made things easier for businesses to simplify their tasks, and boost their profits.
However, as technology is a constantly changing and evolving field, companies should definitely stay on top of some trends to ensure that they don't become prey to change. This is why it is important to keep an eye on the trends that are currently in the market. Here are a few IoT changes that small and business mediums should watch out for:
Cloud Computing
Cloud computing and virtual servers are a growing trend that doesn't seem like it will stop any time soon. Companies such as AWS, Google and Microsoft are some of the big names that offer cloud storage and services. This has specially worked in favor of small companies, since the cost of servers are huge.
Cloud services allow companies to save tons of money on setting up servers and rather allow them to use it elsewhere. In addition to cost saving, the cloud also allows easier access to data and makes it easier to do collaborative work on projects. So, cloud computing and virtual servers are definitely a trend that is expect to change small and medium businesses for the better.
Secured Data Connectivity
When we discuss IoT, it is difficult not discuss security. With the amount of hacks and security issues on the rise, SMBs have been hesitant to integrate technology into their business. However, with a little practice and understanding, security is a feature that can definitely be triumphed over. New patches and updates and authentication systems are just some of the many things that are being integrated into technology.
Additionally IoT itself is entering the field of security, to help provide more improved security measures including things such as CCTV cameras and locking systems connected to smartphones, while integration of biometrics in super secured devices.
AI in IT
There is no denying that technology is getting smarter and that it will continue to do so. Smarter codes, programs and algorithms are resulting in technology understanding humans better. This trend to mold technology so that they can understand human needs is definitely a trend that is expected to continue. This will also become a more prominent player in IT, especially when it come to customer relations.
We are already seeing artificial intelligence in chatbots, that pop up to help a customer find what they are looking for. We are not far from when we have robots that will cater to our every wish and companies can definitely use AI to better connect with their customers, while also saving time and money spent training customer representatives.
More Payment Options
There is no longer one payment option – now there are many. From cash to credit cards to even mobile wallets, people are now used to carrying digital forms of money. This is one trend that we are going to continue to see as well. The need for carrying bulkier forms of money is slowly becoming obsolete as plastic money and digital currency become more popular.
SMBs will definitely have to cater to all forms of payment options, as well as employ a few of these themselves. Companies using netbanking or mobile payment options won't have worry about security or the timing of the payment made, making conducting business faster and easier.
Collaboration Tools
Collaboration has become a mantra for many companies, no matter how big or small. Communication is a crucial component in every aspect of life, including business. This is why collaboration tools have become a big deal in SMBs. While, email is still the main form of communication in a company, there are now more tools that are offered with email.
Google has an entire online workspace designed specially for this reason. There are also other individual tools that allow sending and receiving files, making changes in the same file, tracking work and appointments, so on and so forth. SMBs can definitely take advantage of tools like these to help streamline their work process and having multiple people work on the same project.
These are important trends that we are not only already seeing in the workplace, but are definitely set to become center stage in the current future. These trends are exceptionally help for anyone looking to make their working experience easier and less troublesome.