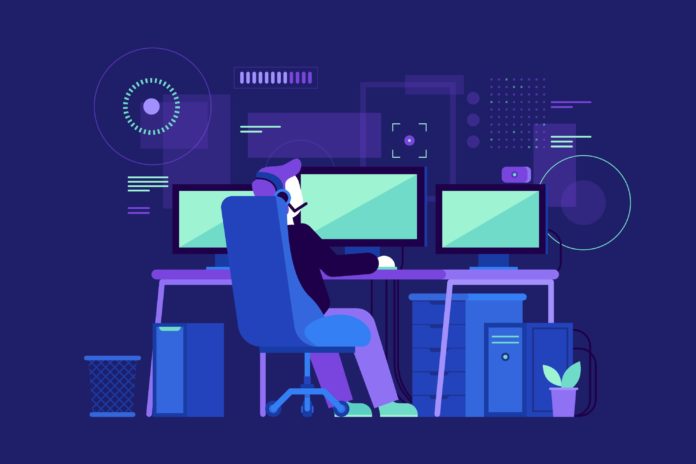 In recent years, video games have become more and more popular with a wider audience base, transitioning from a niche customer base to an everyday consumer. Not only that, but the range of gaming platforms has also improved, giving gamers more avenues to explore new storylines and gaming styles.
Therefore, in an ever-changing market, it can be difficult to know where to start if you are interested in becoming a game developer in order to secure a successful career. To help with this, we have done the research for you and put together a list of techniques and methods that you can begin utilizing today to kick-start your game developer career. 
1. Get a Degree
Obtaining a degree will act as the building blocks of your game developer career, giving you the necessary knowledge and skills to get started. Thankfully, due to the newfound popularity of gaming, there is now a host of possible degrees to investigate at a variety of colleges and universities.
It is worth taking the time to research your options to find the correct option for you. For example, do you want an entirely theory-based degree, or would you prefer an element of practicality to be included?
This question, as well as many others, is crucial to consider in this early phase. Furthermore, it is now even easier to afford a degree financially, thanks to the abundance of private lenders who will offer you a student loan at a better rate than the standard options. 
2. Find Your Niche
Since the range of platforms on which gaming now finds itself has increased dramatically, it is important to find where your passions lie, as no two platforms will be the same when it comes to game development. For example, the process of putting together a console game will be drastically different from creating a mobile game.
On top of this, there will even be differences in the processes between developing games for differing consoles, as they will each offer different hardware capabilities that you will need to consider. All of this is something you need to be aware of when choosing your niche to ensure that you develop the correct skillset for whichever area you choose to delve into. 
3. Learn from Current Developers 
As we have already stated, when it comes to getting started as a game developer, learning is important. However, obtaining a degree is not and should therefore not be seen as the only way to learn in this field. Another excellent way of learning your craft in gaming is to seek the advice of those who are currently in the world of game development.
There are many ways to do this, such as contacting your favorite game development company and enquiring about apprenticeships. Learning should be something which you never stop doing throughout your career, and so it is beneficial to find your ideal ways of absorbing new information from day-1 to make it easier to keep learning in the future. 
Also Read: Top Gaming Blogs Which You Can't Ignore!!
4. Build Your Own Games 
There is no better way to learn your craft and get started as a game developer than by developing your own game. Once you have found your niche and have a working knowledge of what it takes to put together a successful game, then there should be nothing stopping you from jumping right in and getting started.
The indie game market exploded in recent years and gave more and more developers without a studio behind them the chance to market and sell their creations to interested gamers. In addition, this rise of popularity for indie games spurred several accessible game development engines, such as Unity, which you can download and start using today. Capitalize on this market.
Even if you fail multiple times before producing a game that works, you will find more learning opportunities in this process than in any other, making this method one of the most powerful tools in your career journey. 
5. Play Games 
This point may seem like an obvious one and will more than likely already be one you are implementing, but it is worth mentioning as it can be a common occurrence to neglect gaming when time becomes tight in the future. Often, many of us will see gaming as the time we should be spending elsewhere and feel guilty when we put time into it as it is not obviously productive.
However, for those who wish to pursue a career in game development, gaming is crucial and should be an absolute priority. In the same way a professional in the technology industry will keep up with the latest trends of their field, so too should you aim to do the same by engaging with the latest releases.
Doing so will allow you to analyze what other developers are doing with their storylines and technologies, and also research what gamers are currently reacting negatively and positively to in the latest titles. 
6. Plan
No matter what gaming niche you have decided to pursue, what engine you use to build your own games, or how you will seek the necessary knowledge you will need, one of the most important things that every aspiring game developer should do when they get started is the plan.
Take the time to sit down and ask yourself where you want to take your career, how you will measure success along the way, and how you plan to support yourself financially during this period, amongst other questions. Doing so will enable you to identify your goals and set milestones, as well as put in place the necessary building blocks that you will then use to implement your goals in the future.
It is common for many new developers to simply jump into their passions and hope to figure it out as they go but doing so will only handicap yourself and decrease your chances of success. In a market that is still growing in popularity and is only set to become more and more competitive, it is crucial that you take every step possible to give yourself the best chance of finding success. 
Also Read: What are the Best Tools for Mobile Game Development?