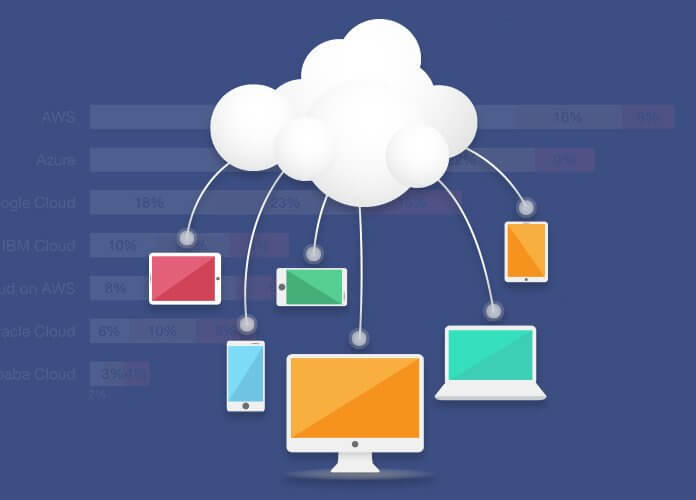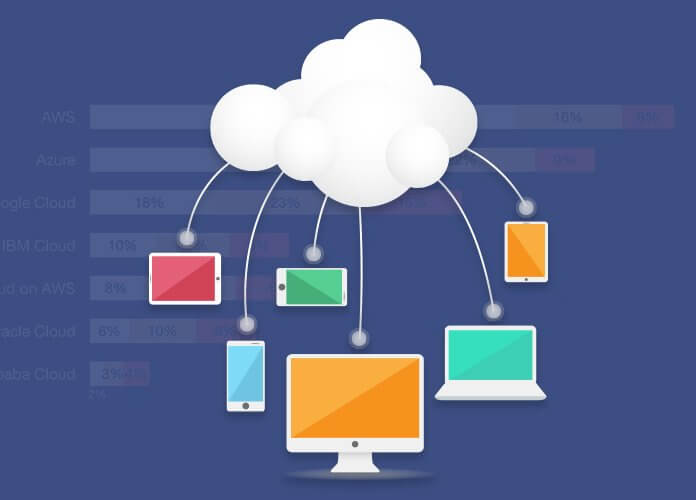 Many organization has hyped the idea of "The Cloud" and "Cloud Computing". Head start in the innovation has borne the hype and created new excitement in its favor. The main turning point for Cloud Computing was the launch of Amazon Web Services (AWS), which allowed anybody to launch a new website, regardless of their experience level. Consequently, the talk turned out to be substantially more centered around Data and what organizations could do when they decentralized their frameworks. In this article, we will focus mainly on the cloud computing trends that an enterprise should keep an eye on, in 2018.
Business and IT officials are not taking a look at the Cloud exclusively as a tool; now the focus has moved towards finding the correct method to utilize it so they can achieve their business objectives in 2018. The arrival of the Cloud has made noteworthy changes to associations in the past couple of years. Cloud computing has furnished Big Data with an approach to store and recover a huge measure of data. It has developed from personal cloud storage to the entire companies moving the majority of their data to the cloud. Cloud computing is set to become the dominant focal point in 2020, quickening the capacities of technologies.
Despite the fact that the Cloud has brought such a significant number of advantages, bigger associations are still hesitating to transfer their data to the cloud, and that is fundamentally a direct result of security concerns. The adoption of Cloud administrations increases because of the enhanced utilization of cloud-based services including, versatility, expanded productivity, cost-viability, streamlined coordinated effort, and network connectivity.
Who leads Cloud Computing in 2018? (Enterprise Adoption)
Amazon leads the count ahead of Google and Microsoft in cloud computing. The estimated revenue suggested by Wikibon for Amazon Web Services (AWS) will reach $43B by 2022.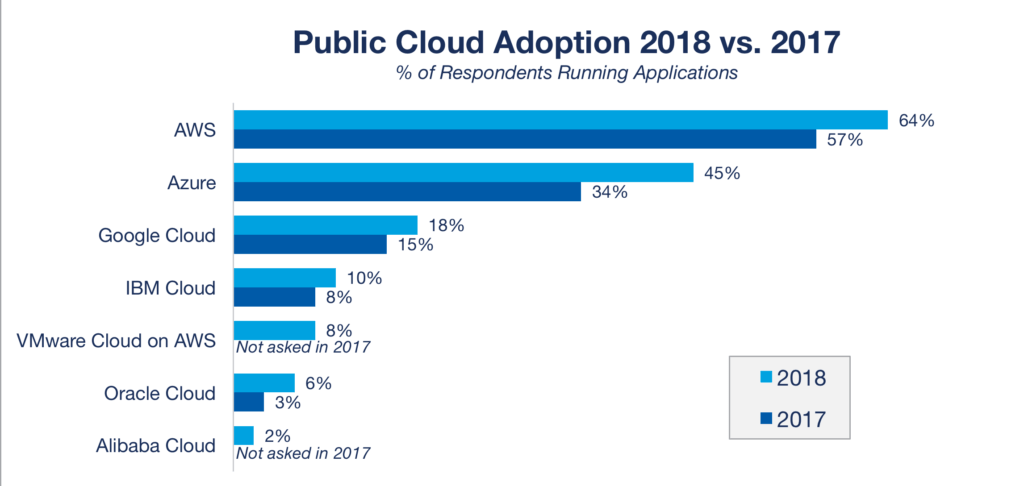 As shown in the graph, Amazon AWS though arriving late in the industry has maintained its position at the top and organizations are leading towards using it. It is ready with all its capabilities to go head to head with Azure.

To achieve the targeted goals here are the rundown of few cloud computing trends to watch out for the strategic business in 2018:
1) Cloud vulnerability and Security.
2017 saw an immense growth in Ransomware and Cybersecurity assaults all through the world. Attacks, for example, Wannacry Ransomware, Equifax data breach are only a couple of IT security threats that organizations will face in future. Cloud infrastructure will be focused on security assaults, so the admin should be equipped with tools that can ceaselessly recognize and cure any threats to their cloud infra.
2) Data management driving AI and ML
Fundamentally more associations are hoping to automate their essential leadership abilities towards Artificial Intelligence and Machine Learning to benefit from advantages. New innovations in AI and ML have changed the cloud from a limited motor to an intense machine brain. The new inventions being produced in this field are preparing cloud for close human capacities like talking and reacting (for example Alexa, Siri, Cortana) or comprehending your photographs (Google DeepMind, Google Photos). AI will be an important driver for the associations trying to engage the mechanized change for their affiliations and helping associations achieve the same.
3) Exponential growth of Cloud Service Solution
In 2017, significantly more organizations and buyers explored differently with Software as a Service (SaaS) to attempt cloud services. Developments in stage and foundation as a service (PaaS and IaaS separately) have extended the scope of cloud solutions offered to many enterprises.  According to  a review by Cisco on cloud administrations, cloud data storage stockpiling is expected to develop about 4 fold from 2016 – 2021, developing from 663 EB in 2016 to 2.6 ZB by 2021. As an ever-increasing number of organizations create data in the cloud at an exponential rate, there must be approaches to oversee and screen the information. Items helping clients oversee data and giving real-time insights and analytics will be irreplaceable to an endeavor's strategy to stay ahead of its opposition. SaaS solutions will be the most exceptionally conveyed cloud service over the globe. Organizations that need to streamline tasks and make it simpler for their clients to access the service will move forcefully toward integrating SaaS, IaaS, as well as PaaS into their business forms. In 2018, we can hope to see numerous more associations exploit superior, versatility and simplicity that the cloud guarantees. 
4) Serverless Cloud Computing will bring in more usage
Serverless Cloud Computing that enables designers to assemble, run applications and services without agonizing over overseeing/working servers, will expand cloud use, and cloud utilizes cases. It is zero time consuming, it can be achieved effortlessly, and it rearranges the release of new updates.
There are many problems within the enterprise, where Private Cloud offers a solution. Considering security as the main concern the development process slow down, however, the Cloud adoption will speed up rapidly in market segments. As portability improves, the cloud will get more global. Cloud suppliers will succeed when they can satisfactorily mine the data to manufacture better analytics, proactive monitoring and decision making, information mining. Cloud innovation will keep on growing in the upcoming years, and associations should effectively take part in its adoption, advancement, and security.