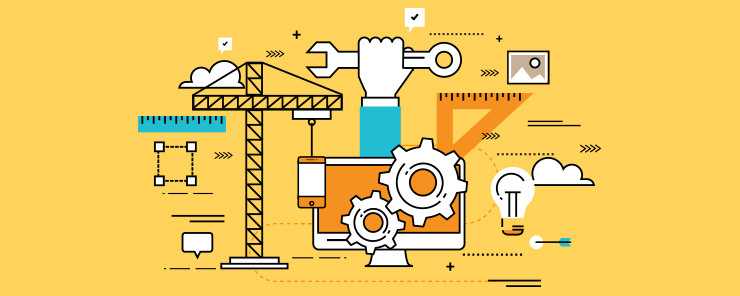 Information Technology (IT) is an ever-growing and ever-changing industry. While experience has always been the king of this industry, gaining some add-on skills or certifications relevant to the industry always prove beneficial in advancing one's career. With the rapidly growing competition in the market, it is, undoubtedly, true that having software development certifications not only help advance one's career but also give newbies an opportunity to add relevant experience in their profile.
While there are a number of certification courses that one can opt for to get an edge over his/her competitors, mentioned below are top 14 certification courses that can be completed to enhance one's career in software development.
1. Microsoft Certified Solutions Developer (MCSD)
These are highly demanded and recognized certificates in the market. Its entry-level certification for developers is known as Microsoft Technology Associate, whereas its intermediate-level certifications for developers are MCSD certifications. These certifications are offered by Microsoft for various sectors like Windows Store Apps, SharePoint Apps, Web Apps, Application Lifecycle Management etc. To earn any of these MCSD certifications, one needs to clear a number of multiple choice exams on the basis of the specification of the course.
2. Microsoft Technology Associate (MTA)
Gaining a Microsoft Technology Associate (MTA) certification can give a great start to one's career. Aiming at students/fnewbies who are new to the world of programming, MTA validates the presence of essential technical skills in an individual. This certificate holds an important value in every individual's career who possesses it, be it a lecturer at a college or a student. One can opt to complete this certification on various tracks such as Windows development, mobile, software development, gaming, etc.
3. Amazon Web Services- AWS
AWS certification identifies IT professionals who possess the required set of technical skills to design, install, and operate applications and infrastructure on AWS. Providing its users with the option of cloud computing that can be used for creating web applications, this certification can be obtained after clearing a multiple-choice exam based on its fundamentals, design and development, organizing cloud-based digital solutions, security, testing debugging etc.
4. Oracle (APEX)
This is one among the topmost brands that offer certification programs to boost one's career. It is designed specifically for developers who manage and direct Application Express Work spaces. This also allows one to share components, authentication, session states and authorization, within an app. Once the examination is cleared, you get the certification.
5. Cloudera Certified Developer for Apache Hadoop (CCDH)
CCDH is one of the highly demanded and valued certification in the market. Enabling enterprises to crunch big data sets, obtaining this certification makes one capable enough to create, maintain and optimize Apache Hadoop development projects. To obtain this certification, one needs to clear its exam of live questions based on data management, querying, job mechanics etc.
6. Puppet Labs
A Puppet Labs certification holds immense value in organizations like Zynga, Cisco, etc. As many of these organizations use this software to help manage infrastructures.
Obtaining this certification opens a wide range of opportunities for an individual as he/she develops proficiency in developing software extensions using the Ruby scripting language.
7. Red Hat
A well-recognized provider of software solutions, Red Hat caters the demands of many IT companies globally. Obtaining a Red Hat certification, such as the RHCJD developer certification, makes one capable enough to build Java Enterprise Edition (JEE) apps on JEE-compliant platforms.
8. Scrum Alliance Certified Scrum Developer (CSD)
This is an organization that promotes the widespread use and adoption of Scrum through networking, education and collaboration. The entry-level certification benefits the developers who understand the concepts, principles and have essential knowledge on agile engineering skills.
Although, there is no need to clear any sort of examination to earn this certification, but one needs to attend the training sessions led by a representative from Scrum Alliance. Technical skills training session is for three days, with a Scrum elective course and introduction. This needs to be followed by an evaluation test done by the scrum representative or trainer.
9. Salesforce.com
Salesforce.com Certified Developer certification that aims to identify developers who design and build custom applications and analytics using their platform Force.com. To obtain this certification, one needs to be ready and prepared for questions related to application design, the Force.com platform, user interface, reporting and analysis, data modeling, etc. Its advanced-level certification tests one for skills that are required to build custom applications using Apex and Visualforce as well as managing the development life cycle and environment.
10. Oracle (OCP) MySQL
This certification by Oracle is a great one to possess for the developers who write and work on applications for MySQL database servers. Although, this certification does not have any prerequisites, but it is recommended to first complete its 'MySQL for Developers' course. Possessing this certificate helps one to signify that he/she possesses the required knowledge of various aspects of developing MySQL applications such as architecture, design, modifications and syntax.
11. Project Management Professional (PMP)
PMP is currently one of the highest paying job certifications in the market which is offered by PMI. This certification is awarded only after testing an individual on five different grounds related to the life cycle of a project. This includes initiating, planning, executing, monitoring and controlling. To appear for this exam, one needs to have at least 35 hours of PMP-related training. In case, one possesses a degree less than a bachelor's degree, it is important to have at least 7,500 hours of project management experience and for those with a bachelor's degree or higher, the required experience cuts down to 4,500 hours.
12. Certified Information Security Manager (CISM)
This certification has been specifically designed for those who are involved in building, designing and managing enterprise security initiatives. It is best suited for professionals into IT security, such as information security managers, security offices and IT security architects. To obtain this certification, one needs to have at least five years of information security experience and three years as a security manager.
13. Microsoft Certified Solutions Expert (MCSE)
MCSE certification can be a great add-on for any individual working with private cloud networks, data systems, storage or servers. One can opt to obtain this certification in sub-categories such as mobility and productivity, business applications, and cloud platform and infrastructure. Obtaining this certification can benefit IT managers, directors, systems engineers and network administrators at large.
14. Certified Scrum Manager (CSM)
Holding a CSM certification clearly demonstrates an individual's ability and knowledge about Scrum, which is an AGILE framework used to develop software and hardware. The framework is not only important to the IT industry but, is also a valuable tool to manage any large-scale business project. These certifications are best suited to excel in career for IT project managers and software engineers.
Conclusion: –
The list is humongous. All one needs to do is identify his/her key specialization area and then, pursue a relevant certification course for the same. After all, it's not just about obtaining a certificate, it's about how obtaining it can benefit one's career.