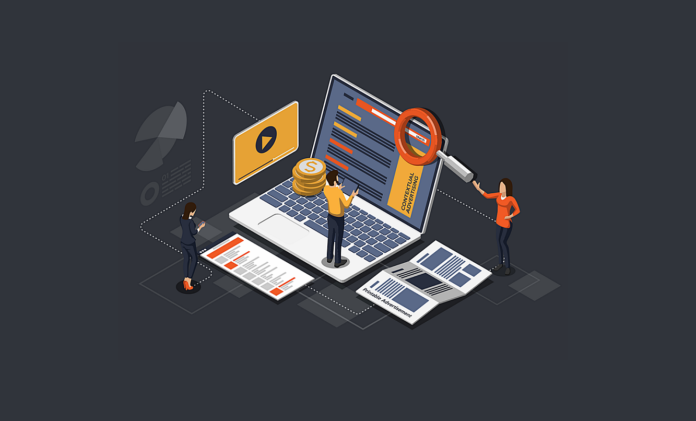 Here we will explore 15 of the best web design tools taking the industry by storm that are sure to make your UI/UX, prototyping, and wireframing steals the limelight for the year 2021 and perhaps beyond.
1. Marvel Enterprise 3
For large organizations and teams; Marvel Enterprise 3 is a brand new addition that's blazing fast and takes design research and production deeper than any other tool.
Design-Specific Features:
Consolidation of the tools for brainstorming, wire-framing, prototyping, and user-testing

Activity log exports

GDPR compliant

SAML-based SSO

IP Restriction & granular access

99.98% Uptime SLA

EU Hosted Infrastructure

Generate CSS, Swift, and Android XML code for the design prototype

Integration with

Maze, JIRA, Confluence, Lookback, Dropbox Paper, Sketch, Microsoft Teams, YouTube, Niice, Smartmockups, Zeroheight 
2. Justinmind
A definitely must-have for designers both expert and new. It's ideal for creating wireframes and responsive prototyping, focused specifically on user experience
Design-Specific Features:
Pre-built UI kits

High-fidelity UI components

Adaptive/Responsive design

Smart templates

Sketch and Adobe Plugins

Rich web interactions

Mobile gestures and transitions

Functional forms and fields

Co-edit prototypes/Team prototyping

Interactive HTML+JS

JIRA, Microsoft, and Doors integration
3. Origami Studio 3
Developed and used by big names like Facebook, Origami has come a long way as a design tool with significant improvements while contributing to leading social media applications like Messenger and Twitter.
Design-Specific Features:
Photo Library

that extracts images from your device's Camera Roll.

Audio Metering

to create visualizations from live audio or recorded samples.

Access GPS data

Build interactive components.

Native hardware APIs

Haptic engine access

Gyroscope and accelerometer information accessibility

Track and record prototypes

Origami Live

for easy sharing of prototype
4. PlaybookUX
PlaybookUX is a web and app UX design prototype, wireframe, and user-testing software that can conduct both moderated and unmoderated research on almost any device
Design-Specific Features:
Non-moderated Testing

Moderated Interviews

Transcript, Notes & Highlight Reels

Analytics, Metrics & A.I. Sentiment

Cross-browser testing

Block PII

blur tool to hide personal information

Editable

machine-generated transcripts

SSO / SAML certification

Open and edit Sketch designs (Beta)
5. EditorX
The tool enables you to produce high-end web designs with responsive CSS and team collaboration in real-time. It's an advanced creation platform for designers and web professionals.
Design-Specific Features:
Flexible Canvas

Stack to manage design elements as per screen size

Layout is made up of multiple containers and is based on Flexbox technology.

Repeating Layouts to automatically adjust display content for every screen.

CSS Grid

Container padding to add spacing around the edges of any container

Custom Breakpoints

Viewport Height

Anchors, Overflow, Sticky Position, Header Scroll Animations

Scalable Vector Graphics
 6. Mockplus
Mockplus is a design, prototyping, and collaboration software with 200+ built-in components and 3,000+ vector icons.
Design-Specific Features:
Flexible workflow and animation

Auto & manual Export specs

Page/version comparison

Sketch / PS / XD / Figma / Axure integration

Inspect and download CSS codes

Enterprise private cloud solution

Page, Command interactions

Four Boolean combination options: Unite, Subtract, Exclude, and Intersect.

Main and Sub-art boards

Navigation map

Clone interactions

Auto-generated and customized style guides
7. Avocode
Avocode is a cloud-based design and development app for Mac, Windows, and Linux. 
Design-Specific Features:
Inspect function to fetch all assets, specs, and code.

Versioning to track changes for every design.

Design Hand-off for sharing designs without extra work.

Pixel Checker to visually test your coded designs.

Review & Comment that gives feedback and discusses changes.

Change log for product updates and features.

Desktop 

apps are

compatible with most popular distributions like

Ubuntu, Debian, Mint, Fedora,

and

Arch.

Collaborate with designers, copywriters, developers, and stakeholders in one cloud-based secure workspace.

Integrate Avocode with your Single Sign-On (SSO)
If you've found the above list interesting, there's more to come ahead. These services are for creative agencies and professional designers that cater to web design Dubai in particular. Keep reading for more.
8. Draftium
Turbo prototyping tool with pre-made blocks and additional settings in each block allowing you to add other elements (e.g., buttons), change the paddings, column width, and so on
Design-Specific Features
Marketing tools integration like Google Analytics, Hotjar, Mailchimp
10 concurrent projects

Custom Branding

Action Management

Approval Process Control

Assessment and assignment Management

Collaboration and commenting Tools

Communication and content Management

Customizable Templates

Ideation

Real-Time Updates
9. Semantic UI
Semantic is a development framework that helps create beautiful, responsive layouts using human-friendly HTML. Semantic UI Web Design Software is easy to learn as well as for expert theming
Design-Specific Features:
Concise HTML

Simplified Debugging

Intuitive JavaScript

High-level theming variables

Bootstrap Migration
10. Koncept
The ultimate prototyping solution for website developers and creative agencies working with static designs, adding gestures and transitions, collaboration, sharing options, and much more to take design to the next level.
Design-Specific Features:
Add Project Single/Group and in Child group

Recontact Set-up

Add client by using filters

Add Supplier and manage individually once goal achieved

Supplier Mapping

Geo-Location Tracking

Unique IP

Checksum

URL Protection

Dynamic pre-screen

Tracker Survey module
11. Indigo Design by Infragistics
It's a complete design-to-code system that integrates prototyping, design systems, user testing, and code generation. It can also collaborate and build wireframes and prototypes. You can generate high-quality HTML, CSS, and Angular code from your designs with ease.
Design-Specific Features:
.NET and JavaScript charts, grids, and UI components 

native libraries for Angular, ASP.NET Core, ASP.NET MVC, Blazor, jQuery, React, Web Components

industry-leading UI toolkits for Windows Forms, WPF, Sketch, Figma, and Adobe XD

Visual Studio Code plug-in to get HTML, TypeScript, and CSS directly in your Angular app.
12. CUX
CUX is the only UX Automation tool that allows you to quickly improve conversion, turn frustrated users into happy customers, and pre-analyse UX by exploring human behavioral patterns.
Design-Specific Features:
Experience Metrics that track rage clicks, rage key presses, zooming content, or chaotic mouse movements

Visit Recordings

to see what your users are actually doing on your pages.

Multi-tab recordings

Heatmaps

Conversion Waterfall

Build funnels easily based on predefined events and track where people convert or drop out

Data Segmentation

Webpage Element Analysis, Account-Level Analytics, and User-Level Analytics

Split URL Testing
13. Coolors
It's one of the fastest color scheme generators that can create the perfect palette for you to get inspired by thousands of beautiful color schemes.
Design-Specific Features:
Create your color schemes with the super-fast generator.

Organize them in handy projects and collections.

Export as image or PDF, or just copy and share the link

Pick colors from your best photos with ease

Choose by several layouts and create beautiful collages with photos and palettes

Explore thousands of ready-made palettes to inspire your work

With the Luminance feature, you can have a photometric measure of the luminous intensity per unit area of light traveling in a given direction.

View Palette as Gradient
14. UXFolio
By using UXFolio, you can create beautiful UX portfolios quickly and easily.
Design-Specific Features:
Customized fonts, colors, and a unique portfolio layout

Use built-in device mock-ups

Embed your prototypes from Figma, Adobe XD, InVision, Axure, and Marvel
15. HotGloo
HotGloo is a UX, wireframe, and prototyping tool designed to build wireframes for web, mobile, and wearable tech
Design-Specific Features:
Rapid interactive wireframing and prototyping

Single license valid for more or less 100 team members

Desktop, tablet, and mobile-optimized

2000+ user interface elements 

Export to HTML

Speed up your workflow with the prebuilt UI master library

Low learning curve: tutorials, getting started documentation, webinars

No setup costs

Send share links to clients for approval
This completes our in-depth research and exploration of the best web design tools for 2021. For convenience and a better understanding of each tool, it's recommended that you should go through the entire list.
Also Read: 10 Web Development Tips To Improve Any Website [Hint: Web Developers Exclusive]