As the web and mobile technologies are getting advanced, it has become more challenging than ever to build an engaging UX Design. In today's world, the website and mobile app have to be responsive so that they adjust UX according to the size of device's viewport such as mobile, tablet, laptop, etc. Such engaging UX design requires the design of the sites and apps to be highly user-centric so that it can engage end user in terms of look and feel of a site, responsiveness, attractive content, and ease of user interaction in order to procure desired results.
UX designing
An engaging UX design is based on the following aspects of any website or mobile app or both.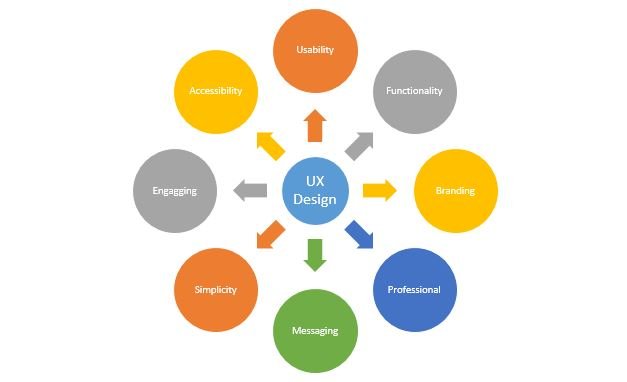 1. Accessibility: UX designer should know details of the target end users such as age, education, language, 508 compliance, etc. which would help in making the decision about the accessibility of UX design.
2. Branding: Brand engagement can be done by building brand loyalty with an app or a loyalty program to engage more customers.
3. Engaging: UX design features and properties should be kept in mind before building an engaging UX design for mobile app or Website. In this article, we have discussed in details about the tips and the best practices for building engaging UX design in later topics.
4. Functionality: It is related to understand the expected behavior of mobile app or site before providing the UX design solution.
5. Messaging: It is related to the kind of messaging support required by the end user and the business that could be supported by the UX design. For example, live chat functionality.
6. Professional: It is related to the look and feel of the UX design so that it complies with the required level of professionalism towards target audiences.
7. Simplicity: The UX design for mobile app and website should be user-friendly to the targeted audiences.
8. Usability: The UX design should be designed in a way such that the end users are able to procure the required details in minimal steps or the UX design should follow minimalistic approach.
Tips and Best Practices for building Engaging UX designs
Below are some of the tips and the best practices to build an engaging UX design for successful user engagement.
Responsive Design: Building a responsive design for the website and mobile app is very important in order to create an engaging user experience. In other words, the website should adjust itself depending on the size of the viewport of the device otherwise information would be chopped off or displayed badly on portable devices. This can be achieved through media queries, JavaScript and CSS. We just need to handle different web elements depending on the viewport size of the device.
Iterating UI Designs: User's interest can be retained on any mobile app or website after iterating its UI interface design. It should be noted that each iteration will have some user feedback which can be taken care of in the next iteration design.
Adherence to compliance and security issues: During the development process of any mobile app or website, the security and 508 compliance should be well planned and adhere the ease of accessibility to the target end user. It is the responsibility of the UX designed to interact with the back-end development team in order to ensure that the data from back end has been properly displayed on the front end. The bottom line is that the UX design should result in a comprehensive learning curve to the end user which could improve the overall productivity of the mobile app or website.
Attractive UI: Attractive UI helps to engage the end user for the mobile app or website. The designer should keep in mind if the theme colour meets the business requirements e.g. restaurant sites often uses red colour with the picture of attractive food, registration form should have as less number of fields as possible, minimalist style approach, stuff can be searched easily on the site, content on site should not look cluttered and use of "Read More" hyperlink if content is verbose, page loading time should be minimum, and user can perform multiple task with minimal effort and steps. All the above stuff help in user engagement and user would love to access it again and again.
Evaluating needs of the end user: It is very important to know the actual audience who is going to use the product. While UX design is in progress it is important to interact with real end user to know their feedback. E.g, if the end user is visually impaired, they would prefer to have large font for the website, if the end user are youngsters seeking Fitness the website should display the pictures of bodybuilders with their testimonials, gym equipment, etc. Also, if end users are differently abled then their needs should be taken into consideration accordingly.
Using Graphical UI: Most of the times, it is preferred to have graphical UI design for the mobile app in comparison with heavy textual design as it generates a strong visual sensation which may help to keep the end user engaged with the beauty of the graphical UI. Also, it has been scientifically proven that pictures or graphics are easy to remember than texts as they leave long lasting visual impact on a person's mind.
Follow guidelines to create an efficient UI for app or website: The UI designer should keep in mind the guidelines related to OS and should stick to that. The navigation innovation, interaction and gestures should be compatible and aligned with the available standards. The UI design should be user friendly with vital features. All unwanted features which do not add any value to the business should be removed.
Interactive UI design: The UX design should be interactive that can hold users attention. For example, fun quizzes or games can be added. The UI design should not be passive in nature, but proactive which could help the user to procure the information what he is actually looking for. Building the native mobile app has the following advantages in attracting the user towards push ads, discounts on deals, and various updates. Brand engagement can also be done by building brand loyalty with an app.
Think like the end users of the app: The designers can contribute a lot to UI design if they think from user's point of view. They need to understand the end users in terms of their needs, problems and their interests. If the UI design satiate expectation of the end user, then user would love to utilize the product for all his future needs. Therefore, thinking like an end user can contribute a lot towards building an engaging UI design.
Learn from other apps UI and UX: Before building any new UI and UX, it is worthwhile to take points from existing popular apps and sites in terms of their designs. It will help to note about the key features of the design that have helped these sites to build huge traffic and deliver successful business. Such design features can be further enhanced and used in building new innovative UI and UX for mobile app or website in order to keep end user engaged.
Conclusion: –
If any online business is successful, then we can say that an engaging UX design is one of its contributing factor. Such engaging UX design helps to keep the users engaged and hence the business. The designer should keep evolving UX design for a given mobile app or site in each iteration based (or versions) on the end user feedback, popular designs available in the market, and the innovations.