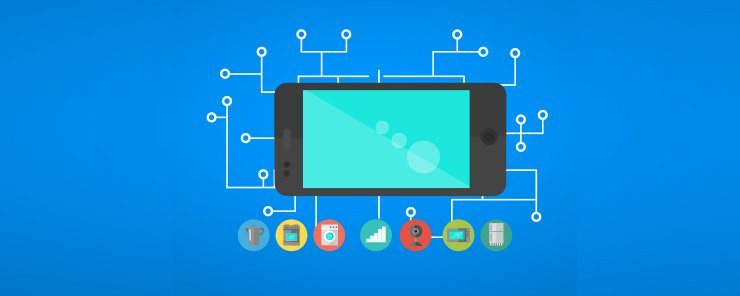 Ever since mobile became more than a way of communication, mobile apps have added more value to users than any of us ever expected. The mobile app stores are overwhelmingly saturated with millions of different mobile apps, each meaning something to its audience. However, users now seek innovative solutions with interactive capabilities that effectively connect physical and virtual worlds.
IoT is one such technology that has immense potential to create constant value and absolute control for users. From apps that allow you to control room temperature remotely to apps that ensure home security, possibilities with IoT technology are large.
This blog further sheds light on why businesses should opt for IoT mobile apps.
How IoT mobile apps accelerate your business
To enable IoT apps to take shape, businesses need to greatly rely on the IoT platform. Basically IoT platform is a suite of components that help create apps to monitor, control and manage the devices connected in a common IoT environment.
The use of IoT technology also drives data junctions that indirectly generate revenue for organizations by leveraging the wealth of valuable data.
Due to the involvement of enterprise-ready IoT platform, businesses can further synchronize the connected devices. The streamlining of these devices allows businesses to collect insights they need to enhance their efficiency, productivity and marketing potential.
Major Business Challenges: –
Modern technology is highly focused on solving specific business challenges some of which are:
Data Security
Device management
Monitoring and control
Integration and onboarding
Maintenance
Scalability
These are some of the challenges that businesses face while adopting a new technology and deploying the solution. However, there are certain features offered by IoT mobile solutions to overcome these challenges.
Business-centric IoT Features
To get expected results, IoT platform offers the following features:
Excellent Device Management
Since its inception, IoT has evolved over years. Now businesses can integrate more devices to common IoT servers to monitor and control their operational flow. A flexible device management system of IoT platform can add numerous devices to enterprise infrastructure, creating a synchronized, well-managed organization.
Better security
Due to growing use of internet connected devices, the risk of compromising data increases. This is why organizations need high security to circumvent any unexpected access. IoT platform therefore provides satisfactory level of encryption in data transmission.
Data management
As organization's IoT ecosystem contains many devices, it produces various types of data that needs to be monitored and processed to achieve better results. IoT platforms can filter the entire lot of data to separate and process the data of value and eliminate the data that offers no benefit.
Required Scalability
Enterprises are on a constant search for a solution that can be scaled up to meet their changing business requirements and magnitude. As IoT platforms have ability to handle number of devices connected to its system, organizations can trust its enterprise-ready platform that keeps up with the pace of business growth.
How businesses gain from IoT mobile apps?
Businesses across the globe can reap unlimited benefits from integrating IoT technology in their existing infrastructure such as:
Dense Layers of security
Due to vast management of complex data, IoT environment is often threatened with security risks. IoT mobile app uses mighty IoT platform that provides good layer of security. IoT mobile apps enable secure data management, secure workflows and the ability to track performance metrics.
The IoT platform of mobile apps also protect the organizational system against suspicious malware and other potential risks. To add more layers of security, it offers device identity management and multi-step authentication.
Cross-device communication
IoT mobile apps for businesses enable communication across multiple devices with the help of sensors connected to the IoT environment. These sensors are configured with the secure IoT platform. This allows you to access important reports and documents from anywhere using personal digital devices, which ultimately saves time and boosts operational efficiency.
Power Data Analytics
With IoT mobile apps, it becomes fast and easy for businesses to reach, filter and process most valuable data in real-time. IoT platform sends data to respective organizations for further analysis of historical data. Such massive data helps make a strategic model for insightful knowledge that further enhances decision making and operational quality.
The data analytics helps with:
Business efficiency
Time consumption
Predictive maintenance
Equipment availability
Undesirable breakdowns and failures
Cost optimization
Performance metrics
Quick Integration with the existing infrastructure
Unlike other traditional apps that come with specific industry-relevant requirements and consume great amount of time, IoT apps offer incredible convenience while integrating with existing infrastructure. IoT technology has advanced tools to reduce the deployment time, offering more time to developers for creating more viable innovative solutions.
Innovation of products
Since mobile apps create new business opportunities, IoT mobile apps also generate new customers by offering refreshingly satisfying experience through IoT-enabled products and services. Smart fridges run through an IoT technology can anticipate action and improve cognitive management of equipment. Such innovation-driven user experience is likely to result in enhanced product value, efficiency and customer acquisition.
Complete Control
Perhaps the biggest benefit businesses can extract from using an IoT mobile app is the absolute control from connected devices. The obvious benefit of having connected devices in an organization means one can easily control everything from a single device. You can optimize the different features and make them work for your business anytime you need.
Final remarks –
At this stage, we can say that IoT mobile apps are here not only to stay but to flourish because of the infinite benefits it brings to business in general. The implementation of IoT allows you to connect machine operations, equipment, gadgets, sensors and assets to form an internet-powered connection to transmit and control the system data. In the end, we can conclude that IoT can lead your enterprise to success depending on how innovatively you use the innovations.