IoT products have penetrated market. You can find convertible refrigerators, smart TVs, fitness gadgets, and many such products, that connects with other devices at your home. All you have to do is set them up, and leave the rest.
We're moving into an IoT era. Google Home Mini comes with Google Assistant that gives you hands-free help. Voice controlled Amazon Echo plays music, gives you customized news, and weather reports. Google acquired Nest, offers a range of IoT devices.
It is evident that IoT professionals have a chance to earn big bucks. For trained professionals, companies are ready to pay what they desire. But the question rises: how to enter the world of IoT?
Like any career, based on skill set, you must first acquire requisite skills that makes HR manager to screen you in for interview.
To give you a context, IoT, is broadly divided into two major categories in terms of market: Consumer IoT (CIoT) and industrial IoT (IIoT). examples given above (Google Mini Home, Nest, and Amazon Echo)are consumer IoT product. However, compared to IIoT, consumer IoT will take more time to adapt. Meanwhile, industries and companies are looking to cut down costs and hence, are ready to adapt IoT as fast as they can. Industry IoT is seeing its first applications in the form of drones which is being used in monitoring industrial facilities and automated agricultural systems where all equipment are connected.As an IoT enthusiast, both arenas are open for you. It requires a range of skills starting from embedded systems, computer science, big data, and communication engineering
In this article, we will discuss key things to skyrocket your IoT career trajectory.
Know these technologies
IoT stands on the base built with technologies. Data analytics, networks and architecture, cyber security, hardware, and mobile development are core areas related with Internet of things.
Data analytic and big data professionals are already in demand. Knowledge of this subject is applied in making sense of structured and unstructured data. Its more advanced versions—cognitive analytics, predictive analytics, and prescriptive analytics—are also being talked about topics in the industry.
And since many devices interact with each other, it becomes important to have a sound understanding of networks, communication, security, and hardware. Most IoT devices are being clubbed to mobile apps, to run the operation smoothly For the same, knowledge of mobile technologies is also important.
There are many courses on IoT available online. Eduonix, edX and Coursera offer specialization programs in Internet of things.
Do an internship in IoT (especially if you're still in college)
I just Googled 'internship in iot' and was served with 554,000 results!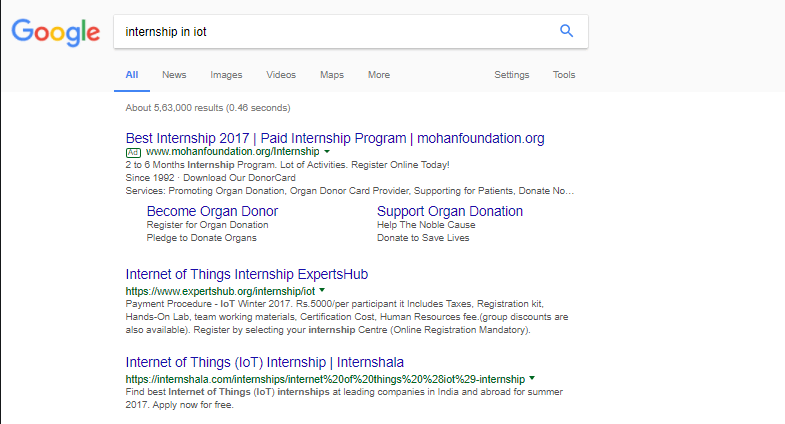 Reputed companies are always in a hunt of young and talented employees. Since the industry is new, there's no such demand for vast experience. If you get an opportunity to do internship for one-year, you already have a good experience. Unlike other internship opportunities, let's say mobile developer where you wouldn't be doing anything relevant from outset, IoT is hardcore. You will be asked to do a lot a within a given time frame.
During campus interview, internship experience in IoT will make you stand out from your peers.
Develop non-tech skills too!
It's an accepted fact that Indian graduates are not good communicators. According to a survey, only 7% engineering graduates are employed. Over the years, chairman and CEO's of reputed companies have been outspoken about how Indian graduates are not employable.
This is not because of how technical colleges and institutions perceive a job. A technical job, apart from the technical aspects, also comprises of looking (or reading) information, understanding it correctly, and then take the action. Situations also demand you to convey your perspective and learning with team and colleagues. It requires good command over English language.
Investing in your communication skills will make you a charmer. You will have an upper hand over your interviewees and teammates with your words. Associate thinking, collaboration, and persistence goes a long way.
Prepare for a role
As mentioned earlier, range of skill sets required in an IoT team is wide. You can be a UX designer or a network engineer or a system architect. For instance, in an industrial IoT team, there are more than one roles including industrial data scientists, IT solution architect, computer programmer, and even a robot coordinator. When applying for a job, you cannot be ready for all the roles.
From the outset, you need to prepare yourself for a specific role. So before you join a course, make sure you know what you're good at and what appeals you the most. Know your current skill set which will accentuate and quicken your studies in IoT. Based on the role you want to prepare for, your course, your interview questions, and your responsibilities in an IoT team will change.
You also need to know how your role will be important in specific industries especially in healthcare, urban development, transportation, and energy. Communicating with the people who are working in the same sector will help you to build your chosen career path.