A well-known saying goes, "if you want to improve, measure it". You can't generally depend on search engines to keep tabs on your development. Web search tools can take weeks, even a very long time to update SERPs. Also, when they do, the position of the rankings change are consistently distributed over your targeted keywords. This is the reason you require a more durable approach to track your SEO performance. Rather than following the individual metrics, you need to move to a multi-metric tracking system to achieve success. In this article, we will guide you through the valuable SEO metrics and how to track them.
1) Referral Domains and Backlinks
Monitoring your backlinks and referral domains will give you a decent idea of your SEO efforts. More backlinks may not quickly prompt better rankings (particularly if the links are from low-quality domains), however, they demonstrate a positive direction.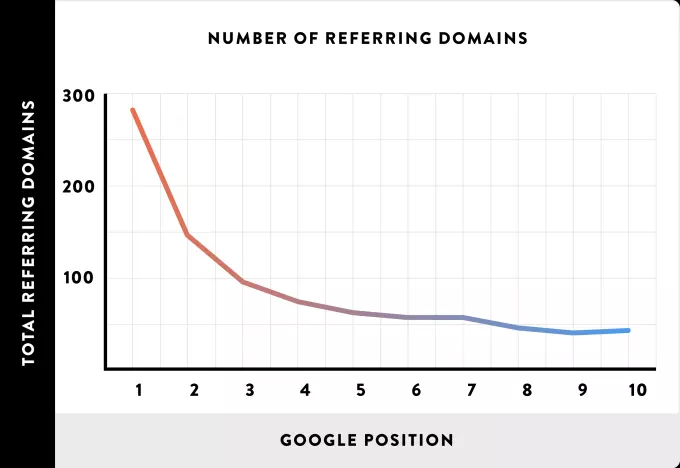 A recent study found the same: there is a solid connection among rankings and number of referring domains – Backlinko.
Tracking Backlinks
Things to consider in a backlink tracking device:
Restore frequency: The device should file new backlinks as they come online. If the tool updates its record too slowly, new backlinks won't appear for quite a long time or say for weeks.
Keep it accurate: The tool should show genuine backlinks. It ought to likewise indicate no-follow/do follows links independently. The capacity to track anchor text and backlink source authority is a major boost to it.
Keep up the latest trends: The tool should demonstrate the general pattern – whether you've gained or lost backlinks over time.
You can track website backlinks on Google Search Console. By following the simple steps. "Search Traffic -> Links to Your Site". Check the example of Eduonix website in the image below: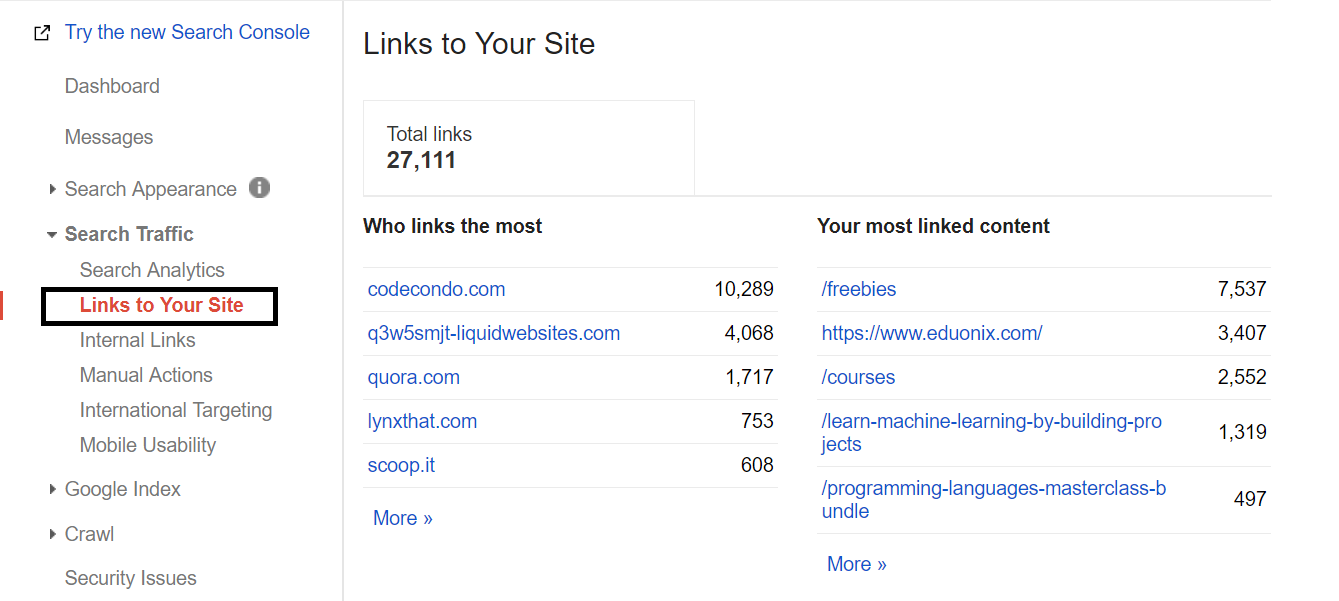 This list isn't refreshed nor is it precise. It likewise doesn't demonstrate the backlink acquisition pattern. There's a considerably quicker (and precise) approach to track backlinks. Head to the backlink sections to see an entire perspective of your backlinks including referring domains, ordinarily utilized anchor text, with various different metrics.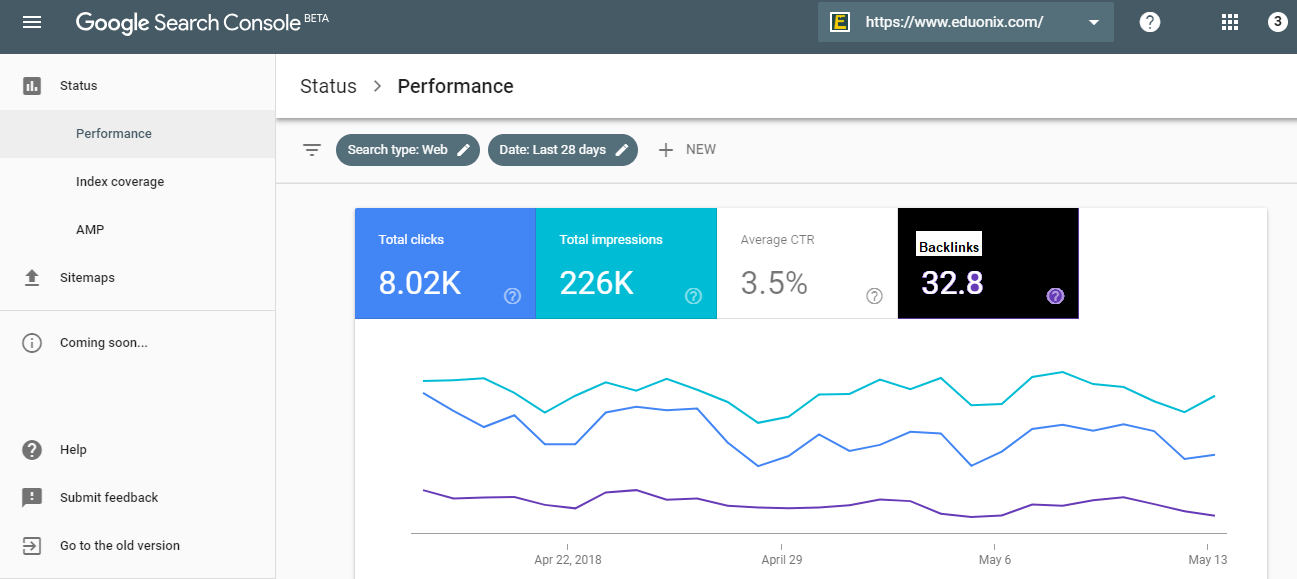 2) Domain authority and Trust flow
DA is the term coined by Moz to measure the "authority" of the domain name on an average scaling of 0-100 (in view of links, brand, and so on). The higher this number, the more dependable the domain. Google, for example, has a Domain Authority (DA) of 100/100.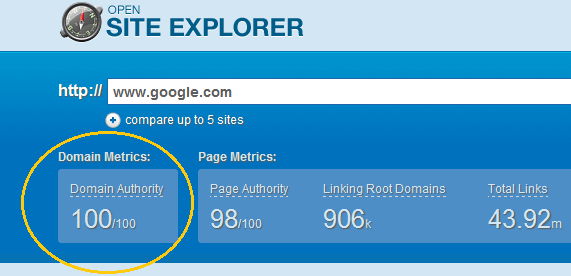 Majestic measures DA through a metric called "Trust Flow". This is like DA – a higher score = more trust. Majestic updates its index regularly so this score is mostly accurate. An upwards development in these metrics is an indication that your SEO efforts are fruitful. Which also means that, the system can be manhandled by spamming domains with low quality backlinks.
How can one track these SEO metrics?
These metrics can be achieved through every individual device. Go to the OpenSiteExplorer from Moz to discover your DA or enter your domain name in Majestic to get your Trust Flow.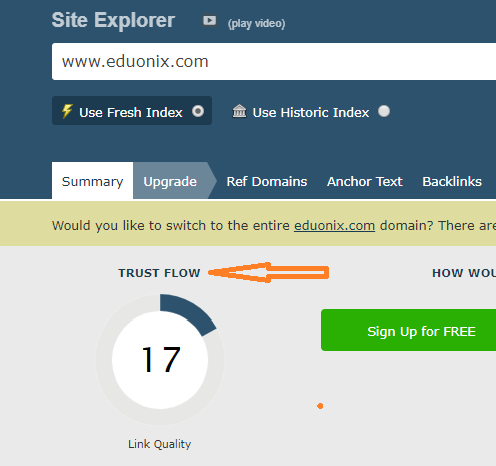 3) Organic Traffic
Every ranking for your website is pointless unless and until they really bring you traffic. Moreover, keeping an eye on your organic traffic is a decent sign of your SEO performance. A MoM or guest visitors through search engines demonstrates that your rankings are enhancing (notwithstanding for keywords you weren't focusing on).
Organic traffic is the "authentic" SEO metric you can track. While different metrics may demonstrate a pattern, this metric gives you quantifiable evidence that your efforts are really acquiring more visitors. The quality of the traffic, obviously, will rely upon which keywords you're ranking for.
Google Analytics have made it easy to search Organic Traffic. Log in with the domain, choose Organic Traffic, and hit apply.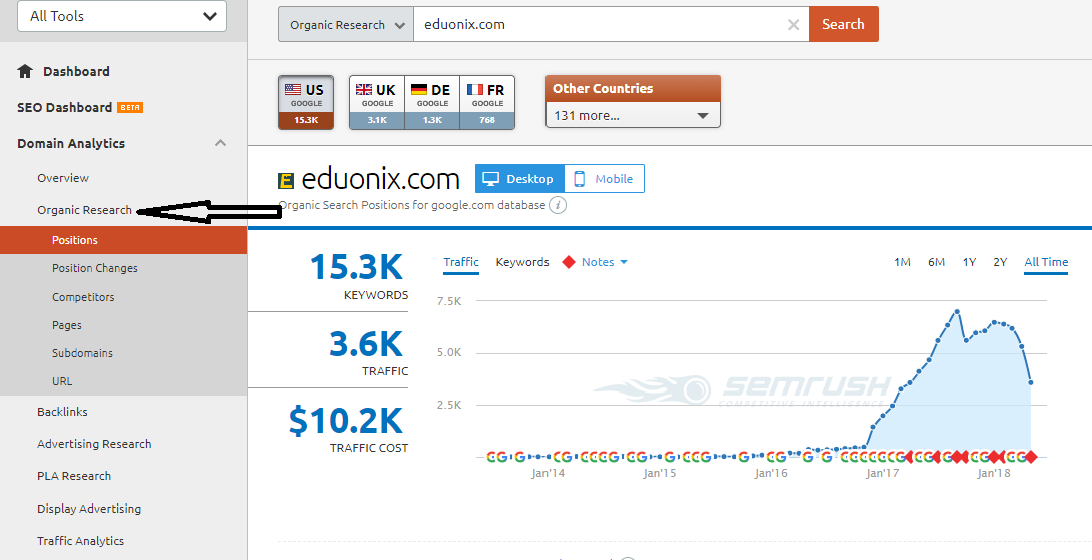 4) Keyword Rankings
Despite the fact that search items are seldom the same at the client level and 20% of the searches are altogether new, tracking keywords rankings reveals to you two things:
The general SEO effort: Better rankings for one keyword for the most part indicate improved overall rankings, particularly for related long-tail keywords. Tracking keywords demonstrates the viability of your current SEO plan.
Keyword choice: If your other SEO metrics enhance, (for example, DA or organic traffic) yet you don't see a change in target keyword rankings, it generally demonstrates to poor keyword selection. In such a case, you ought to pick a less targeting keyword and attempt to rank for it first.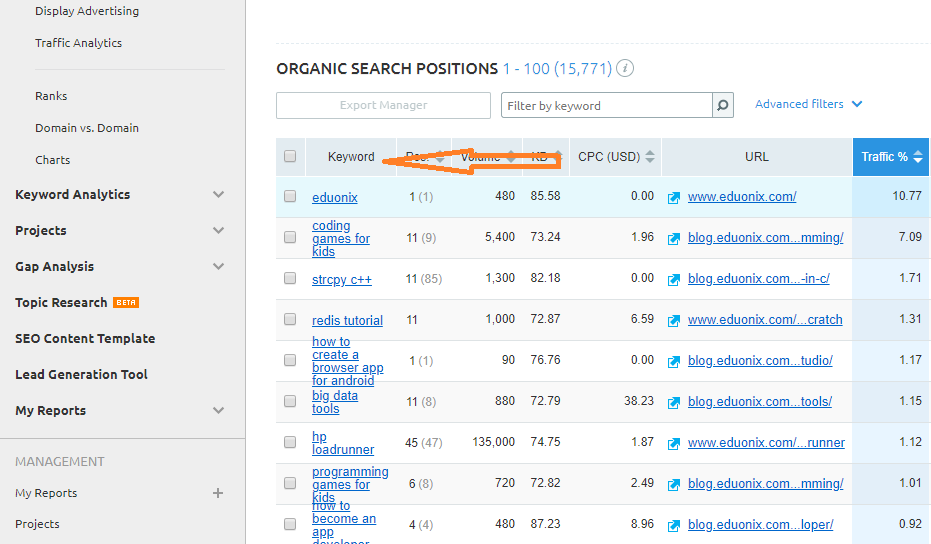 5) Engaging metrics
To name a few conditions:-
Bounce rate:- is the quantity of visitors who left your site without clicking on any link (or hitting the 'back' button). This is communicated in the form of percentage.
Time on site:- is the ample amount of time visitors spend on your site.
Pages per visit is the quantity of pages your visitors visit on an average before leaving the site.
How can one track engagement metrics?
Google Analytics indicates the engagement metrics set by default when you open the dashboard. This incorporates pages per session (a session is by and large 30 minutes), normal time per session and bounce rate.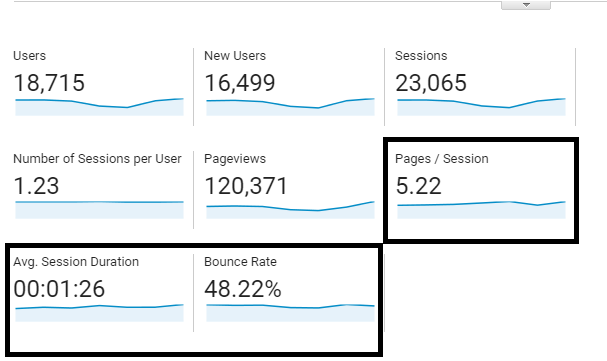 6) Page speed
Out of hundred, Google uses many signals in order to determine the search rankings, and one prominent signal is Site Speed. Google authoritatively acknowledged site speed as a positioning factor was introduced way back in 2010. In 2013, it expanded its wings in determining the site speed to cover mobile searches along with it. From Google's perspective, a moderate stacking site is comparatively equal to a poor user experience for the mobile users. Following the page load speed overtime the time configure 3 essential things:-
Regardless of whether there are any execution bottlenecks on your webpage or web server that are affecting website speed.
Regardless of whether poor site speed is keeping your rankings down.
Regardless of whether any alteration you made to the site, (for example, a new plugin) are affecting your heap times.
It's not important to monitor page speed, but rather doing as such will give you a decent sign of your client experience (in addition gives the access to your website insights and webhost performance).
How to track it?
To locate this metric, sign into your dashboard and tap on Behavior – > Site Speed – > Overview:

Over to You
As SEO has turned out to be more convoluted, estimating SEO success has turned out to be harder as well. You can never again depend on single metrics to recount your SEO efforts. Rather, you need to target various metrics ranging from rankings, your website speed, and backlinks. All the above stated metrics will give you a brief review of SEO, keeping in mind the scope and complication. Which metrics you feel will be the best for your SEO campaign? Please let us known in the comment section below.