With the growing influx of millennials to the realm of the internet, it signals that people can be convinced easily to buy your product. The advantages of marketing online sufficiently reduce the costs and brings customers faster to wherever you want them. One of the key components for this stems from the lack of physical advertisements. Those methods consume a lot more money compared to digital marketing.
Google's rise to dominance over other search engines primarily contributed to the explosion of digital marketing. It has become commonplace for people to browse for answers on the internet (and when I say the internet; I mean on Google). The questions can be related to the list of best oncologists in Mumbai to finding out the capital of Burundi or even conspiracies about "Ancient Aliens". Every kind of curiosity can find refuge under Google. Especially, if that query involves a product.
What are Google Ads?
Google ads is an online platform to advertise your services or products and generate customers willing to purchase the same. They rely partly on cookies and on the keywords determined by the advertisers.
All businesses desire their website to appear in the top results of Google searches to get the lion's share of the traffic. Once a keyword is typed in, organic results in the first three places on the SERP (Search Engine Results Page) are preferred highly for views compared to millions of other results. Businesses and SEO experts compete to take these spots at all costs. However, optimizing them takes time and might need frequent updates. Also, there is no definitive way to shoot your website on the top rankings of SERP. That's where Google ads appear helpful.
With intriguing slogans, lucrative offers, and a small payment, your ad will have the potential to pull a huge amount of traffic. For example, if you live in Georgia and you want to inquire about the best cancer hospitals in Atlanta, you can type the phrase "Best cancer hospitals in Atlanta" on Google.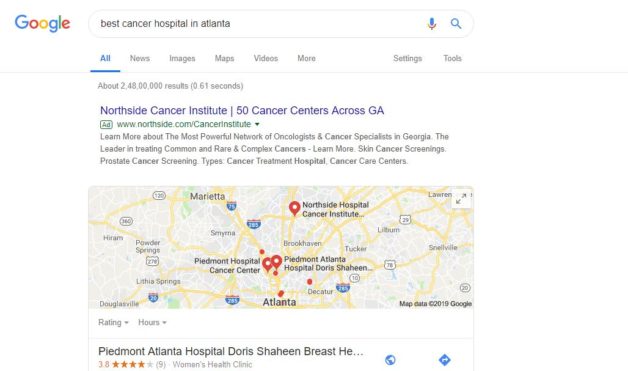 Above the organic results, you might find a few links which will have the word 'ad' written with it. These are what Google ads appear as.
Google Ads vs Facebook/Instagram Ads
One of the best features of Google ads is its intent-based system. For example, typing the keyword "Medulloblastoma" on Google, there might be a few ads popping just before the organic pages. There might be a few under the organic search results as well.
However, on Facebook and Instagram, ads appearing randomly has no particular intention behind it. They are usually for a boarder audience and they aren't the best when searching for specific interest topics. That is because people come on Facebook to connect with their friends and browse their walls looking for entertaining content.
So, ads related to treatments or certain conditions or even legal consultation might be a waste on these platforms. The chances of anyone clicking on these ads are exceptionally rare. However, if one has to target audiences looking for cosmetic products, then those platforms might be valid options. Still, those ads often lead to the blog of the website where the person is educated about the product or service.
Google Ads: An Eye on Upcoming Trends
Ad Quality should be Exceptional
There might be multiple ads for a topic. Be it bouquets or birthday cakes or calf implants, an exceptional ad will pull more traffic. There are a few tips which might help you out with that:
It is best if your ad applies to a single product or service. In that, you can create ads for a variety of subsets of the same
For example, if you have a bakery that is known for its taste in cakes, you can segregate them into various sections such as for Birthdays, for weddings, etc
Add keywords that have multiple words in it instead of just single words
Add those keywords directly to the headline of the ad. This will create an impression that your ad will help their issue directly
Use of stronger and urgent call to action words- Limited edition, Time's running out, Get an estimate, etc
Test with multiple ads. This will give you an idea about which ads are the most effective in contributing to a higher sale
Keep reviewing your ad daily. If you find that something isn't working properly (maybe the call to action or the headline?) edit it at the time and publish it
Increased Role of AI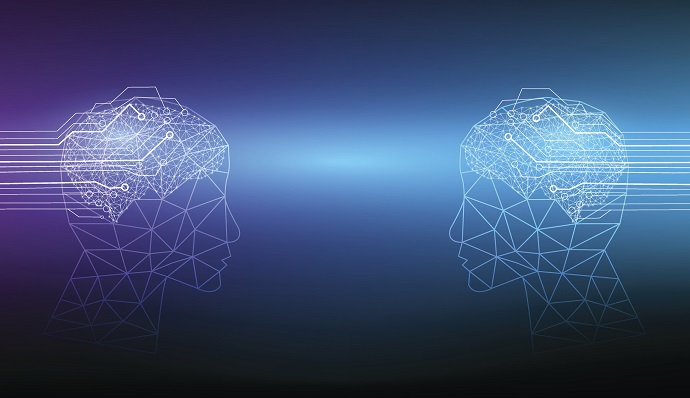 AI or Artificial Intelligence can figure out customer behavior and search patterns with the use of previous data received from social media platforms. This helps businesses understand how people go around finding products on the internet.
It is believed that businesses using AI will save massive costs and maximize their sales.
Attrition has become somewhat of the Holy Grail of Digital marketing. As many marketers struggle with the issue of attrition, AI can come in handy when figuring out the patterns of users by taking and processing the complex data. This will propel organizations to devise strategies based on the findings.
The Growth of Amazon Ads
According to many businesses, Amazon's Sponsored products over Google ads come in handy when saving money. That is because the CPC of Amazon could be nearly three times cheaper than Google Ads' CPC. This trend is likely to only grow from here on.
It's best to keep an eye on Amazon as an extra advertisement platform, mainly if you have already sold products on it before.
Shifting Focus to Audience Instead
Keyword research plays a significant part in creating ads. For a long time, the key to engaging more customers on your website was the focus kept on keywords. But that's no longer the case.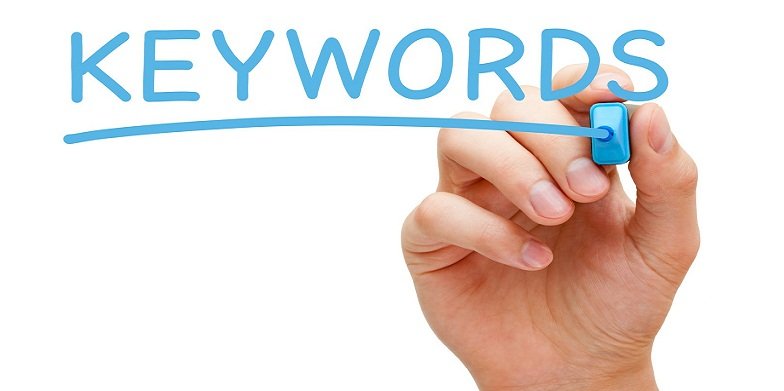 It's not to say that keyword research is dead. They will continue to be a key source of pulling traffic. However, with the increasing data about the user's gender, preferences, interests, etc; targeting the core audience becomes easy. Hence, sales are better optimized when customers are focused instead of keywords.
So, strategies targeting an audience will be a key priority. This will cause the bid tracker to rely largely on customer segmentation and cause a rise in profit margins. But this can only happen if marketers would go the extra mile and personalize with their customers.
New Form of Ads
There is always room to entice customers with more creative forms of advertising. PPC marketers are attempting to explore more ways to woe their end users and customers.
This can cause an increase in localized searches and conversion-user strategies.
An Era of Video Ads
Several advantages exist in using video ads. Customers watch videos and social media offers them a way to share it with others.
A video conveys more message about the product in a limited time. Also, it engages the audience as it tells and shows a lot of information about the product. It is said that video marketing will account for 80% of all internet traffic by 2019.
Also, according to eMarketer's latest AD Spending forecast, nearly 25% of overall digital ad revenue will come from video ads.
Voice Searches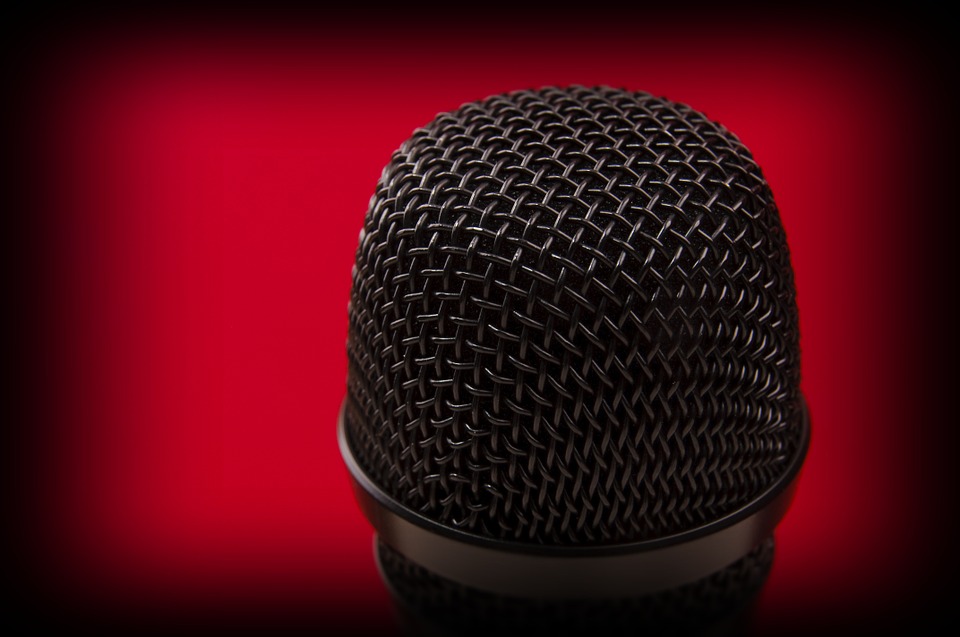 One in ten searches resonates from a voice search and the trend is not likely to decline but the other way around. Estimates suggest that 50% of the searches will from voice search by 2020. 20% of mobile searches include voice searches.
However, voice searches are yet to be monetized. But that doesn't mean that you should not take steps to ensure it. There are many ways to achieve this accomplishment. Doing that might just give you an edge over your competition.
Final Thoughts
Automation, voice searches, and video ads are likely to dominate throughout, and after 2019. As time goes, more trends will come into the picture and those may be exploited too. Digital marketers will use every strategy to stay in the competition.
With an abundance of career opportunities, many do often consider learning digital marketing as it is becoming extremely popular as a career choice. Keeping in mind the above points, these trends can increase a company's chance to boost its sales. So, if you are one of those who wish to explore this field, try this course on digital marketing with Google ads taught by a former Google employee. It includes numerous topics like Google Ads account setup, Google Ads Display campaigns, Prioritizing the mentioned platforms and so much more!
So, there you go! If you feel like any recent trend of Google ads is missing, then feel free to mention it in the comments below.