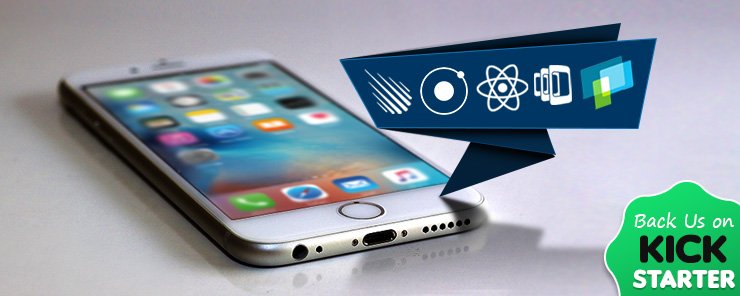 Eduonix's brand new course on Kickstarter targets the growing mobile development sector.
ORLANDO, Florida – February 15, 2017 – Eduonix Learning Solutions, a leading online e-learning company, launched a new campaign on Kickstarter targetting one of the fastest growing development segment, mobile apps.
Holding on firmly to its belief of "learning by doing", Eduonix has introduced a brand new course on helping students learn mobile app development and mobile development frameworks from scratch. Keep up with tradition, the course will combine the perfect combination of theory as well as practical application of 5 different frameworks.
Eduonix Co-founder and CEO, Sushant Das, adds, "Smartphones are growing at a fast rate and they don't seem to want to slow down any soon. This has left a huge gap between the number of mobile phones on the market and the number of apps developers that are available. The integration of smartphones in our modern and digitial life is a huge opportunity for many developers and we want them to cash in on this opportunity."
The course has been created in collaboration with the company's most popular instructor, Brad Traversty, who has designed the perfect course to simplify learning mobile development using only HTML, CSS and JavaScript. That mean, the student will not have to spend hours learning different complicated programming languages such as Objective-C, Java and Swift, for developing apps across different platforms.
The course will help the student develop hybrid and native apps for Android and iOS, using 5 of the most popular frameworks currently on the market. That's not all, the student will also learn how to use the frameworks in application by building 25 different apps.
Here are the five different frameworks and the applications that will be covered in this course:
| | | | | |
| --- | --- | --- | --- | --- |
| PhoneGap/Cordova | Ionic and Ionic 2 | React Native | JQuery | Meteor |
| Photo Gallery | Feed Reader | GitHub DevSearch | Mobile Website | Idea Manager |
| Workout Tracker | ToDo List | Google Books App | Event Manager | Magic 8 Ball |
| Contact Manager | Auth0 Login App | Custom Web Browser | Movie Listings | Spotify App |
| Memo Recorder | Business Finder | Messaging App | WikiFind | Real Estate App |
| Geolocation App | Meal Tracker | Project Manager | Weather Report | Class Scheduler |
The course will provide the students with:
A chance to learn mobile development with HTML, CSS, and JavaScript
5 different frameworks from scratch – PhoneGap or Cordova, Ionic & Ionic 2, JQuery Mobile, React Native & Meteor
25 different projects ranging from simple to complex apps and websites.
A chance to learn how to use multiple development environments including Windows 10 and Mac OSX.
Industry statistics and information will also be discussed to understand the mobile development market.
As well as access to the royalty free coding of every project covered in this course.
Get into the exciting world of mobile app development using a hands-on approach. Learn and build your very own apps with Eduonix's Mobile Development Course!