First impressions are everything. And, as a business owner, your website serves as a virtual storefront for your company so you want to ensure you create something that draws visitors in at the first glance. 
If designed well, a good homepage can help establish trust with prospective customers and also make you more sales. 
Here, I'll provide you with my top five tips for ensuring your homepage is well-optimized. 
Target the best keywords with your copy
Targeting the right keywords can make your website more visible to search engines and, therefore, your audience. Keywords are specific phrases that people are typing into the likes of Google to find products, services, or content like yours. 
You can find relevant keywords by using keyword research tools to identify the search terms your ideal customers are using. These tools will outline how many searches your target keywords get each month, as well as how difficult or easy it's going to be to rank for them. 
When using keywords, you want to make sure you avoid keyword cannibalization. This can happen when you have multiple pages on your website that are targeting the same keyword(s). The disadvantage of this is that search engines will be confused about which page to rank higher and might end up promoting the one that isn't the most relevant. 
If you are able to identify pages on your website that are in danger of keyword cannibalization, there are some measures you can take. You could decide to merge the content of the duplicate pages together or use internal linking to indicate which is the main page. You can also avoid keyword cannibalization by keeping a record of which keywords you are focusing on for each of your web pages.
Ensure it's very easy for people to take the next step
When people land on your homepage, you want to make it as easy as possible for them to take the next step, as this will increase your chances of making a sale. 
You can make it simple for people to find more information or move forward in the buying journey by using a clear CTA. Calls-to-action (CTAs) are words that motivate your audience to do something and they must be clear and compelling enough to drive action. Make your CTAs obvious and place them in a strategic position that stands out from other elements on your page. 
Another tip is to provide a sophisticated search feature that allows people to easily find any information they are looking for. And you should also make sure your audience has multiple options for reaching out to you. Most brands offer a combination of live chats, phone numbers, and emails as their communication channels for when customers need more information before taking the next step.
An example of a company that does this well is AKD Law Firm. At the top right corner of their website is a bright orange CTA that draws attention to the free consultation being offered.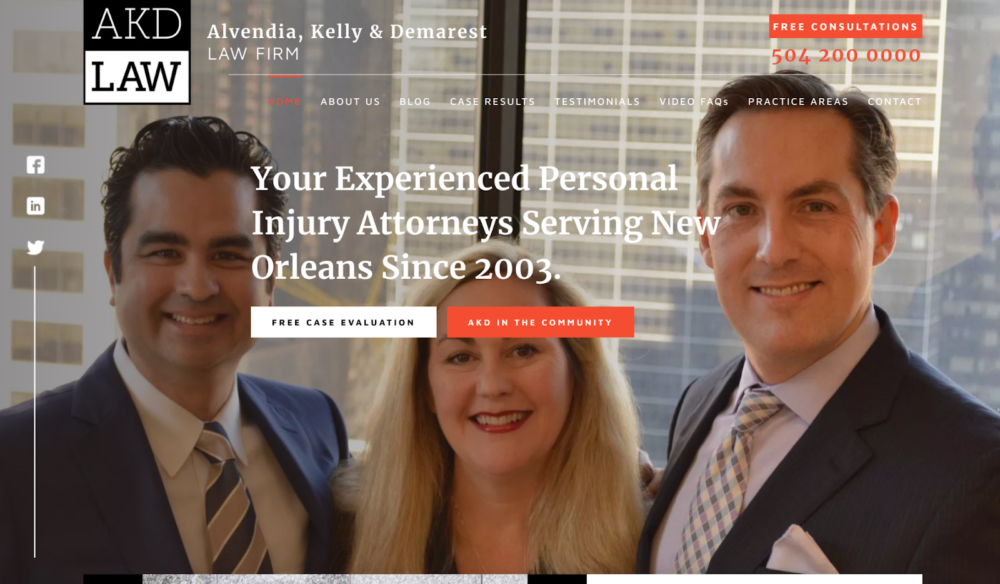 They also have a contact page where they have provided phone numbers and a contact form for people who want to send them a message. All these optimization techniques show that they have made it very easy for customers to take the next step required or contact them to get more information before proceeding.
Take a leaf out of AKD Law's book by adding a clear CTA to your homepage, which tells customers what to do next. And ensure you also offer plenty of contact options so people can get in touch if they need more information first. This will help to move them through the sales funnel. 
Show off the positive reviews you've already received 
People value word-of-mouth recommendations over any other type of marketing, and you can give a sense of this by highlighting positive customer reviews on your homepage. 
To get customer reviews for your website, you can create Google forms in the form of surveys or polls and then send the link to these in an email to existing customers asking if they would like to leave a review or feedback on your services.
Additionally, you can use a third-party review plugin that allows you to embed a ''leave a review button'' anywhere on your page. This way, your website visitors can click the button and leave a review about your business or any product.
There are many ways to show reviews on your homepage. You can choose to display them within your header so it's the first thing people see when they land on your homepage. Alternatively, you could decide to display them in the sidebar of your page or opt for a carousel in the middle of your homepage displaying the best reviews side by side. 
You could try out a few options to see which tends to be the most effective or make a decision based on the quantity and length of the reviews you have. 
Highlight your credentials and accolades 
People will only spend their money with you if you're able to earn their trust, so it's important that you make a real effort to do this with your homepage. By highlighting your credentials and accolades, you'll prove that you know what you are doing and can be trusted. 
When highlighting your accolades, you should take note of your qualifications, awards, and media mentions.  When you display qualifications, you are showing your target audience that you have the credentials required to offer them a great service. Awards also provide proof that you are reputable enough to be recognized by organizations in your niche. 
As for media mentions, they help to show your credibility, as reputable media sources have heard of and approve of your business. 
Take a look at how Legacy Healing Center, an addiction treatment center in Philadelphia, shows off its credentials and recognitions at the bottom of its web pages. Seeking treatment for an addiction can be very stressful and service users will want to know that they're asking a reputable company for help. These badges and awards show that the center has been recognized by industry bodies and can be trusted to help those in need. 
If your company has received awards, been mentioned by trusted publications, or you've earned accreditation from an industry body, make that clear on your website. It will help to build trust with your target clients so they feel safe in your hands.
Provide engaging and helpful copy on your homepage
The copy you publish on your homepage is incredibly important — it can make or break a sale. It is the first page most visitors will see, so you want to spend time crafting the perfect copy that prospective customers will find engaging and helpful. 
When writing your homepage copy, your focus should be on the benefits your brand can offer customers. Try to do some research on the issues your prospective customers have so you can highlight the advantages that they will enjoy from doing business with you. 
Your copy should also be simple, conversational, and sound as though you are speaking to just one person. Let your company's personality shine through the copy as this can encourage relatability, too. Lastly, try to include information about past results you have generated for existing customers. By doing this, you are helping to build trust in those who are yet to become your clients.
Summary
Your homepage is one of the most important pages on your website. It can set the tone of your audience's experience with your brand, so you want to make sure it is well-optimized. 
You can do this by targeting the right keywords, providing clear call-to-action, displaying reviews and accolades, and providing a helpful and engaging copy. All these tips will ensure that you are creating the perfect homepage that will make a huge difference in the way users relate to your business. And, if you need more information on developing websites for your business, you can have a look at any of Eduonix's courses, which will provide you with all of the advice you need. 
Also Read: 5 Common UX Design Mistakes You Should Avoid