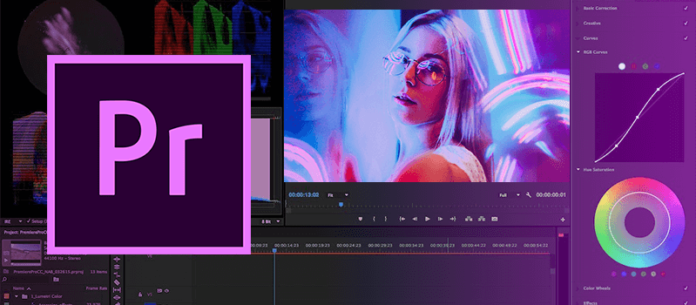 Undoubtedly, Adobe Premiere Pro is the absolute best software in terms of video editing. But beginning users are largely disheartened by its monthly cost. Fortunately, you can download Adobe Premiere Pro for free, but that would only cover you for the period of the trial. 
Another issue with this program is the load it creates for the processor, which makes a powerful computer necessary for being able to sustain it. 
I have compiled a list of the best Adobe Premiere alternatives software for which you either do not have to pay or it will be cheap.
1. HitFilm Express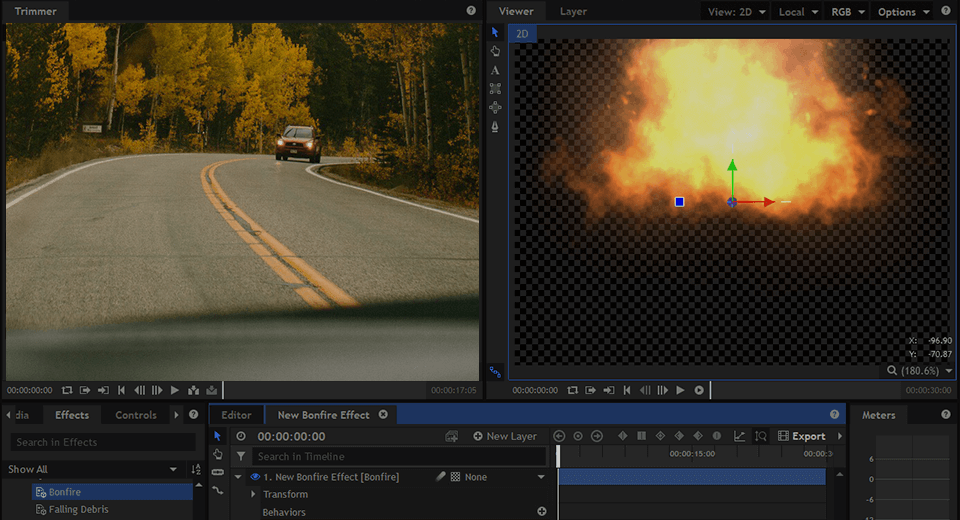 Great for: novices, who need great functionality
Price: Free/ HitFilm Pro – 349$
This incredible software comes quite close to the iconic program we're discussing here, offering pro-level instruments in the paid version while giving access to the basic ones for free. Initially, the free toolkit counted more options, but some were gradually transferred. 
The interface is loaded with icons that would have been overwhelming. But the developers carefully thought it through, making the program easy to master and convenient to work with. 
The software recognizes numerous file extensions and provides users with ways of trimming and mixing not only video, but also audio, plus applying filters or manual color correction. In the free version, even basic 2D and 3D compositing tools are available. 
If you own or want to use OpenFX plug-ins, you will be glad to know they are supported. If your target audience is on YouTube, a finished project is only a click away from appearing on your channel. 
HitFilm Express is perfect for beginners, but its extended capabilities will also satisfy most needs even at the professional level.
2. Adobe Premiere Elements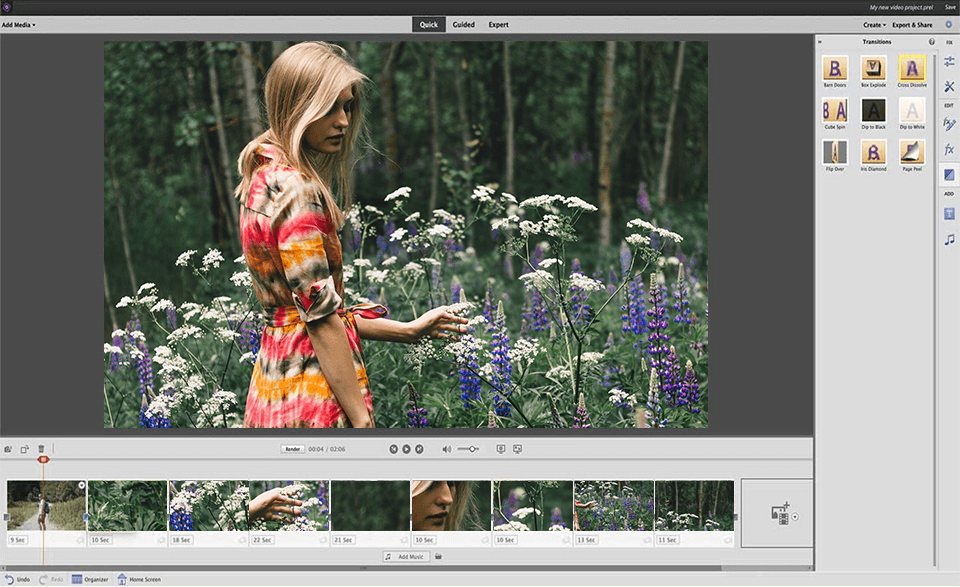 Great for: fans of Premiere Pro
Price: Free trial
Rather than Adobe Premiere alternatives, it is a simplified version of the program optimized for the needs of beginners and amateurs who don't need the whole professional layout. With many features automated, you can enjoy your hobby with little effort. 
Don't be afraid that your creativity will be limited by automation. Things are specifically organized to give users freedom. Features are easy to sort out, too, due to big self-explanatory labels that define layers and keep the workplace organized. 
You are provided with efficient ways of capturing footage and recording it on DVD with ease, combined with advanced tools for its editing. The operations that bear little or no aesthetic value are automated. But things that define your style and creative view, like transitions or effects, can be worked on more meticulously. 
Remember that if you still decide to buy Premiere Pro at the cheapest price, the Elements version can be the very starting point for using Adobe video editing software.
3. Lightworks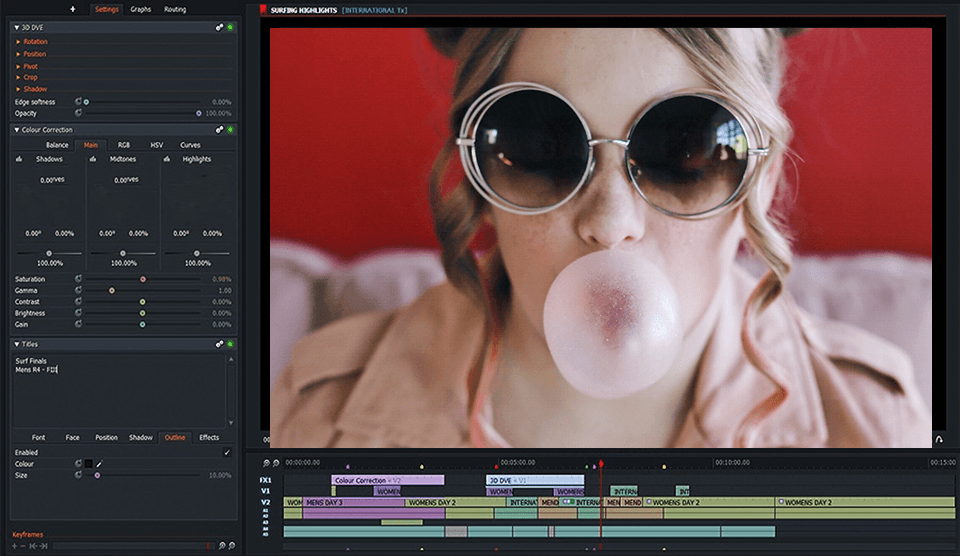 Great for: editing audio and video content
Price: Free
This professional, non-linear program for editing and mastering content allows you to process video files, overlay audio tracks, create and apply your own variations of graphic effects. This free program compared to Premiere Pro CC is somewhat simplified but still quite powerful.
The system can be used to prepare films from the entire mass of the recorded material. Also, it can be used merely to improve the look of a pack of footage as a whole. Thus, users can reduce routine tasks and focus directly on creative tasks.
For teamwork, the project sharing function is used. It provides file sharing with layers of accessibility that set boundaries appropriate to the worker's status. 
Another purpose of Lightworks is to create advertising and amateur videos. Uploading clips to YouTube can be done just in one click using the appropriate function. Mind that exported outcomes will be automatically reduced to 720p.
4. VideoPad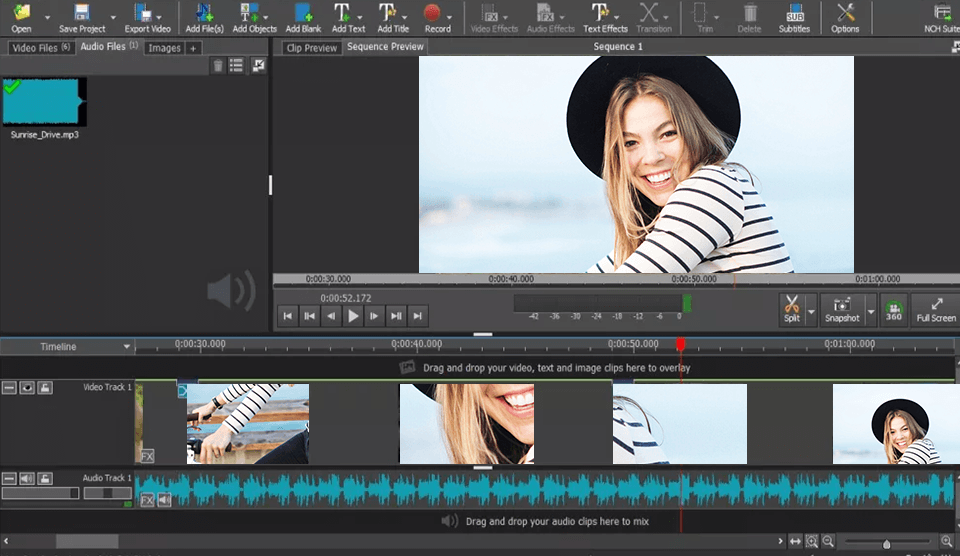 Great for: filmmakers
Price: Free trial, then from $35.95
If the software is needed for a hobby, you don't have any commercial plans for, this program is a great free software. You can use footage or images, both still and animated, supplying them with audio if desired. 
Conveniently, the program can recognize lots of formats. So, if you're working with something less common, you will not have to search for additional conversion software. 
You can make adjustments to the visual parameters like brightness, contrast and gamma. Besides, you can take care of the more technical features like the speed of playback, angle of the footage, transparency, dimensions. The latter can be compressed or stretched in any way. 
5. DaVinci Resolve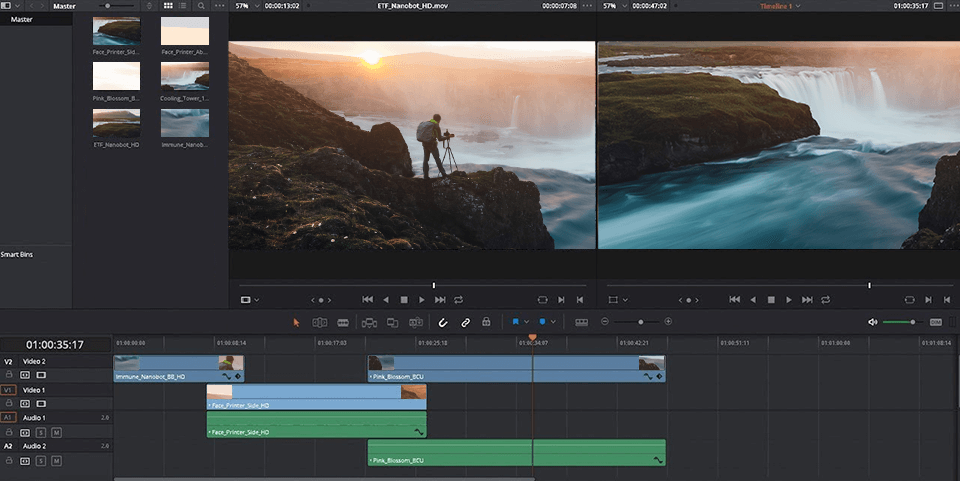 Great for: color grading
Price: Free trial, then $299
This software is especially good for collaboration where several specialists work on different aspects of a video with simultaneous access. You can have content creators, image editors, sound specialists refining one project as a team in real-time. 
The full mode puts at your disposal rather complex instruments fit for professional use. As for the free simplified version, it is left with more than just the basic toolkit. 
The program is not super easy to master, especially for users who've had no experience in the sphere. The large number of features spread over the workplace does look rather confusing. 
The time spent on learning the ropes will pay back because it is not only a powerful, feature-packed program but it also has a very reasonable price. 
6. OpenShot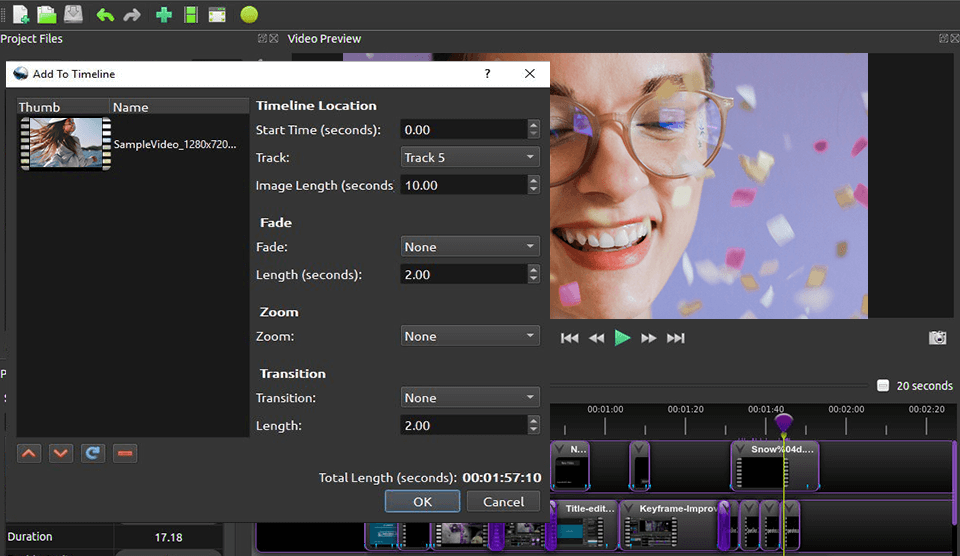 Great for: editing clips for YouTube
Price: Free
This non-linear program can act as an excellent alternative to Premiere Pro on the condition that you don't expect the two to be equal. Being open-source, it is well-developed and works on any popular OS without issues. 
You will find it especially helpful for generating professional materials for presentations or vlogs, as well as image slideshows. But regular video editing can also be done conveniently. 
The capabilities include working with a large number of effects, like animated transitions between takes, color correction, various methods of mixing overlapping fragments, plus chromakey support for creating combined effects. 
You will find the interface traditional for video editors and not causing difficulties in mastering, especially if there has already been an experience with similar programs.
7. Kdenlive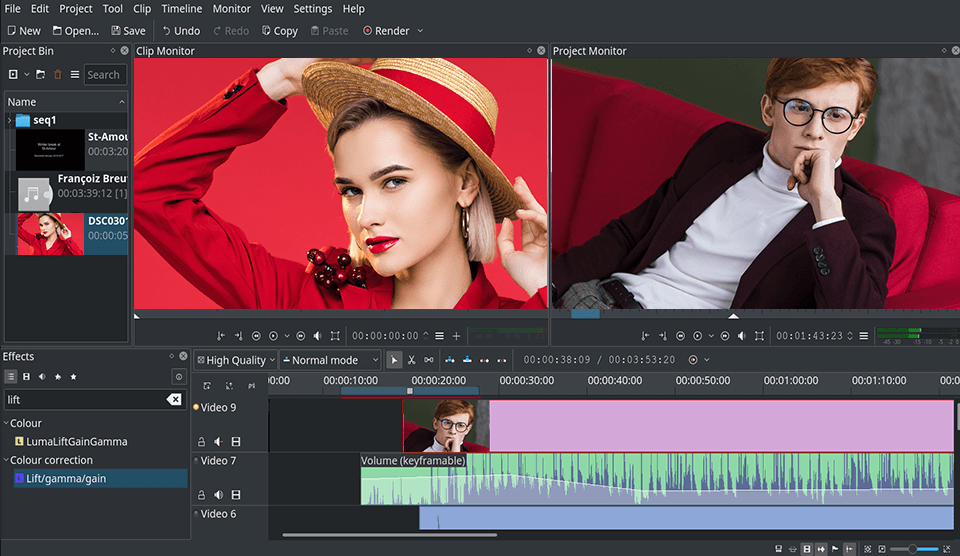 Great for: creating video lessons and advertisement
Price: Free
This small free program is filled with essentials for creating commercial clips. It will also come in handy for taking screenshots or working on improving separate images. The toolkit is the most helpful in generating such content as tutorials or promotional clips. 
You are provided with support for the most common file types and ways of supplying the footage with subtitles, voiceover, or another audio type, and simple effects.
The utility is launched offline with the OS. The application provides a preview of files and capturing of individual fragments. The working process itself is optimized with shortcuts. All things considered, you will be surprised at how agile the software is given its small weight. 
8. Shotcut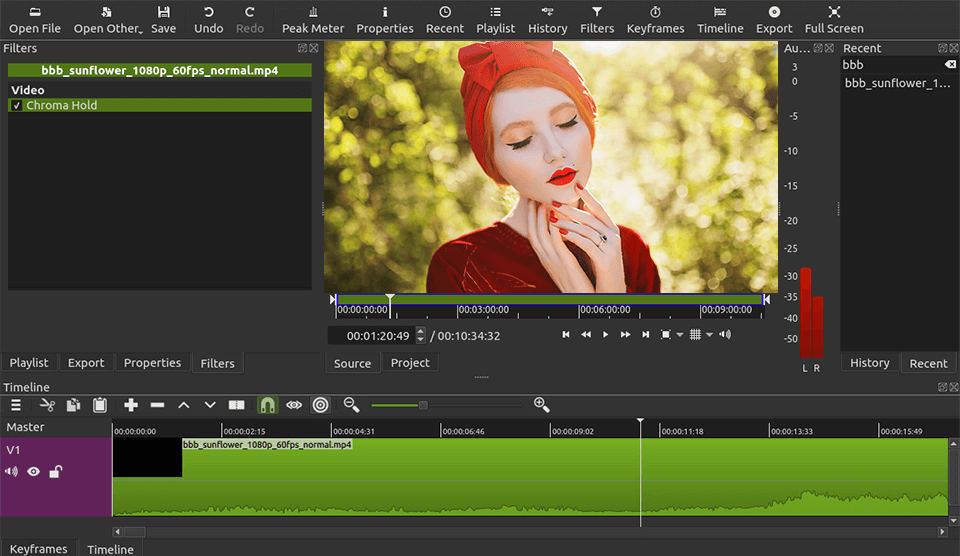 Great for: basic video editing
Price: Free
This program is open-source and subsequently free of charge. It creates a great working environment for those who are starting their path in making clips out of numerous footage pieces. For that purpose, you will be very grateful to find the pre-made filters to improve both video and audio. 
The capabilities include a wide selection of adjustments to color specifics and illumination levels, plus the inclusion of text specified by the HTML markup. The support of FFMpeg makes it possible not to care about file types since most are recognized.
The interface basically replicates that of the more powerful programs in the line. But at the initiation, you will find just a video playback window. The rest of the panels will need to be opened and set as you go about the project. 
If you have any difficulties in studying the functionality of the program yourself, numerous tutorials are available. There are about 40 different effects applicable to either video or audio tracks. You can even supply your clip with 3D titles, which is a more advanced feature.
9. Vegas Pro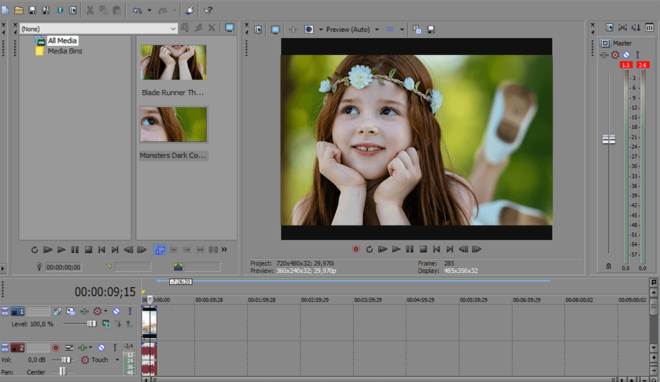 Great for: professional video editing
Price: Free trial, then $17 per month
Unlike in most free alternatives, here you can find the necessary instruments for a rather deep editing of the audio track. This feature is even better implemented here than in the Premiere Pro itself. Premiere Pro only gives you basic control and expects you to work in another software item of theirs if you need more.
In Vegas Pro, the footage can be considerably improved with the impressive toolkit. It doesn't only cover the basic work on colors and video editing but can stabilize the footage or track motion, supports 360-degree footage, processes input from several cameras, etc. 
The work is not finished on the program, the developers extended the capabilities with the latest update. They brought backups, optimized the workflow, added mouseover, and high-resolution scaling among other things. Shortly, its place on the list of Adobe Premiere alternatives is well-deserved.
10. Pinnacle Studio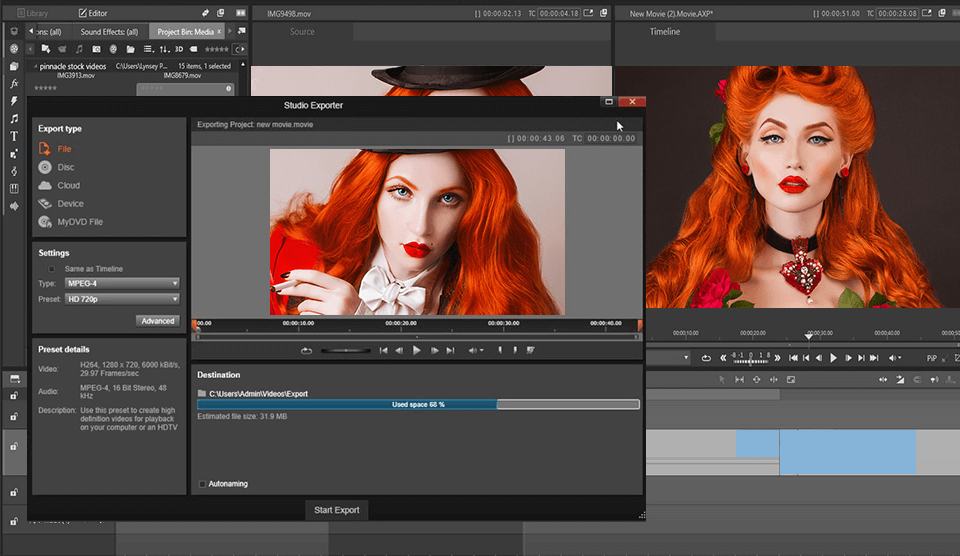 Great for: home use
Price: Free trial, then from $59.95
Amateurs that indulge in turning their family chronicles in works of art adore this software. The developer-company was entirely oriented on the video editing sphere, supplying this software primarily with features necessary for making simple films in good quality. 
Alternatively, it is great for converting your footage to 4K Ultra HD. The program is also capable of recognizing the XAVC S video cameras so the clips in higher definitions will be appropriately edited. 
The software gives an impressive level of quality and stability in performance, thus being an effective tool for creating high-quality videos. A remarkable benefit is definitely the large library of recognizable formats. 
The utility is fit not only for regular videos but also for image slideshows and either could be supplied with audio. In fact, the latter receives strong support in the toolbox, on a par with instruments for video editing.
11. Edius Pro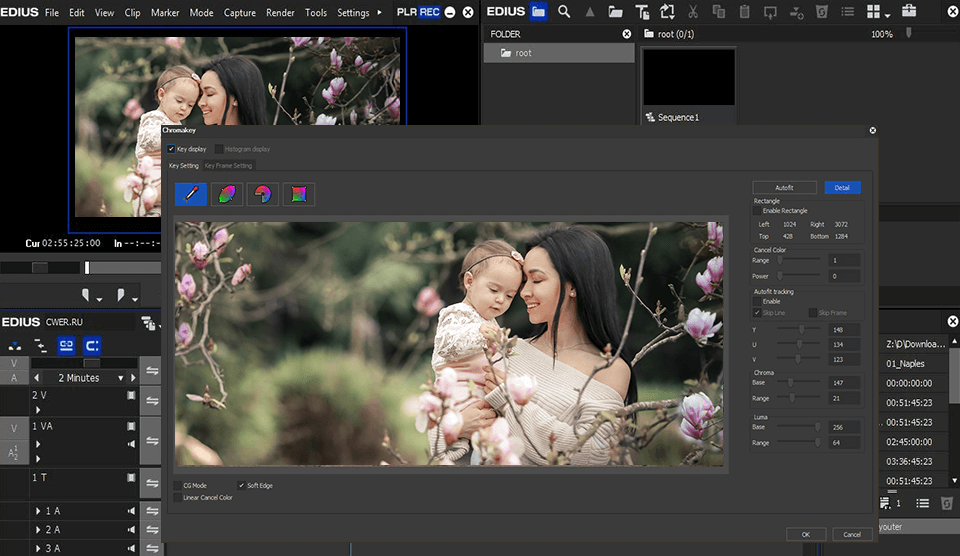 Great for: fast and convenient video editing
Price: Free trial, then $265
This relatively unknown Adobe Premiere alternative actually aspires to head the charts of powerful video editors. It obviously has all the indispensable instruments, including the OpenFX plugins, and then caters to more advanced processes, like working with high resolutions, tracking or slowing the motion, stabilizing footage, H.265/HEVC decoding, and the list goes on.
The program enables simultaneous work with 16 filming sources, supports OFX, multi-cam editing, and an unlimited number of tracks that you can create for any conceivable purpose. The developers have carefully organized the elements so that you could intuitively make your way through the interface. 
12. Avidemux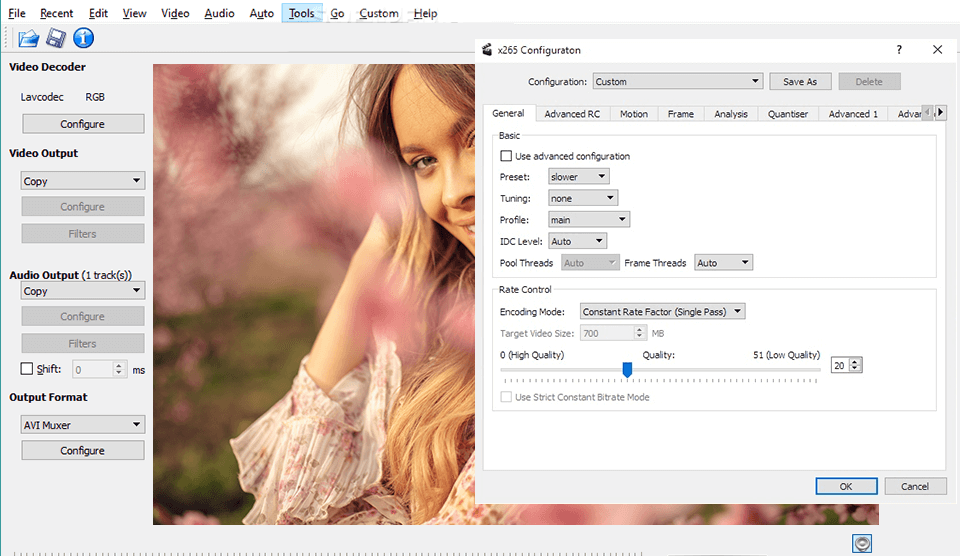 Great for: working with popular video formats
Price: Free
It is one of the free Adobe Premiere alternatives that has a big benefit of reading and editing all video extensions currently in use. Apart from a small toolkit for improving the general look of the footage, it also has a library of filters and a module for creating subtitles. 
Despite the interface being simple, it is filed-up to satisfy all basic needs. You can alter the qualities of colors and light in the image, deal with resolution and clarity, all the while tracking the immediate influence of each new setting in the preview. 
The workflow of this free Adobe Premiere alternative is organized with the highest flexibility, letting you merge clips without transcoding and adding new files to existing projects.
There is strong file type support that includes AVI, FLV, H264, LAME, MKV, MP4, OGM, WMV, VOB. Even combining various extensions in one project is possible if you perform decoding that would unify them. 
13. Nuke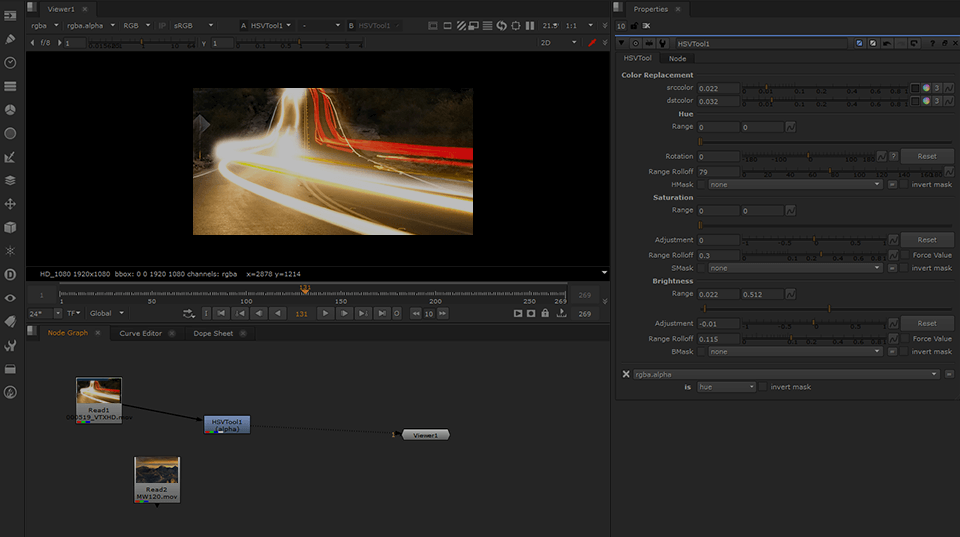 Great for: professionals
Price: Free trial, then from $4988
This program will be interesting for professionals, especially if they have powerful machines to work with. The layout is quite different from the common standard since the footage is not arranged in a timeline but placed on a graph. Its connected peaks are creating the final clip. 
The program is stuffed full of filters and transitions, even effects for 3D and an instrument for various types of texts. An effect can be supplied with keyframes that will make it develop in time. Keyframes have several types of interpolation to select from.
It is possible to create not just regular clips. If you have animations, graphs, or crypts, these are also supported by the software. Nuke is a complicated program that is not the best way of learning for beginners. But professionals will appreciate the power and freedom under their fingertips. 
14. Avid Media Composer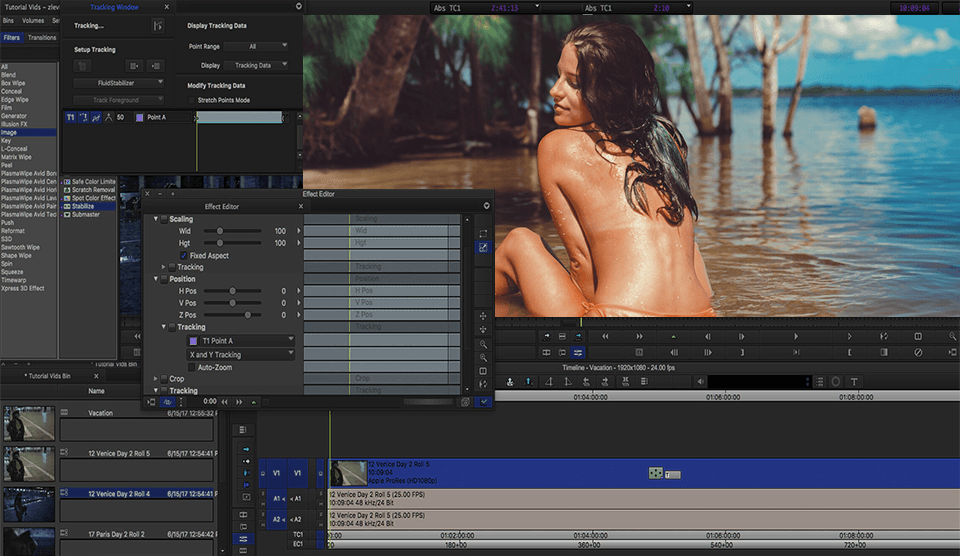 Great for: working on creative projects
Price: Free trial, then from $1299
This performant non-linear program is very sought-after for the people in film and TV industries because of the extensive toolkit complemented by a streamlined workflow. The improvements can be applied as you select them so that the outcome is immediately visible without interrupting your creative flow. Such impressive speeds are based on the Mojo DX and DX Nitris technologies.
The program has some unique features responsible for effects, graphics and audio. Some of them are rather advanced, like the HDCAM SR Lite frame editing or the AVC-Intra workflow acceleration. When you apply transitions, they can be tweaked right on the timeline with a few mouse clicks.
15. VSDC Video Editor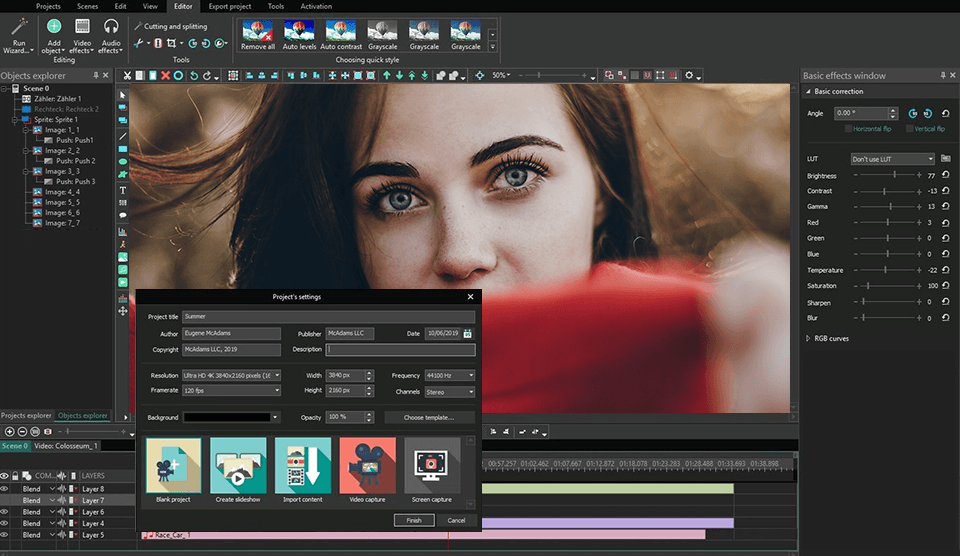 Great for: use of complex nonlinear operations
Price: Free
This is one of the free alternatives to Premiere Pro with the ability to use complex non-linear operations. This program allows you to capture, put together, and edit footage or streams, plus, enhance them with built-in effects or transitions that come in a large quantity.
Unlike most video editors in which one scene replaces another, here each video editing object can be freely resized and located anywhere on the stage. In addition, it is possible to have various parameters for the position and shape of objects to undercome alterations with the passing of time.
Mind that the installation pack comes with a set of additional, nonrelated programs that will be forced on any inattentive user. 
Conclusion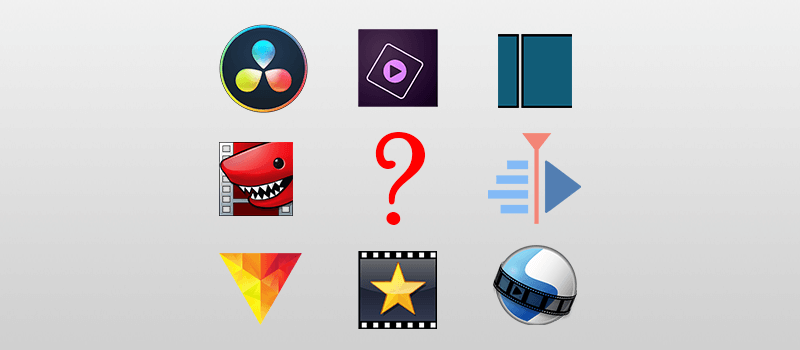 Being the most feature-packed, Adobe Premiere is, understandably, the most high-priced as well. For many professionals, a cheaper alternative would actually be preferable and not just for saving costs, not to mention the amateurs that can easily do with a free program. Hopefully, there were enough decent Adobe premiere alternatives on this list to satisfy all users.