Today's generation is plagued by the constant rise in need of services and resources that are required in order to establish a solid entity. A website needs a platform which can be live and continuously running, to generate maximum hits and grow its community. This is where cloud computing comes into the picture. Cloud Computing provides a platform which enables the website to grow online and be visible to everyone. It can be accessed anywhere and changes by the admin can be done to it anytime at their own comfort. It also has the potential to change Web App Development.
Cloud computing has been known to optimize IT-infrastructure costs. Many companies are known to deploy it in their systems to decrease costs and concentrate more on their business goals. This promotes professionalism and helps the company to be more focused on attaining its business goals. There are many features and advantages of cloud computing that we are going to cover along with its various deployment methods.
History of Cloud Computing
During the 2000s, cloud computing gained momentum. Before this period, it was used to represent a batch of computers that were connected with each other to save data. After the advent of Virtual Private Networks, companies gradually implemented VPN in their networks for better security. This enabled the companies to use the overall network bandwidth more efficiently. Later, a cloud-like logo was used to denote for the advent of cloud computing. As more and more servers were included and the infrastructure was growing steadily, the storage computing had a paradigm shift. Scientists and computer engineers learned more ways to extend this storage by implementing large-scale computing to include more real-time servers to process and save data. More and more algorithms were tested to optimize the services that use the cloud computing platform as their way of communication with the real world.
What is Cloud Computing?
Cloud computing is a collective system which uses remote servers on the internet to collect, maintain and process data rather than a local server or personal computer. If a person wants to host his website online, he can buy a bunch of servers at a subsidized cost to keep his website up and running. Excessive data traffic is common at peak hours and makes us realize the true potential of cloud computing. The reason why more companies are relying on this technology is to make sure that their services are rendered to the customers without any hiccups and the flow is maintained without the slightest interruption.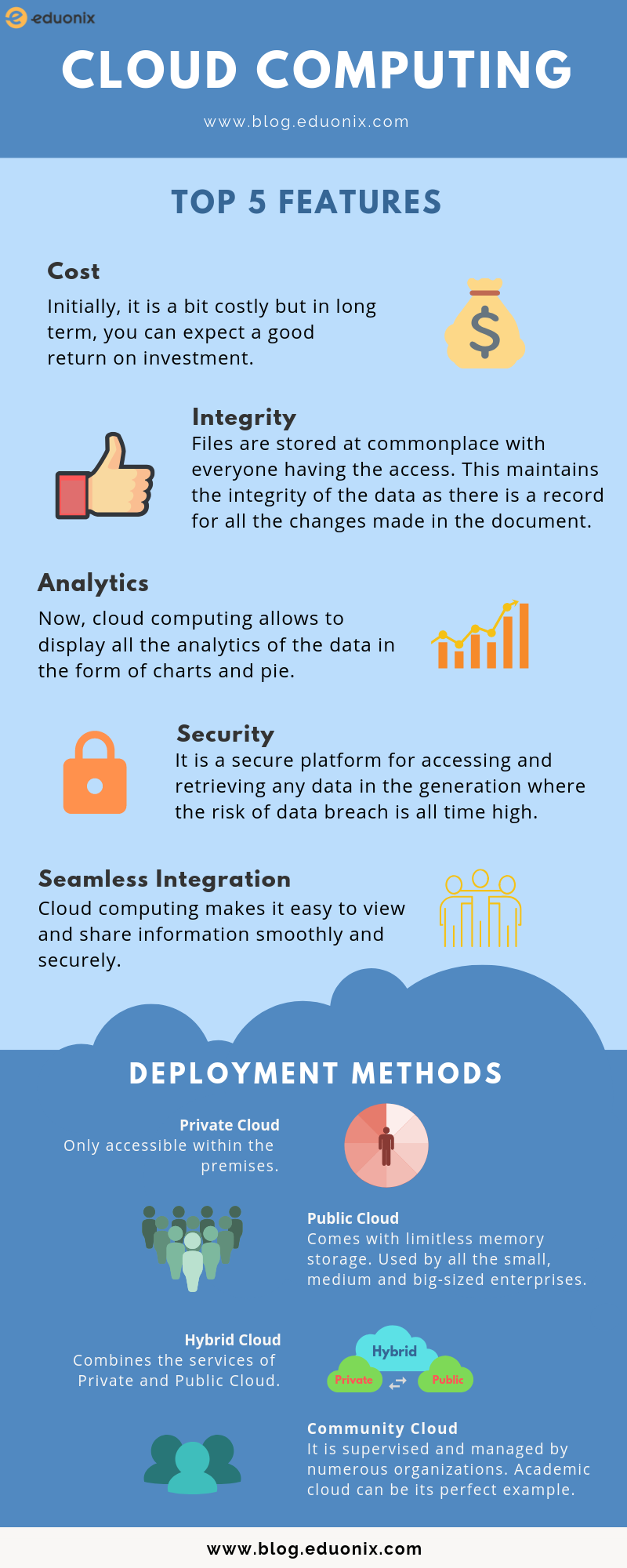 Features of Cloud Computing
Cloud computing has been making its mark in the industry since last two decades. It has made companies realize the power of remote computing and has been futile for a larger part of the success of the companies. Some of the features in the cloud have been designed keeping the obligations of the user in mind.
Enterprises, both big and small have this concern of initial shelling of capital to establish a reliable cloud infrastructure in their systems. Cloud services provide tons of features and have great adaptability to the demands of the consumers which is bound to carry a steep price tag at the beginning. But the ones who opt for this service to understand the long-term returns of investing in this service and the return on investment it will generate once the business gets going.
There are a few things critical to the success of a business as poor-reporting and erratic performance can hamper the reputation of a business. In a cloud-based system, all the files and documents are stored in a common place with a common format. With everyone having access to the same information, one can maintain the integrity of data by bypassing frequent human error and maintaining a strict record of any changes or updates.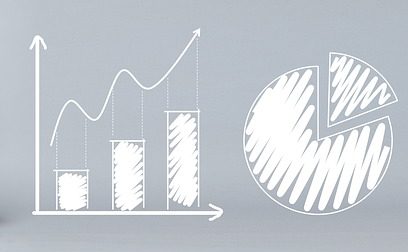 A lot of data is going in and out from the cloud. In 2018, there are plenty of reasons for the continuous supply of data like IoT devices, emails, government records, surveys etc. This can stack up against the already flooded servers. As this data is currently being employed for analyzing various insights to predict the business strategies, cloud providers have added this feature of displaying analytics in forms of charts and graphs to help the business and consumer understand the importance and value of data in today's hoopla.
According to Salesforce, 94% of the businesses observed an increase in the security of their data after switching to the cloud. 91% of these admitted that they preferred cloud due to its adherence to government guidelines. As a matter of fact, in the 21st century, it is difficult to keep data secure from vulnerable online sources that have the capability to breach this data and sell it online, compromising the privacy of the consumers and enterprises. Cloud provides a secure platform where access is granted only to privileged users.
The important aspect of any business is its employees. If there is a cloud service owned by a company, then all the concerned employees must be bought on board to collaborate and share their collective thoughts. After all, what's the point in having a good team if the members don't cooperate and work together? Cloud computing makes it easy for users to view and share information securely and smoothly across this platform. Nowadays, cloud-based services have even added social engagement to their array of features so that companies can reach out to perform collective decision-making.
Deployment Models
Choosing the right cloud model to host business in real-time is the first step which a company comprehends before entering the market. Sometimes, a cloud-hosting service may fail even though it has been undertaken and managed online with all the accurate steps. This situation usually occurs when the companies select the wrong cloud-model to demonstrate their business. To get this initial step right, let's explore four different models in cloud computing which can get the job done.
Read more:- How to Deploy Applications on the Cloud Systems
Private Cloud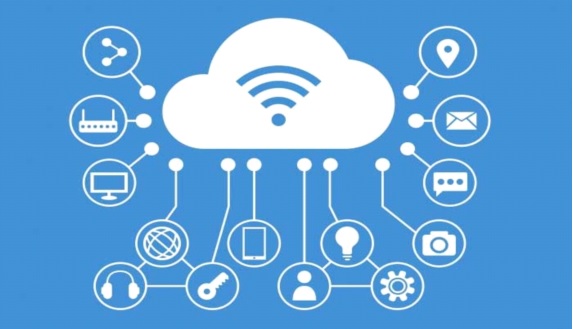 Companies opt for cloud services that are accessible only in their premises and not outside. This can be labeled as a private cloud. A company which comprises of different departments, domains, clients, employees are given access to the cloud. These entities are allowed to access and make certain limited changes which can be beneficial for the company. They are given access to limited bandwidth network, security disclosures, and legitimate requirements which might be necessary. Private cloud is also known to be an internal cloud due to restricted access. This makes it less susceptible to security threats due to its inbuilt firewall and a ton of services which maintain the confidentiality of the entities, for example, banks where safeguarding customer data is the first priority. Plus, a private cloud is known for its customizable services as per the demands of a business. It accommodates and facilitates the organization's requirements in the cloud so that it can have more control over its business.
Public Cloud
The public cloud model is established with a goal to supply limitless memory storage and expanded data transmission through the Internet to all organizations and their loyal customers. It takes care of all the prerequisites for small, medium and big-sized enterprises. This model works on the per-minute billing system. Companies only pay for the services they utilize and can avail other services to ease down their workload and concentrate on important entities. For instance, the Amazon cloud service AWS provides its consumers the option to avail certain features which may suit their needs according to some specific guidelines led by the company. Sometimes, the company will share some basic information with their customers but the private data is not disclosed to the customers. The customers can take full advantage of this cloud by availing their favorite services and can also share this information with others. Public cloud is accessible from any part of the world to the user who wants to access it on the go. This enables them to reach out to the global audience and enable better and wider service.
Hybrid Cloud
A hybrid cloud combines the services provided by a private and public cloud. It enables the consumers to have access to the information and these services are safeguarded in order to avoid any hacking or information leak. At times, a cloud service provider must ensure that the uptime of their service is maximum. Hence, if a company has opted for a hybrid cloud, it can get enough uptime for the resources it has opted for. Majority of cloud providers have a Service Level Agreement(SLA) which guarantees maximum uptime and minuscule downtime to ensure consistency. A hybrid cloud can be owned by a few organizations collectively in order to minimize costs and avail services whenever they need. They can even share information with each other provided they are bound by an agreement in doing so.
Community Cloud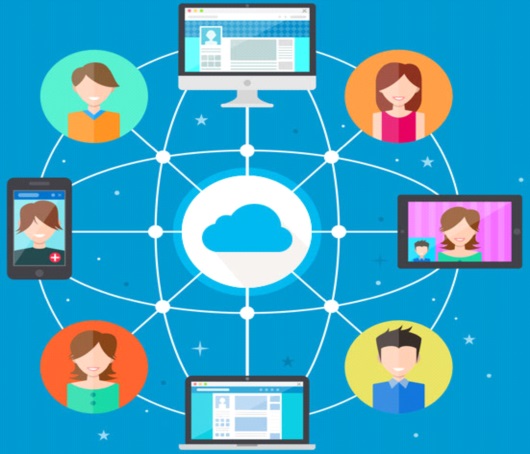 The community cloud architecture is initially supervised, then managed by a different number of corporations that plan for the same core foundation, business, or projects. Core domains like software and hardware are taken into consideration in order to reduce the running costs of the IT department. Academic clouds are a perfect example of a community cloud service.