This month we will talk about Viddy.
Viddy is a simple way for anyone to capture, beautify, and share videos with the world!
"Turn everyday moments into perfect little movies with Viddy on iPhone. So next time you catch that pristine sunset over the Pacific, make it more than a memory. Then share it with your Viddy community and upload them to Facebook, Twitter, and YouTube."
Some features:
+ Advanced camera includes focus / exposure / white balance settings, audio metering, timer and more.
+ Add visual effects, music, transitions, and even movie stars to your videos
+ 100% free packs such as Vintage, Crystal, Solarize, Red, Exposed, Retro, Glam, BW, Hued, Junkd and 3D
+ 100% free brand packs such as Snoop, Incubus, and more.
+ Share your creation privately, to your friends, or to the world
+ One-click sharing to the social web, including Facebook, Twitter, YouTube and Tumblr
+ Interact with your friends with tags, likes and comments
+ Realtime video discovery and exploration from a vibrant community.
+ An endless source of creativity, inspiration and personal expression.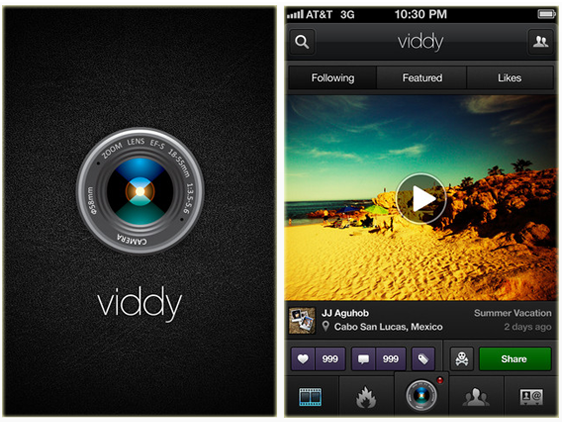 Why viddy is so cool?
Viddy is called the instagram for videos. On the surface Viddy is just a video app but if you spend sometime it will grow up on you. It is similar to Instagram with its own social networking feature and the cool filter features. As of May 2012 the app has attracted 26 million users.
The High profile users include Mark Zuckerberg, Shakira, Jay-Z, Bill Cosby, Snoop Dogg and Will Smith. With Viddy you can shoot a video, apply any number of "cinematic production packs" (also known as filters or effects) to stylize the footage, and share your creation out to Facebook, Twitter, and YouTube. But instead of just being a basic video camera app with some social tendencies Viddy like Instagram, is also its own social network. You can follow friends and view an activity stream comprised of nothing but their videos, as well as view popular and trending sections with videos from across the network.
Viddy's experience looks polished and you get some nice control over certain aspects, such as how heavily a video effect is applied and whether you mix an audio soundtrack on top of whatever audio you record with your video.
Viddy doesn't offer real-time effects to choose from beforehand, but you do get a number of options you can choose from a vertical toolbar on the left. You can show a timer, show a meter to keep track of audio levels, lock the exposure, lock light levels, and a few other options. When you're ready to go, start shooting your 15-second video. When you're done shooting your video, you can choose from only three offered effects, but you have the option to download nine more effects for free from the in-app marketplace.
There are even a few branded packs (with one inspired by Snoop Dog) you can download and still others you can purchase. It will surely appeal to those who want to make high quality videos on their iPhone.
Key takeaways

Do a cool thing better than others.

Create a buzz around your app and if any celebrity happen to use it you are set.

Sharing is in. Apps than can leverage the social networking effect can grow rapidly.

Brand Recall is important. Viddy was promoted as Instragram for videos can used the Instagram popularity to reach to users.

Competition with other apps is not a problem if you know your market segment well.
Reference,