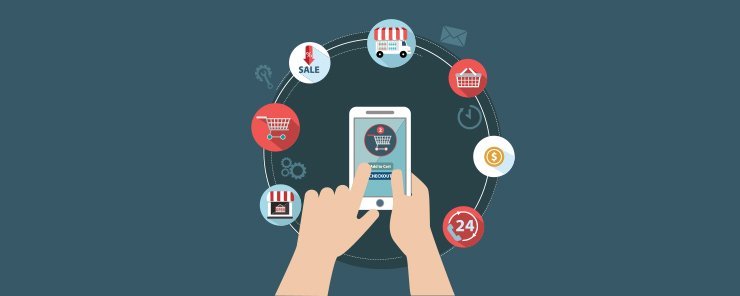 If mobile app marketing is done with proper planning and smart strategies, then it can work well among users. So, how do you plan out a mobile app marketing strategy that can guarantee success?
Listed below are a few paths to follow for achieving success with your app marketing efforts: –
1. Make your App Discoverable
App discovery should not just happen within the app store but also through search engines. Marketers may think that, users head only to an app store to find new apps. But, the fact is that a lot of people search for apps through search engines.
Search engine is one of the major sources for app discovery, and is more prevalent in case of local apps, tech apps, travel apps, etc. Therefore, for marketers, it is important to make sure that your app stands out for users to reach them easily.
2. Localization of App
After developing a mobile app, the hardest part is to raise the number of downloads. Localization of your mobile apps can increase ad conversation rates and organic search growth.
If you want your app to work globally, then it definitely needs to be localized. The main elements that require localization include text, pictures, sounds, currency, colour, number format etc. But once done, it should be updated regularly.
3. Location based marketing
Location-based marketing on smart phones allow users to access internet whenever they use GPS. By using this method, brands can adapt marketing strategies according to the user's location. Regular offers and deals are provided to customers based on their location. Hence, boosting the value of your app and enhancing customer experience.
A new method known as Geo-Conquesting is recently introduced. This is mobile based advertising that uses location-based services to drive attention of customers when they are physically at a competitor's location.
4. User Engagement
After an app is launched, calculating the total number of downloads does not ensure that your app will profit in the future. Sometimes, customers who download a particular app might only use it once before deleting it.
You can only call a user a real customer when they use your product often and as productively as you need them to use it. Therefore, user engagement is truly a key to success. For this, you need to create value for your users.
5. On-Boarding
On-boarding is the primary source of contact of your app with the user to make a great first impression. This is considered to be one of the most important phases in an app user's journey. Therefore, it is important to make it simple and seamless.
The process of on-boarding includes a series of three purposes:
• Educate the user about the app and its features
• Allow user to register with login details
• Collect personalised information which can further be used to send notifications and promotional content
6. Use of Analytics
As digital marketing is evolving, the need for analytics also becomes necessary. As analytics supports app, one can manage participation of users and work more on it to increase traffic.
Use of Analytics includes: –
• To improve the ROI of the business app
• Collect data to serve clients better and improve business prospects for apps
• Personalization with customer-focused marketing
Implementing analytics provides valuable insights to enhance and optimize apps for better performance.
7. Include Voice Search
The way of searching information online keeps changing. People have started using voice searches on their devices or voice assistants like the Amazon Echo or Google Home etc. to search information on the internet.
Google voice search is popular on Android devices and Siri is used on iOS devices. Microsoft also prompts the usage of voice searches through Cortana.
8. Promotion through Text Messages
So far, text messages have been considered as the best medium for marketers. SMS and MMS are the best ways to communicate with the customers in a way that is immediate and friendly. Text messages require less investment to create and maintain as well.
9. Native Advertising
Native advertising is effective to drive more user attention compared to the other display ads. It has higher response rate from users which is due to its ability to blend with the content to appear as an editorial. This prompts the customer to click on it.
Native ad provides the following features: –
1. Better user experience
2. Increased sales
3. Help advertisers to reach their target KPIs(Key Performance Indicator)
10. User Experience & Safety
User experience is a crucial feature in digital world. It actually defines how a user feels about your app according to their perspective. If your app becomes confusing and frustrating, then it is providing a poor UX, and users will likely uninstall the app very soon. Therefore, there is a need to adopt a user-centric and user-friendly approach that gives significance to the needs of target audience.
Improved UX provides certain key benefits including reduced support cost, loyal user base, and increased sales & customer satisfaction.
Safety is also another concern for users while using an app. People are more concerned about mobile data as they contain all personal information including debit/credit card details, profile information etc. Hence, it is essential that your apps are secure.
11. Use VR & AR Technology
By using AR and VR technology, you can enhance your product performance. Industries benefit from using technologies and offer users unmatched experience of using their app. Both VR and AR create real-time experiences for customers by giving personalised 3D content.
AR and VR can help mobile app marketing through: –
• Demonstration of product features and functionalities
• Organizations can communicate their mission to users easily
• Delivers branded entertainment experience
• Adds an immersive dimension to create a better social media experience
12. Growing Popularity of Wearable Devices
It's high time to include wearable technology to your mobile app strategy. The market of such devices is growing. So while developing an app, build a marketing strategy that includes web, mobile, social and wearable platforms as part of your app.
Conclusion: –
In general, the mobile app market keeps growing, both in terms of its reach to users and revenue. Comprehending your target audience with latest marketing trends can strengthen your marketing strategy to get a successful outcome. Brands that execute and evolve such marketing strategies will be ahead of their competitors.