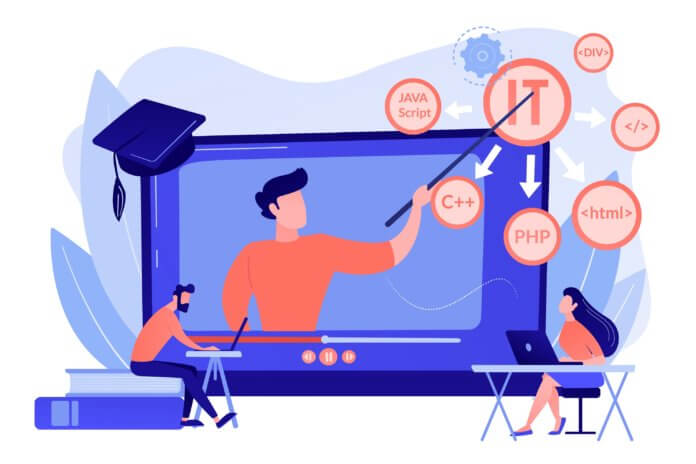 Traditional education has changed radically over the last couple of decades. Going to the classroom isn't just the only option for learning, especially with the latest technologies & fast internet speed. Now anyone can access quality education from anywhere & at any time with the internet. 
After the onset of the pandemic, online learning has become a new norm for institutions, workplaces, & students. It continues to surge in popularity, and not just because everyone is isolated at home but also it has some notable benefits. All these have truly led us to a new era bringing a new revolution in education.
Though many people can debate about the importance of physical classes, online learning is proving beneficial for every student in its own way. Considering this, I am collating this piece that will walk you through how online learning has revamped skill development to a whole new level; how e-learning is proving to be beneficial; its cost, quality & so much more.
How Skill Development Has Evolved With Online Learning?
While countries from all over the world are at different phases of COVID-19 infection rate, there are over 1 billion students who are at risk of falling behind in education because of the closure of schools in 188 countries. Though online education gained popularity way before COVID-19, its mass adoption took place in the year 2020. Since then, e-learning took such a giant leap that the majority of the students from all over the world are upskilling online.
Not only regular classes, but students are now also considering e-learning courses from popular online upskilling platforms like Eduonix, Udemy, or any other. These platforms provide 100s of options on almost every trending or latest skill to learn from.
Major Benefits Of Online Learning

1. Flexibility 
Regardless of how busy a person is, e-learning gives them the option to upskill at any time from anywhere. Here the only requirements will be a smartphone or a tab with a decent internet connection. Now people can learn at their own pace such as during their coffee breaks, while traveling, or waiting for someone by listening to audio/video files from the online course.
2. Accessibility
Most of us are living in a world where everything or at least most of the daily things are easily accessible. Still, many can argue that what if the internet connection is down, or you misplaced your phone… don't worry- with e-learning, you can download notes, get online support, replay the videos. And all this can be done over the cloud without worrying about your location, devices, or anything.
3. Cost-effective
Online learning isn't just more effective than online learning but is also cost-efficient. Considering the cost of books, stationery, institutional fees, traditional education comes with a high price. However, getting certification online doesn't require any of these things as learning materials are kept online which are easy to play or download.
4. Options to choose from the best
Unlike the traditional forms of learning, today, you can literally find 100s of online learning platforms offering multiple courses from world-renowned instructors or subject matter experts. Now you have the option to choose the right course from the right instructors catering to your needs while sitting at your home or literally anywhere.
5. Interactive/gamified education
Gone are the days when lectures used to be boring and students literally had no options. Now online e-learning platforms and even the instructors are going the extra mile to make their videos more interactive & gamified by adding quizzes, levels, competitions, rewards, & so much more.
6. High retention rate
You can find a myriad of academic studies that have found that online learning improves the retention rate significantly. One such study explains that it increases by 20-60%. This generally happens because of the presence of attractive images, illustrative videos, eye-catchy fonts, animated clips & others in a well-crafted & presentable manner. A higher retention rate increases productivity because people spend less time on training materials & more time on their implementation in real life.
7. Personalized guidance
Personalized guidance is one of the crucial aspects for better learning outcomes for learners. And sometimes, students may not get extra or special attention in certain topics in the traditional form of education. But some of the online learning platforms are now offering 1-to-1 interaction or coaching to identify the learner's weaknesses & working on them.
8. Progress tracking
With the traditional forms of education, the only way to track progress was through exams or tests. On the other hand, online learning allows students to track their progress through interactive assessments, skill ranks, & live evaluation- all without the pressure of any exams. In some cases, students are also allowed to retake their assessments if they are not satisfied with their scores.
9. Skill-specific online support
It is a myth to think that upon buying an online course, what if I got stuck with some technical concept. Online learning platforms are offering 24/7 technical support to help & motivate their students for uninterrupted learning. With some online courses, students can even directly discuss their doubts with the course instructors through live chats or emails.
Bottom Line
After everything, I strongly believe that there's nothing wrong with the traditional form of education. Actually, when it comes to establishing your career, then nothing is better than earning a graduate-level or master's degree. But online learning brings a whole lot of opportunities that too at a significantly lesser cost.
Whether be it flexibility, accessibility, diversity of courses, higher retention rates, or any other benefits, online learning is opening numerous doors for learners especially after the COVID-19. So if you're still unsure of spending a few dollars on your next online course, we encourage you to give them a try– it may become your next favorite thing.
"Online learning is not the next big thing. It is 'NOW' the big thing." 

– Donna J. Abernathy
Also Read: Eduonix Infiniti- The Next Learning Revolution Unfolding Now!