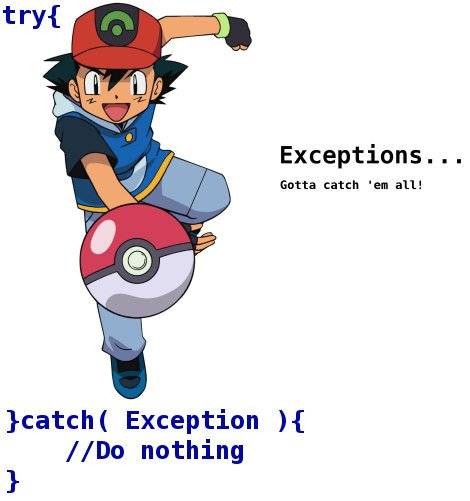 Today we will learn to handle errors using exception handling in this PHP Exceptions tutorial.
Exception handling was introduced in PHP version 5. It is a new object oriented way of dealing with errors.
Exceptions are the arbitrary errors that occur in the code which are handled using exception handling.
It allows the programmer to have more fine control on the code when errors occur in it.
Exception handling in PHP is similar to the exception handling used in other programming languages.
There is a class called Exception which is a base class for all pre-defined exceptions. Some of the exceptions are shown below:

InvalidArgumentException,
OutOfRangeException,
OutOfBoundsException,
RuntimeException, etc.

Exception handling is carried out using four important keywords:
try: The code in which you feel that error can occur during execution is called as risky code. This risky code is put in the try block. If the error does not occur, the code executes normally but if the error occurs, an exception is thrown and is catched in the catch block.
throw: The exception if occurred, is thrown using throw keyword.
catch: The thrown exception is catched or retrieved in the catch block and it creates an object that contains the exception information.
finally: Anything written in the finally block executes always. It is not compulsory to use finally block but if used it executes irrespective of the error occurs or not.
Let us see how a program terminates abruptly without exception handling.
To demonstrate it, create a new folder with name exceptions in the htdocs folder in xampp folder. Open a new notepad++ document and save it as index.php in the newly created exceptions folder.
The example code written in index.php page is given below:

<

title

>

PHP

Exceptions

<

/

title

>

echo

"Division of $a by $b is $c"

;

Here, we have a variable $a with value 10 and another variable $b with value 0.
The value in $a is divided by value in $b and the output is stored in $c.
The output is displayed using echo statement.
But here as we are dividing the value in $a i.e. 10 by 0 i.e. the value in $b, a divide by zero exception occurs as shown in the figure below:
Just open the browser and write localhost/exceptions in the address bar of the browser and see the output.
Here we got an error and our program terminated abruptly. To take care that our program should not terminate abruptly and a proper understandable error message is given, it is very important to use exception handling in the program.
So let us learn to handle exceptions using try, catch and throw keywords.
Handling exceptions using try, catch and throw keywords:
Handling multiple exceptions:
Custom Exceptions:
Finally block:
Thus we studied the use and importance of exception handling in this PHP Exceptions tutorial.