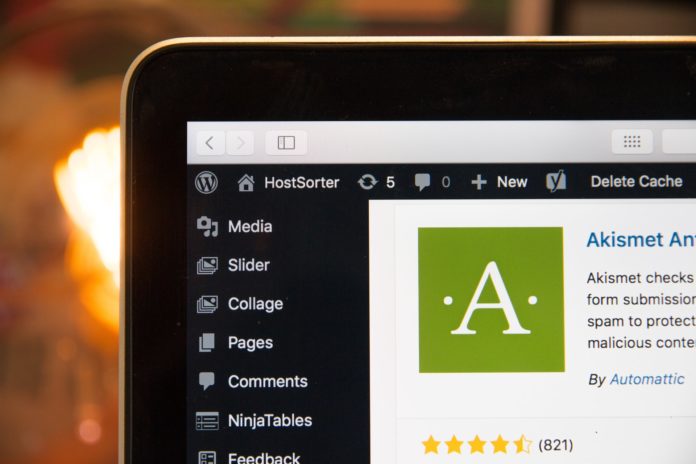 WordPress (WP) is the world's most popular website platform or content management system (CMS), used by over 60 million websites. A third of the Internet's top 10 million websites rely on WP for all sorts of web content, from eCommerce stores to blogs. 
While building a WP website may sound daunting, it's not. WP facilitates the process by deploying plugin architecture and a template system called "Themes." Those inclined to build a DIY digital presence without relying on a web developer or designer can quickly construct a viable website with the WP CMS without knowledge of computer coding or scripting languages.
Steps To Follow For Building A WP Site
Select

a domain name (viz., mynewbusiness.com) for the website.

Subscribe

to a

WordPress hosting

plan from a hosting provider.

Install

WP with 1-click installation.

Select

from 50,000+ themes (as of November 2020) at the WP website. Others are available for a fee. Or (with WP.org—see below), source a theme from a third-party or customize your own.

Choose

WP

plugins

(think of them as akin to smartphone apps) to optimize website functionality.

Add

content (text, images, data or audio files, etc.).
It's that easy. WP is as simple to use as Microsoft Word or Apple's Pages.
Differences Between WordPress.com and WordPress.org
It's not just the domain name that differs between the two. While both share the same basic software, WordPress.com is a website builder akin to Wix or Weebly. WP hosts WordPress.com, while WordPress.org is a full-blown, "self-hosted" CMS requiring users to choose a hosting provider for their websites.
Typically used by bloggers, WP.com has limited functionality compared to WP.org, a 100% customizable and easily scalable platform. Note that WP.com users cannot use ads to monetize their websites, which limits revenue-earning potential. 
WP.com requires sellers to enroll in WP's eCommerce plan (for a $45 monthly fee). WP.org lacks native WP eCommerce tools but allows users to install plugins (see below) to customize the buildout of an online store.
Also Read: Build an eCommerce store with WordPress & Woo-commerce
Entrepreneurs or merchants looking to grow their business should opt for WP.org and a web host provider for WordPress hosting. While WP.com is fine for small-scale users, a business will at some point outgrow its capabilities. Too, most business owners want to own their website, an option not available with WP.com.
WP Plugins
WP uses plugins—PHP scripts that enhance the CDM with added functionality—for many purposes such as eCommerce, SEO, email marketing and analytics.
Popular plugins for WP sites include:
WPForms

—for website contact forms. WPForms Lite is free; Basic, Plus, Pro and Elite are not.

Shared Counts

—a social media share button allowing readers to share posts on social media.

SeedProd

—a third-party developer offering a WP plugin for landing pages, customized 404 error pages (viz., "Page Not Found") and "Coming Soon"/"Site Under Maintenance" pages. SeedProd Lite is free; Basic, Pro, Plus and Elite are not.

Yoast

—is the most widely used WP SEO plugin. Others favor

All in One.

Both have paid and free versions available. These apps improve a website's ranking in Google and Bing searches.

MonsterInsights

—a free plugin that tracks visitor stats, used with Google Analytics.

WooCommerce

—transforms a WP site into an online store.

Securi

—a third-party malware scanner for WP sites. Free and paid versions available.

UpdraftPlus

—a third-party plugin for WP site backup. Free and paid versions available.
Just like a smartphone app from a third-party developer, plugins vary in quality and price. Unless one is working with a web developer for a customized app, it's better to stick to plugins found in WP's directory.
Also Read: Must-Have WordPress Plugins For You!
WordPress Hosting
For those serious about growing their business and website, WP.org is the obvious choice. This means finding a hosting provider to give the website a home on the Internet. 
Look for a provider that optimizes its servers for an optimal WordPress hosting experience. Fast web page loads and response times, robust website security, free site migration and domain name, automatic updates, and 1-click installation are musts. Since a website is open 24/7, the hosting provider's support team should be available around the clock by either chat, email, or phone.
For web developers, ensure that the hosting provider furnishes ample tools (e.g., phpMyAdmin, Git, etc.). 
No matter a website's scale, WP makes it easy to build a digital presence on the Internet quickly. Make sure to choose a WordPress host that provides scalability as the website grows.
Also Read: Do I Need A Dedicated Server For My WordPress Site?